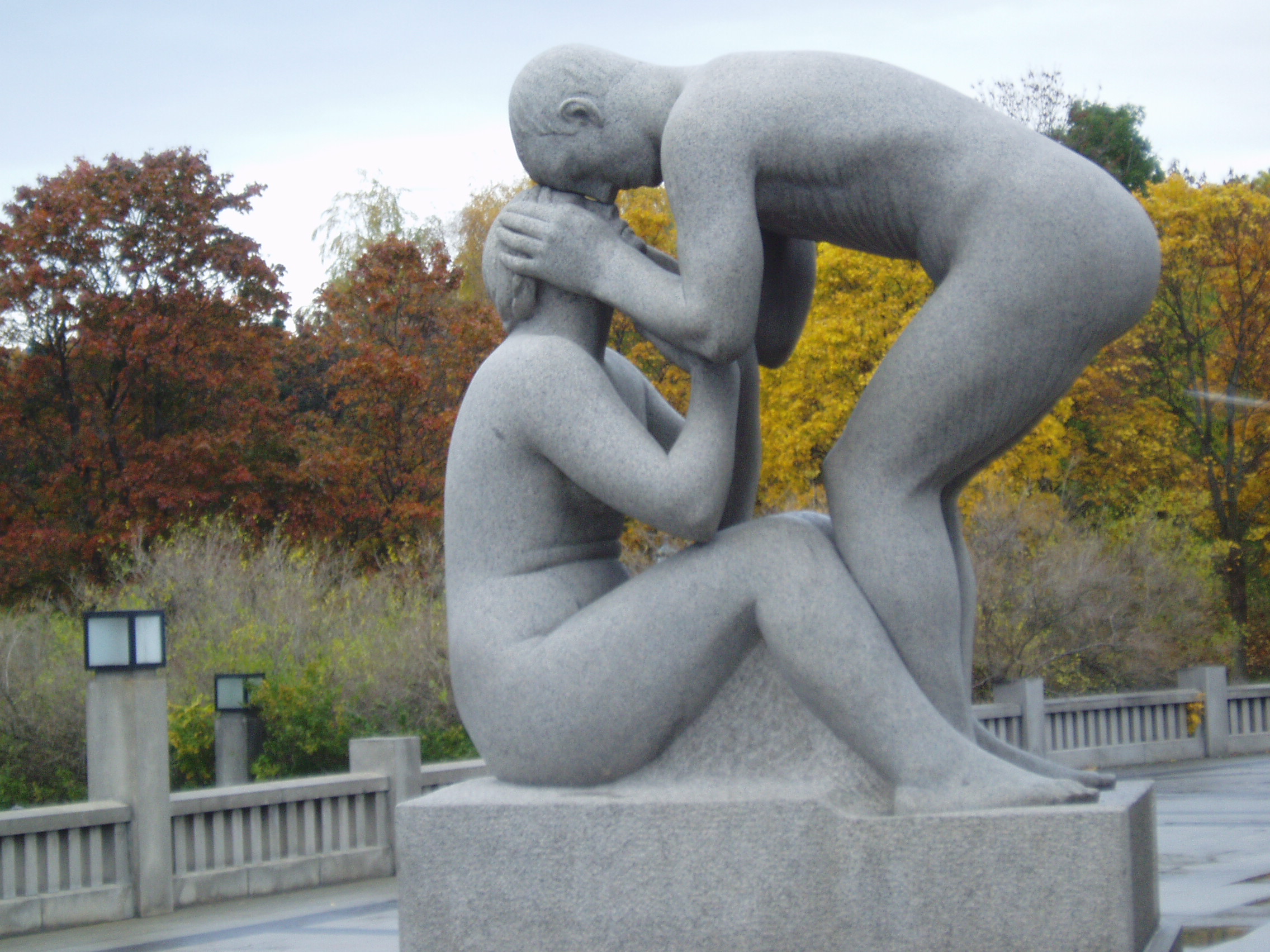 By Peter Smith, petersmith@post-gazette.com or 412-263-1416; Twitter @PG_PeterSmith / Pittsburgh Post-Gazette, 1 March 2016
(As we note in our book, abuse by a priest was much more common than anyone would believe until "Spotlight" broke the story in 2002, and opened the floodgates of truth. ~ Marlene)
ALTOONA — After the tolling of the noon hour Tuesday at the magnificent domed Cathedral of the Blessed Sacrament, whose towering perch above this historic railroad town reflects the Catholic Church's long powerful presence in central Pennsylvania, the Rev. Dennis Kurdziel left little doubt for whom the bell tolled. "Pray for the victims," said Father Kurdziel in a somber noontime Mass, held less than two hours after the release of a state grand jury report finding that hundreds of children were abused by at least 50 priests and others associated with the church in the Diocese of Altoona-Johnstown across nearly half a century."Pray for your bishop," added Father Kurdziel, associate pastor of the cathedral. "Pray for your priests. I need your prayers. Ask for God's help, even on this very ugly day." And with that, the congregation of several dozen bowed in extended silent prayer before resuming the Mass liturgy.
Across town at the Blair County Convention Center, authorities were releasing a catalog of horrors in a 147-page report by the 37th Statewide Investigating Grand jury, which spent nearly two years delving into the case. Hundreds of children were molested, raped and destined to lasting psychological trauma by clerics whose abuses were covered up by their bishops, other superiors and even compliant law-enforcement officials in Blair and Cambria counties, the report said. The conspiracy amounted to "soul murder," the report said, with abuse happening everywhere from camps and homes to the historic cathedral itself. That description echoes that of similar grand jury probes into the Archdiocese of Philadelphia in 2005 and 2011 that found cardinals and other clerics shifted numerous known abusers from one unsuspecting parish to another.
Attorney General Kathleen Kane called it a "day of reckoning" for abusers and their enablers but lamented that no one could be criminally charged. That was because the abuse happened too long ago to be prosecuted under the statute of limitations in effect at that time, or because the perpetrators had died or the victims were too traumatized to testify. But Ms. Kane said the investigation is ongoing and that anyone with information should call 1-888-538-8541. "These findings are both staggering and sobering," said the grand jury report. "Over many years hundreds of children have fallen victim to child predators wrapped in the authority and integrity of an honorable faith. As wolves disguised as the shepherds themselves — these men stole the innocence of children by sexually preying upon the most innocent and vulnerable .... " Much of the abuse happened between the 1940s and 1980s, according to the report, but many of the victims came forward in more recent decades to report the priest to the diocese.
The two previous bishops leading the diocese — James Hogan, who served from 1966 to 1986 and died in 2005, and Joseph Adamec, who served from 1987 to 2011 and is now retired — "took actions that further endangered children as they placed their desire to avoid public scandal over the well-being of innocent children," the report said. "Priests were returned to ministry with full knowledge they were child predators."
EDITOR'S NOTE: The following grand jury report contains graphic language. Reader discretion is advised.
Bishop Adamec refused to testify to the grand jury, invoking his constitutional right not to testify against himself in a criminal matter, but his lawyer issued a 10-page statement defending his actions and saying the grand jury report omitted key evidence. The Diocese of Altoona-Johnstown issued a statement responding to the report, noting that it had "cooperated fully with authorities throughout the investigation, and will continue to do so as part of our commitment to the safety of all children."
"This is a painful and difficult time in our Diocesan Church," said the Most Rev. Mark L. Bartchak, bishop of the Diocese of Altoona-Johnstown, who took office in 2011 and who drew favorable comments from the grand jury for his responses to abuse allegations. "I deeply regret any harm that has come to children, and I urge the faithful to join me in praying for all victims of abuse." The report includes extensive testimony from a key aide to Bishop Hogan, Monsignor Philip Saylor, who said a Blair County president judge, sheriff and other law enforcement officers let the diocese handle abusive priests internally, rather than prosecuting them.
The grand jury said there was an apparent reason for this deference — that the diocese had political boss-like powers in central Pennsylvania. Monsignor Saylor said a mayor of Johnstown sent candidates for police and fire chief to him for interviews, and he would tell the mayor whom to pick. "That happened in Johnstown and Altoona," he said. The grand jury report quoted former Altoona police Chief Peter Starr as crediting his own appointment to such arrangements and saying that the "politicians of Blair County were afraid of Monsignor Saylor," who was editor of the diocesan newspaper. With such influence, "Hogan saw no obligation of faith or law to the children of his parishioners," the grand jury report said.
The report added that even a diocesan review board, impaneled amid growing public outrage over sexual abuse by priests, often turned into a travesty, with investigations focusing not on the accused but on those reporting abuse by priests. In one case, the review board sought gynecological records of a survivor, the report said. And in another case, a top diocesan official suggested to an abuse victim, himself now a priest, that he could be excommunicated for suing the church — before the official admitted he was reading from an expired canon in church law and that this couldn't happen. But, the priest said, he felt he was being threatened with hell to intimidate him. The report excoriated Bishop Adamec for the diocese's 1992 statement regarding the dismissal of a lawsuit involving the Rev. Francis Luddy, whom the diocese knew molested, sodomized and performed oral sex on at least 10 children.
The diocese called the dismissed lawsuit "frivolous" even though Bishop Adamec knew "with certainty that Francis Luddy had admitted to molesting the very children for whom the bishop bore the most responsibility." Bishop Adamec's attorney, David Berardinelli, filed a 10-page statement with the grand jury defending the retired bishop and calling its criticism "unfounded." Mr. Berardinelli said the lawsuit involving Mr. Luddy was dismissed after the accuser's own brother said in an affidavit the claim was not credible and that Mr. Luddy had already been removed from ministry by that time.
He said Bishop Adamec followed a process of meeting with victims, investigating claims and following the advice of psychiatric professionals who evaluated accused priests. It said that five priests who were cleared to return to service never offended afterward and that others were eventually removed from ministry. "While, in hindsight, one might second guess isolated actions taken by Bishop Adamec, there simply is no pattern or practice of putting the church's image or a priest's reputation above the protection of children," his statement said. The grand jury report faulted the psychological reviews as inadequate. Deputy Attorney General Daniel Dye, who had called Bishop Adamec before the grand jury, noted that the bishop refused to make that case to the grand jury when he refused to testify under oath.
No alleged abusers are currently in ministry, but some were removed only recently. Ms. Kane said at the time most of the abuse occurred, the statute of limitations for civil lawsuits was two years. It varied for criminal cases but was only a few years at the time of most offenses. The law has been revised several times, and a victim can sue for child sexual abuse as late as age 30 and pursue criminal charges as late as 50 in some cases. The grand jury is recommending the complete removal of statutes for future child sexual abuse criminal cases and opening a window of time allowing civil suits for past abuse, as some other states have done.
The grand jury investigation began with a referral by the Cambria County District Attorney's office to the state Office of the Attorney General regarding alleged abuse at Bishop McCort Catholic High School in Johnstown. The grand jury probe expanded into a sweeping look at abuse dating as far back as the 1940s. In August, investigators executed a search warrant at diocesan offices in Altoona and seized 115,000 documents, many from filing cabinets and safes where the most sensitive church documents were kept.
Reports of many of the alleged abusers have appeared in various media over the past two decades, with the grand jury singling out extensive investigations by Johnstown's Tribune-Democrat in 2002 and 2003. That was in the wake of Boston Globe investigations, recently dramatized in the Oscar-winning movie "Spotlight," into the shocking levels of abuse and cover-up in the Archdiocese of Boston. That investigation led to revelations of similar cover-ups worldwide and to the U.S. Conference of Catholic Bishops in Dallas mandating on June 14, 2002, the removal of any priest from ministry who committed even a single act of abuse.
David Clohessy, national director of the Survivors Network of those Abused by Priests, said reports such as this are "heartbreaking but crucial.""For decades now, bishops have claimed, 'We acted badly because we just didn't know or understand,'" Mr. Clohessy added. "That particular excuse has always rung hollow, but reports like this show precisely why." One case that occurred right after the 2002 policy change involved the Rev. Martin Cingle, who, according to the grand jury, had groped the genitals of a then-15-year-old boy while sleeping next to the boy on a trip he had taken him on. The victim reported the abuse in late June 2002.
Bishop Adamec then met with Father Cingle, who denied remembering such an event, then sent the priest for what the grand jury said was an insufficient psychological review. With the review inconclusive, Bishop Adamec returned the priest to ministry, where he remained until Father Cingle recently admitted to the grand jury under threat of a perjury charge that he had molested the boy. After that, Deputy Attorney General Dye wrote to current Bishop Bartchak, who agreed to his request to remove Father Cingle immediately from ministry. And although the Dallas conference mandated the creation of review boards, the grand jury report noted that as late as 2005, the Altoona-Johnstown diocese was hiring private investigators to look for ways to undercut the credibility of an alleged accuser.
---
Ex-Greenberg Traurig Litigator Seeks Redemption for Sex Abuse Victims
The Am Law Daily by Jennifer Henderson, published: January 8, 2016
More than a decade ago, Roderick "Eric" MacLeish Jr. suffered a personal crisis and retreated from his career after representing victims of clergy sex abuse in a landmark $85 million settlement with the Roman Catholic Archdiocese of Boston. Now, after a long hiatus, the former partner at Greenberg Traurig and Eckert Seamans Cherin & Mellott is once again actively practicing law. Not only that, he's thrown himself into another high-profile battle over alleged childhood sexual abuse by former faculty members and students at an elite private boarding school, although litigation has yet to be filed.
This week, a day after handling an emotionally grueling press conference alongside his current clients—former students alleging abuse while they attended the St. George's School in Middletown, Rhode Island—MacLeish said that reprising his earlier role was an unexpected development. "I never dreamed six years ago that I would ever be able to do this again," MacLeish said.
In 2010, The Boston Globe profiled MacLeish's battle with post-traumatic stress disorder, sparked by the realization that he, like his earlier clients, had been the victim of sexual abuse as a child. MacLeish has said that the abuse occurred at a boarding school in East Sussex, England, where his parents lived for a time before returning to the U.S. (MacLeish is the son of the late political commentator of the same name.)
MacLeish, now of counsel at Cambridge, Massachusetts-based Clark, Hunt, Ahern & Embry, found himself in the news again late last year as a result of his role in the Catholic clergy abuse cases in Boston. In "Spotlight," a critically acclaimed 2015 film based on The Globe's role in unearthing the abuse scandal, actor Billy Crudup plays MacLeish on the big screen. (The Globe reported in November that MacLeish was less than excited about his portrayal in the movie, but he has encouraged people to see the film.)
The American Lawyer profiled the work of MacLeish and other lawyers pursuing cases against the Catholic Church back in 2002, a year before the defendants agreed to pay $85 million to settle abuse claims by than 500 victims. A founding partner of Greenberg Traurig and Eckert Seamans' Boston offices, MacLeish was at the forefront of the litigation.
In an interview this week, MacLeish described his situation during the earlier abuse litigation as incredibly unhealthy. He said he functioned well in his professional life—staying strong in intense public appearances, trial work and deposition of the notoriously powerful Cardinal Bernard Law. But behind closed doors, MacLeish said flashbacks to his own ordeal had become debilitating. They stopped him from feeling safe, being active (he enjoyed skiing with his family) and participating in social events, he said. To make matters worse, MacLeish said that he was persistently overcome by a pervasive sadness.
In 2004, MacLeish began seeing a therapist with whom he would have an affair and start a relationship. The therapist later lost her license as a result of that affair, but MacLeish's marriage fell apart, and his relationship with his family suffered. On the verge of a breakdown, he left Greenberg Traurig in 2006 and retreated to New Hampshire, where he turned his focus to a different set of professional duties as a college professor at Plymouth State University, teaching courses on legal issues and stress management.
MacLeish doesn't like to discuss this period in his life, one already covered in depth by The Globe six years ago. He said it was around that time he realized he missed practicing law. Instead of returning to a big firm, MacLeish joined a group of "good friends" at Clark Hunt, a 14-lawyer personal injury shop, where he remains to this day. He calls it "the most comfortable place [one] would ever want to work as a lawyer."
When he first returned to Clark Hunt, MacLeish said he focused on research and legal briefs, neither wanting nor intending to return to trial work. But he had a change of heart three years ago. Last year, MacLeish took the lead in a class action suit against Bridgewater State Hospital, a Massachusetts psychiatric hospital accused of sending mentally ill patients into lengthy periods of isolation in violation of a 1988 agreement MacLeish had previously negotiated with the state.
It was another former client, Anne Scott, who helped prompt MacLeish's return to the public eye. Back in 1989, MacLeish represented Scott in a suit she filed against St. George's, an elite Episcopalian boarding school located just north of the affluent seaside city of Newport, Rhode Island.
Scott's suit claimed that Al Gibbs, a now deceased athletic trainer at the school, had raped her. MacLeish described Scott's terrible allegations, and how a former defense attorney for the registered nonprofit suggested that Scott, as a 15-year-old girl, could have had consensual sex with the 67-year-old Gibbs. Scott ultimately decided to drop her case, but with a gag order placed on her afterward, which didn't sit right with MacLeish.
"I became a lawyer because I don't like bullies, and I don't like bullies who are in a position of power," said MacLeish (pictured right), noting the tough opponents he's run into throughout his career, including Harvard University, the state of Massachusetts and, of course, the Catholic Church. St. George's, which MacLeish also attended, although he said he was never abused there, is merely his latest adversary. Scott spent some time in Singapore working in maternal health, but after she returned to the U.S. a few years ago she reconnected with MacLeish. They both decided to once again take on St. George's, which in December released the results of an internal investigation into incidents of abuse at the school. (William Hannum III, managing partner of Andover, Massachusetts-based Schwartz Hannum, a firm that has also been a legal adviser to St. George's, prepared the 11-page report.)
In early 2015, St. George's sent out a series of letters to alumni, outlining plans to launch a probe into abuse claims over the last 50 years and offering aid for therapy costs. Other individuals, including Harry Groome and Katie Wales Lovkay, stepped forward to form a group of 40 former students accusing St. George's of covering up decades of abuse. MacLeish said more victims are likely, adding that the number of potential claimants could surpass those in another matter involving New York's Horace Mann School, in which more than 60 victims have come forward in one of the largest-ever series of private school sex abuse cases.
Federal tax filings show that Horace Mann spent nearly $2.7 million in 2013-2014 on legal fees to Schulte Roth & Zabel, which has been representing the school during its sex abuse scandal. St. George's own tax filings, the latest of which also covers fiscal 2013-2014, reveal no large legal bills. MacLeish, who has criticized Hannum's independence, pushed the school to retain another outside firm to represent St. George's and conduct an independent inquiry into sex abuse claims.
The school has acknowledged concerns about Hannum's report, which it defended in a statement last month. "Questions have been raised regarding the structure of the investigation, in which one member of the firm is serving as investigator, while another partner represents and advises the school," the school said. "While the question is an understandable one, this sort of structure is not unusual and has been used in many investigations similar to ours."
Nonetheless, on Thursday, St. George's bowed to mounting pressure from the public and a 40-member victims group, called SGS for Healing, and agreed to conduct a new inquiry. The school has retained Ropes & Gray, which has previous experience with institutional matters of sex abuse, having issued a report last year into a series of similar incidents at the American School in Japan.
James Dowden, a former federal prosecutor who rejoined Ropes & Gray's Boston headquarters four years ago this month and took the lead for the firm last year on the ASIJ report, is now representing St. George's along with associate Sara Gutierrez Dunn. (Dowden is a government enforcement partner who also co-heads Ropes & Gray's anti-corruption core practice.) Ropes & Gray declined to comment on its role advising St. George's, but MacLeish said he "couldn't be more pleased" to have Dowden and Dunn involved for the school.
MacLeish's legal team includes Harvard Law School professor Lawrence Lessig III and Boston solo practitioner Carmen Durso. On behalf of their clients and SGS for Healing, the lawyers have all pushed St. George's to pursue an independent investigation. MacLeish said criminal prosecution of living perpetrators is a top priority for his team, as is changing the way schools such as St. George's report alleged sexual predators to the authorities. He noted that two former faculty members at the school accused of abuse moved on to similar positions elsewhere.
Civil litigation against St. George's is also a possibility, said MacLeish, adding that the sex abuse victims he represents are entitled to the support and therapy they need. (Perhaps not surprisingly, after Ropes & Gray released its ASIJ report, a mediator helped broker a settlement between the Tokyo-based school and sex abuse victims.)
MacLeish, having survived his own odyssey of abuse, said he has arrived at a better place at this point in his life. He is now in regular, healthy therapy sessions and remarried. He credits his former and current wives with helping him regain his footing.
Other essential parts of his path to recovery, MacLeish said, include good nutrition, exercise, meditation and holding strong to the idea of hope. It helps to have clients who know his ordeal and are fellow sex abuse survivors, he said. "I love what I'm doing now," added MacLeish. "The beginning was a little tough, [but] just to be in the presence of people like Anne Scott and Harry Groome and Katie Wales, it doesn't get any better as an attorney or a human being."
---
The New York Times, by Jennifer Medina and Laurie Goodstein, published: February 1, 2013
LOS ANGELES — The church files are filled with outrage, pain and confusion. There are handwritten notes from distraught mothers, accounts of furious phone calls from brothers and perplexed inquiries from the police following up on allegations of priests sexually abusing children. Over four decades, particularly under Cardinal Roger M. Mahony, parishioners in the nation's largest Roman Catholic archdiocese repeatedly tried to alert church authorities about abusive priests in their midst, trusting that the church would respond appropriately. But the internal personnel files on 124 priests released by the archdiocese under court order on Thursday reveal a very different response: how church officials initially disbelieved them and grew increasingly alarmed over the years, only as multiple victims of the same priest came forward and reported similar experiences.
---
The Los Angeles Times, published, 11 October 2012
The Los Angeles Times has reviewed thousands of confidential records kept by the Boy Scouts of America in cases in which allegations of sexual abuse were made. The review has found Scouting officials frequently urged admitted offenders to quietly resign—and helped many cover their tracks.
---
The New York Times, by Jenny Anderson, published July 4, 2012
The athletic field and an endowed chair have been stripped of their honorary names. Security measures have been discussed. The head of school has been busy late into the night, speaking with detectives and alumni, two of whom showed up at his home for a 10 p.m. visit that lasted nearly three hours
This should be a moment of celebration for the Horace Mann School, which is commemorating its 125th year and just sent another crop of young men and women off to the nation's best colleges. But since an article in The New York Times Magazine last month described a pattern of sexual abuse of students by teachers in the 1990s and earlier, a hurricane of emotion and reaction, aided by social media, has engulfed the school and placed its characteristically guarded leadership on the defensive.
Thousands of alumni have gathered to discuss the allegations on Facebook and in person, on a long, dirt road in Vermont and in restaurants and homes in New York City. Victims have made allegations against more former teachers, one of whom publicly admitted having had sex with several students. The Bronx district attorney's office and the New York Police Department have opened Horace Mann abuse hot lines....
---
Philadelphia Inquirer, by Frank P. Cervone, published, Wed, Jun. 27, 2012
The convictions last week of Penn State's Jerry Sandusky and the Philadelphia Archdiocese's Msgr. William Lynn affirmed the brave disclosures of victims whose embarrassment turned to empowerment. But the cases were also about the rest of us, unmasking deep contradictions in our attitudes about child sexual abuse.
Like Mike McQueary happening on the scene in the campus locker room, many of us are queasy and ambivalent about the victimization of boys or men. Laws against rape began as property protections, treating wives and daughters as chattel not to be spoiled, and did not consider men. It was only this year that the federal definition of rape was revised to include non-vaginal penetration, after a campaign led by Philadelphia's Women's Law Project. We remain confused and confined by history on the subject.
The recent cases also reminded us that, whatever their gender, victims of sexual assault are often doubted. We often seem to wonder whether they are complicit, inviting the relationship and contributing to the crime. Victims of sexual assault sense our societal uncertainty. One Penn State victim explained his long silence by saying, "No one would believe me."
---
Daily Mail, published, November 15, 2011
The president of a South Carolina military university that was hit by child sex abuse allegations admitted on Monday that the school could have and should have done more. Lt. Gen. John Rosa, President of The Citadel, said the school investigated the accusations in 2007, but eventually closed the case and did not report it to the police. The alleged offender was arrested last month and charged with multiple accounts of direct sexual molestation of young teenage boys, ABC News reports.
The case mirrors the storm now encircling Penn State University, which has been accused of not doing enough to put a stop to the alleged sexual abuse of children by a staff member. Mr Rosa said: 'At the time, we took what we thought were the necessary steps. Now, we know we didn't.' He was referring to how Citadel reacted when a teenage boy and his family came forward to give a 169-page statement to the school describing inappropriate sexual conduct that allegedly happended in 2002. The accused was Citadel summer camp counsellor and former Citadel cadet Louis 'Skip' ReVille. Citadel officials said in a statement over the weekend: 'The individual stated they watched pornography on Mr. ReVille's computer. 'They did not touch each other, but they engaged in sexual activity.'
Mr Rosa said that ReVille strongly denied the allegations against him. An investigation showed there were no other complaints against the counsellor. The university closed the case and decided it did not need to report the incident to police. Mr Rosa said on Monday: 'We interviewed other camp staff which were very complimentary of ReVille. 'When the family did not pursue the matter, we did not either. We should have.' According to arrest warrants last month, ReVille is accused of abusing several of the boys in just the last year alone. He was involved in youth sports programmes and was working at a Christian preparatory school. Citadel officials allege that unlike the 2002 incident, ReVille has admitted to at least some of the charges against him in this case. ABC News reports that ReVille's attorney Craig Jones said ReVille was deeply remorseful. (Read more by clicking link in title above.)
---
The Legal Intelligencer, by Ben Present, published, November 09, 2011
The prosecution trying the cases of two former high-ranking Penn State officials implicated by the Jerry Sandusky sex abuse scandal might be facing an uphill battle on one of the charges lodged against the two administrators, some legal observers have told The Legal.
Former Penn State Athletic Director Tim Curley and former Vice President for Finance and Business Gary Schultz have been charged with failure-to-report an incident of child abuse and perjury, a more serious crime. But one attorney specializing in child advocacy said the officials might have a "credible, if not very satisfying defense" on the failure to report charges because the alleged incident occurred when a more restrictive version of the law was in place...
---
The Patriot-News, by Sara Ganim, published, November 07, 2011
( For breaking news on this story, log on to PennLive )
He was the last victim, that we know of, to come forward. But in many ways, he was the first. He was one of the first with enough courage to say something. To stick around for three years while police and a grand jury talked to dozens of people and combed through thousands of documents. To hang on emotionally. To take a stand against a Goliath. A legend. A man that some saw as a god. He was the first to be believed. Authorities even call him Victim One.
The mother of the Clinton County boy is telling her family story. It's a story that launched a three-year grand jury investigation that resulted in sexual assault charges against former Penn State defensive coordinator Jerry Sandusky, allegedly involving eight boys. "I'm very proud of him," the mother said of her son, on the brink of adulthood and at the heart of what some are calling the biggest scandal in college sports. "He's a brave kid," she said. "And his major concern in the whole thing was for anybody else. That was his big thing. He said, 'I just don't want this to happen to anybody else.'"
And now he knows that he's not alone. Ten years before he came forward, another child, now 24, had also spoken up. He wasn't believed. Allegations he made against Sandusky about touching during a shared shower at Penn State in 1998 never resulted in charges. Sandusky, through his attorney, denies all the charges. Attorney Joe Amendola, said Sandusky attributes the allegations to troubled kids who are acting out.
"I'm so upset," said the mom of the 24-year-old, who authorities are calling Victim Six. "My son is extremely distraught, and now to see how we were betrayed, words cannot tell you. To see that Graham Spanier is putting his unconditional support behind Curley and Shultz when he should be putting his support behind the victims, it just makes them victims all over again." She's talking about the perjury and failure-to-report charges filed against former Penn State athletic director Tim Curley and resigned Vice President of Business and Finance Gary Schultz.
Prosecutors allege the administrators ignored a 2002 report from a graduate assistant — identified by sources as Mike McQueary — that he saw Sandusky having sex with a young boy in a shower. McQueary, now an assistant coach for the Nittany Lions football team, went to his father first, then to coach Joe Paterno. (Read more by clicking link in title above.)
---
The PBS NewsHour, airdate, 26 July 2011
RAY SUAREZ: The Vatican's move to recall its ambassador, Archbishop Giuseppe Leanza, was highly unusual. The archbishop was summoned back to the church's headquarters after the Irish Prime Minister Enda Kenny sharply denounced the way the Vatican dealt with repeated child sex abuse scandals.
Ireland is 87 percent Catholic. In an attack on the church unprecedented for an Irish prime minister, Kenny told his Parliament, "The rape and torture of children were downplayed or managed to uphold instead the primacy of the institution in power, standing and reputation." His comments come on the heels of a judicial report released two weeks ago which revealed the Vatican secretly discouraged Irish bishops from reporting pedophile priests to police, as was demanded by the Dublin government. The report also suggested the Diocese of Cloyne in County Cork failed to act on the allegations against 19 priests between 1996 and 2009....
---
By Mark Arsenault and Christopher Rowland, Globe Staff, 16 February 2011
(As we note in our book, abuse is common and occurs to one out of six boys. ~ Marie & Marlene)
WASHINGTON -- Senator Scott Brown reveals in his soon-to-be-released autobiography that he was sexually abused by a male camp counselor and suffered repeated beatings at the hands of a stepfather. His book, to be released on Monday and obtained by the Globe today, vividly details a childhood in Wakefield and other Massachusetts towns that was punctuated by violence, family strife, and petty crime. Brown discloses that, as a teen, he engaged in numerous incidents of shoplifting, including stealing a three-piece suit from a department store and steaks and hamburger from the supermarket. He expands on a previously disclosed incident, when he was caught shoplifting albums by Black Sabbath and other rock artists and was admonished by a judge to straighten up.
Brown says in the book that he was sexually assaulted when he was 10 years old at a religious camp in Cape Cod, which he attended in the summer of fourth grade. Brown says the counselor who fondled him was in his mid-20s. He does not disclose the name of the camp in his book, or the denomination. "I can remember how he looked, every inch of him: his long sandy, light brown hair; his long, full mustache; the beads he wore; the tie-dyed T-shirts and the cutoff jeans, which gave him the look of a hippie," Brown writes in the book, "Against All Odds."
Brown said the abuse occurred when he went to the camp infirmary, not feeling well. The counselor followed him into the bathroom, according to Brown's account. "I was standing there with my pants down and he came right up next to me and asked me if I needed help, and then he reached out his hand," Brown writes, continuing with a graphic description of the encounter. Brown said he screamed and ran outside. The counselor told Brown later "that if I told anybody, ever, he'd hurt me badly," Brown writes.
Brown kept quiet, though he told his family he didn't want to go to camp again. Even so, he was back the next summer -- and so was the counselor. "I stayed for the entire summer month, kept my distance from him, and nothing happened. ... But I was always on my guard." The incident was a hard lesson, Brown writes. "There were, I knew now, no safe havens, no one I could truly trust, just my legs beneath me, running, riding as far as they could carry me, and the slow motion of my lips, offering up a silent prayer."
Brown will make an appearance on a "60 Minutes" segment on Sunday. The CBS-TV program today released videotape of his interview, in which he discusses the sexual molestation and his difficult childhood. In the book, Brown says the incident with the counselor was not the first time he faced a potential sex abuser. In an earlier episode Brown describes, when he was about 8 and living in Malden, he befriended a 13-year old boy from the neighborhood. Late one winter afternoon, the friend approached Brown in the woods, threatened him with a knife, and commanded Brown to perform a sexual act, according to Brown's account. Feeling desperate, Brown says, he hit the teenager in the face with a rock and ran away. "To this day," the senator writes, "I can still see the flash of that knife blade in the woods and the thirteen-year-old boy with his pants down."
In the 1960s, Brown's divorced mother was remarried to a truck driver who Brown identifies as Dan Sullivan. The family moved to Revere. Brown writes that on the morning his younger sister was being born, he was supposed to wake up his stepfather and get him out of bed. "I pulled and I prodded, the smell of alcohol stinging my nose. He was a combination of drunk and hung over, and he would not get up," Brown writes. Finally, Dan opened his eyes. "He rubbed his face and caught sight of the clock, and the next thing I knew, he balled his hands into fists and began smacking me around. He pounded my head, my back, and plowed into me with those massive knuckles and flat, sandpapery palms until I was shaking and sobbing and snot was pouring out of my nose." When the beating was done, Brown's stepfather threatened to kill him if he told his mother, Brown says. "I knew that he would kill me," Brown writes. "I was six years old and completely alone with him. It was a feeling of fear and hopelessness that I could barely comprehend."
Not long after, Brown woke up in bed to the sounds of "screaming and banging." He ran to see what was the matter. "My mom was screaming and yelling, and crying big choking sobs, and he was hitting her, his fists landing blow after blow," Brown writes. Brown says he rushed him and bit him through his pants. "He tasted of soiled Dickies fabric, of course male hair and sweaty skin, but I bit down hard, right on the inside of his thigh, and just as I had seen him do, I made a fist and began trying to hit him," Brown writes. "He began pounding my head until my brain rattled like a Jell-o mold turned upside down." Neighbors called the police. "It took a few more months before Dan Sullivan was gone. But from that night on, I knew that I had to be the man of the house, that I had to be the protector above all other things."
Brown writes about how his father was mostly absent from his life, and that his family grew up with little money. "At school, I was often a free-lunch kid, ravenous for whatever hot food came out of the cafeteria line. ... I remember days when the largest things we had in our fridge were milk and blocks of yellow government-issue cheese."
---
As many of you know, on Friday, November 5th, 200 men joined Oprah, Tyler Perry, and MaleSurvivor's Dr. Howard Fradkin to share their stories of pain, hope, and healing.
This Friday, November 12th, tune-in for the second installment of this historic show as the spouses and families of these survivors reveal their own struggles and shed light on their experiences of the support and recovery process. If you missed last week's show CLICK HERE. Said Winfrey: "In my 25 years of doing this, I'm more proud of these two shows than almost anything else I've done in my career. These are two of the most phenomenal shows I've ever done." As you know, by raising the visibility of the issues surrounding male sexual victimization we have the ability to reach more men seeking healing and recovery.
---
by Danielle Canada October 19, 2010, 11:38am
Famed director Tyler Perry will appear on Oprah Wednesday to give what he calls his "most in depth interview ever." Perry will join Winfrey to discuss the abuse he endured growing up as a child, from rape by both male and female relatives to sexual abuse at the hands of a church member. The actor and playwright has previously discussed his traumatic childhood but took to his Twitter account to say that this account would be much more detailed.
"This Wednesday, October 20th, I will be on The Oprah Show, doing the most in depth and revelatory interview I have ever done."
Perry is said to describe the day he was raped as the day he "died" and will discuss when he contemplated suicide to end his pain. The Oprah Winfrey shows airs weekdays at 4 p.m.
---
(Anyone could have been abused as a child -- even a superstar attorney. This one is so special, he's singled out on page 104 of our book. ~ Marie & Marlene)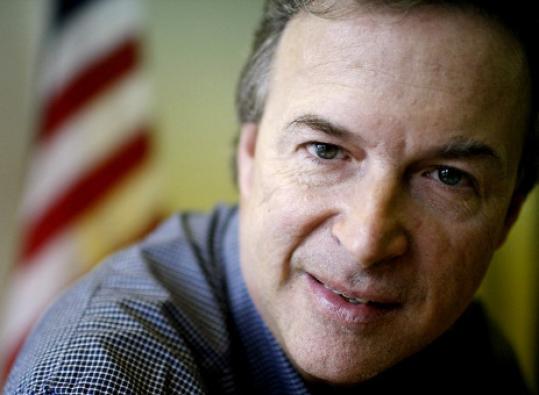 It was mid-2003, and Eric MacLeish was on fire. As a lead attorney in the clergy sex abuse scandal in the Archdiocese of Boston, he was in the newspapers and on TV continually. Named one of the top trial lawyers in the country by the National Law Journal, MacLeish conducted a nine-day deposition of Cardinal Bernard Law that helped lead to Law's resignation. He and others sued the archdiocese for the release of thousands of pages of secret files on abusive priests, which broke the story wide open. When the archdiocese agreed to an $85 million settlement with 550 abuse victims, MacLeish became a very rich man.
And then his world shifted. In the fall of 2003, MacLeish was among the lawyers presenting hundreds of cases to arbitrators, who determined how much compensation each should receive. The very first case haunted him: a client who, as a 9-year-old boy, had been raped by the Rev. Bernard Lane at St. Agnes parish in Littleton, a priest who was accused of abusing many and was later dismissed from the priesthood. "That boy buried his bloody underwear in the yard so his mother wouldn't find out,'' MacLeish says. Over the years, he'd heard plenty of shocking case descriptions and appalling details; this was not the worst. But that day the image of that boy's lonely suffering triggered feelings he couldn't quite explain; in the years ahead, it would follow him, break him, and change him. "I began to become unglued,'' is the way he puts it. For the past six years, MacLeish has battled severe post-traumatic stress disorder that led him to give up the law practice he loved, get a divorce, leave Boston, and lie low in New Hampshire. When he finally figured out what was wrong with him, the pieces all fit and the memories crystallized: He himself had been sexually abused as a child.
Absorbing the pain Eric MacLeish's small office at Plymouth State University, where he has taught since 2006, is in a four-story brick building that looks out on a dull landscape on a late winter day. It's quite a change from the spacious corner office he'd enjoyed as a partner in the firm of Greenberg Traurig, on the 36th floor at International Place, with sweeping views of the Boston Harbor. The path from high-powered litigator to low-key professor was paved with flashbacks, nausea, insomnia, and a 40-pound weight loss. There were days when he could not get out of bed. Doctors told him the debilitating stress symptoms were "vicarious,'' that he had absorbed the pain of his clients to a crippling extent. In May 2004 MacLeish got on his BMW motorcycle and rode across the country to deliver a speech in Santa Monica, Calif.; he drove 700 miles the first day. "I was absolutely filled with this malignant despair,'' he says. That summer, he climbed to the base camp of Mount Everest with his teenage daughter. He and his family spent time at a dude ranch in Colorado. But he could not bear to be in Boston, could not drive past a church. He lived in a pop-up trailer on his in-laws' lawn in Westport. A few times, he tried going in to his office. "I remember sitting there and I had images of this kid being raped repeatedly in the parish in Littleton. I went into the bathroom, and I just threw up. I was always nauseous. I couldn't do any work." His law partner, Jeffrey Newman, worked closely with him for two years. As 2003 wound down, Newman had noticed a change. "At the tail end of arbitrations, Eric had these feelings of anxiety coming into the office,'' Newman says. "And that was different. Eric rarely wasn't in the office.''
School was 'nightmare' At age 8, MacLeish was sent to boarding school in England, where his father had been transferred. His father, Rod MacLeish, was a journalist who had opened Westinghouse Broadcasting's London bureau. For nearly five years at the Vinehall School in East Sussex, MacLeish says, life was a "horrible, horrible nightmare." During an interview at his Plymouth State office, MacLeish, 57, pulls up his shirt to reveal rows of faint horizontal scars that line his back. "The headmaster was sadistic and caned us,'' he says. When he was 13, his father was transferred back to Washington, D.C., and MacLeish put Vinehall behind him, or so he thought. Forty years later, in September 2004 — after the story of Lane's victim had rekindled his own memories of abuse — he decided to clean out some closets in his Newton home. He was astonished at what he found: a packet of letters his mother had saved — some he'd written her from boarding school, and one the wife of the headmaster had written to her. From his letters, the child's pain and loneliness are evident: "Dear Mum and Dad, That's a terrible long time to go till the end of term, 109 hours, 33 minutes and 27 seconds from now.'' "Do you think you could get Dad to come down next time, because Mrs. Gilbert has something very important to tell him?'' "I'm sorry I'm back in the [infirmary] but I really couldn't help it." But to MacLeish, it was a letter written on June 3, 1964, from the headmaster's wife, Pat Taylor, to his mother that was most revealing. Taylor wrote of some physical issues young Eric was having and then added: "We have had nearly 48 hours now without sight or sound of the man and we hope he's gone for good." To MacLeish, the cryptic words were confirmation of his childhood memories. He thinks the letter offers veiled references to a sexually abusive scoutmaster in charge of a school-sponsored troop, a man he remembers being alone with on some Saturday and Sunday afternoons, in the woods.
Letter revived memories The letter loosened other shattering recollections. He'd long had the image of being molested by a teacher at Vinehall, when he was about 10. Now he flashed back to the teacher's study on the top floor. "There are little flowers on the wallpaper. The man has a green tartan blanket over the two of us. My memory goes up to the point where he starts touching me under the blanket and I fought. I remember I had to go back, and I don't remember anything after that." The former headmaster and his wife are deceased, as are both of MacLeish's parents. Vinehall officials did not return the Globe's phone calls and e-mails, and MacLeish doesn't know whether the teacher is still alive. He did try to piece it together. In 2005, MacLeish says, he contacted Vinehall's head, who told him that Vinehall was now a "Christian school." MacLeish wanted to track down classmates, but there was no alumni association or alumni records. Ultimately, he says, he heard from the school's lawyer, who told him that the people he inquired about "were either dead, handicapped or did not wish to see me." Local police told him they couldn't investigate a 40-year-old claim.
Vinehall wasn't MacLeish's only encounter with sexual predators, he says. In the early 1990s, when he was handling the notorious sexual assault cases involving the Rev. James Porter in Fall River, he was asked by a reporter if he himself had ever been assaulted and, if so, was that his impetus in taking on these cases? MacLeish responded that he had been assaulted by a much-older friend on a camping trip when he was a 15-year-old copy boy at a Washington radio station. And no, he wasn't on a "crusade'' because of it. Today, he has a different opinion."I never forgot what happened to me as a younger child, but I didn't place any significance on it, which was totally irrational," he says. "I thought what happened to me is nothing compared to what happened in the priest cases. I was doing OK. I was a good lawyer. I had no drug or alcohol problem. I had a wife and kids." As for his passion for the sex abuse cases, he adds: "In retrospect, it's totally clear why I was doing this work, representing the powerless."
Fought for underdogs Naturally pugnacious, MacLeish loved the adversarial process and especially relished the David-and-Goliath conquests where he could represent underdogs against powerful interests. "My career was built on suing the state, the Roman Catholic Church, and Harvard University," he says. Even before his unraveling, when he was a star, MacLeish struggled with self-esteem. "There was a veneer that everything was fine," he says. "But underneath there was incredible sadness." For a long time, he stayed a step ahead of the demons by staying busy. At the Head of the Charles regatta in October 2001, MacLeish met Teresa Mathai, whose husband, Joseph, was killed in the World Trade Center. Her son went to school with his daughter, and MacLeish asked the traumatized widow what he could do. "She took a letter from her purse and said, 'Can you help me with this?'" Her husband had died without a will. MacLeish didn't do probate work but got a colleague to pitch in.
Ultimately, he assembled a group of people who wrote grant applications and raised millions of dollars from the business community, hired staff and tracked down the 200 Massachusetts families who had lost loved ones. The Massachusetts 9/11 Fund was born, with MacLeish its first president and chairman. The nonprofit brought in financial planners and therapists, organized family events, and raised $640,000 from "United We Stand" license plates, using some of the money to build a memorial in the Boston Public Garden. MacLeish invited the families down to his in-laws' beach house to visit with his girls. All the while, he was working double shifts; by day, on the priest cases, by night, on the Fund. It was exhausting but exhilarating. But by the fall of 2004, MacLeish was just trying to get through the day. Flashbacks would appear with no warning. He could no longer coach his daughters' softball and soccer teams. He couldn't sleep, but he couldn't get out of bed. "I was completely immobilized," he says. At Massachusetts General Hospital, psychiatrists recommended he be treated for PTSD, as either an inpatient at McLean Hospital in Belmont or a five-day-a-week outpatient at MGH. MacLeish refused; he did not want to be institutionalized, or treated in the Boston area. He had, by this time, moved into the family's condo at Waterville Valley. Eventually, he wrote friends a letter, describing what had happened to him. Jeff Newman was stunned: "During the cases, he never said a word. I think there's no question Eric had a significant psychological break."
Damaging relationship In August 2004, MacLeish had been referred to Brookline psychologist Mary O'Neill for therapy. Within eight weeks, he says, they were sleeping together. In early 2005, he separated from his wife. "I was extremely sick, completely depressed. . . . I thought this woman was saving my life," he says of O'Neill. "It seems inconceivable now that I could be so stupid." That spring, he tried briefly to return to his law practice. Sometimes he'd drive in only to turn around and retreat to New Hampshire. Once, he parked for a meeting of the Mass. 9/11 Fund, but couldn't get out of his car. He'd make dates with friends, only to cancel. Though he and his wife had already been in counseling, MacLeish says the relationship with his therapist led to their divorce, finalized in 2008. "The last thing I had on my mind was taking up with another woman," he says. "I just wanted to get help. Enormous damage was done. My former wife is a good and decent person, and none of this was her fault. My kids were extremely traumatized by it."
A therapist friend told him to end the relationship with O'Neill, that it was unhealthy and broke all the professional rules for therapists. In summer of 2006, he says, he ended it. Other mental health counselors encouraged him to file a complaint against her, he says. Massachusetts licensing rules strictly prohibit sexual relationships between therapists and clients, as does the American Psychological Association's code of ethics. In January 2009, MacLeish filed a complaint against O'Neill with the state. Nine days ago, the Board of Registration of Psychologists voted unanimously to revoke O'Neill's license, saying she was guilty of "gross misconduct.'' It was an unusual move; 388 complaints have been filed against psychologists since 2001, and only 10 have lost their licenses. O'Neill declined to speak with the Globe. She had testified that she stopped treating MacLeish after the relationship began; still, such affairs are prohibited within two years of treatment. And MacLeish said there was never a formal termination of treatment, that in fact she continued to treat him during the relationship. Dr. Laurie Reed, who has been MacLeish's psychiatrist for the past two and a half years, says his relationship with O'Neill was a huge setback that retriggered his PTSD. "Not only did that damage him, but he lost his marriage as well,'' says Reed, who spoke to the Globe at MacLeish's request. "I think he is much improved, but I think this is something he will carry with him the rest of his life."
More peaceful life The life MacLeish now leads is a quiet one. In the winter, he skis and snowboards. He visits his younger daughter in Boston every week; his older daughter is in college out of state. He is no longer affiliated with his law firm and is not actively involved in the Mass. 9/11 Fund, though as chairman emeritus remains in touch with the families. "I was lucky," he says. "I have friends, a good therapist now. I lead a happy, hopefully productive life. I love my kids. A lot of people don't end up that way." MacLeish enjoys his students at Plymouth State, where he has taught civil liberties and criminal justice for four years. Still, the clergy cases are always with him. In 2008 MacLeish received the Champion of Justice Award from the National Crime Victims Bar Association for his work on clergy sex abuse. Recently, with priest abuse back in the news, reporters have been calling him again. Though he returned none of the calls, MacLeish still gets exercised on the issue. "I think the work we did in Boston helped set the stage for real reform for children within the Catholic Church,'' he says, "and I feel real proud of that." He says he may start a nonprofit made up of retired lawyers in his neck of New Hampshire to provide legal services to working folks. But he doesn't think he'll ever return to the courtroom that once held such allure. "I need to be peaceful," he says. "I need to be non-adversarial. I fell pretty far, but I am in a good place now." Copyright 2010 The New York Times Company
---
By WILLIAM McCALL(AP), published March 19, 2010
(As we note in our book, most abuse occurs by those who are familiar with their victims, not matters of "stranger danger." ~ Marie & Marlene)
The Boy Scouts of America has long kept an extensive archive of secret documents that chronicle the sexual abuse of young boys by Scout leaders over the years. The "perversion files," a nickname the Boy Scouts are said to have used for the documents, have rarely been seen by the public, but that could all change in the coming weeks in an Oregon courtroom. The lawyer for a man who was molested in the 1980s by a Scout leader has obtained about 1,000 Boy Scouts sex files and is expected to release some of them at a trial that began Wednesday. The lawyer says the files show how the Boy Scouts have covered up abuse for decades.
The trial is significant because the files could offer a rare window into how the Boy Scouts have responded to sex abuse by Scout leaders. The only other time the documents are believed to have been presented at a trial was in the 1980s in Virginia. At the start of the Oregon trial, attorney Kelly Clark recited the Boy Scout oath and the promise to obey Scout law to be "trustworthy." Then he presented six boxes of documents that he said will show "how the Boy Scouts of America broke that oath." He held up file folder after file folder he said contained reports of abuse from around the country, telling the jury the efforts to keep them secret may have actually set back efforts to prevent child abuse nationally. "The Boy Scouts of America ignored clear warning signs that Boy Scouts were being abused," Clark said.
Charles Smith, attorney for the national Boy Scouts, said in his own opening statement the files were kept under wraps because they "were replete with confidential information." Smith told the jury the files helped national scouting leaders weed out sex offenders, especially repeat offenders who may have changed names or moved in order to join another local scouting organization. "They were trying to do the right thing by trying to track these folks," Smith said.
Clark is seeking $14 million in damages on behalf of a 37-year-old man who was sexually molested in the early 1980s in Portland by an assistant Scoutmaster, Timur Dykes. Clark said the victim suffered mental health problems, bad grades in school, drug use, anxiety, difficulty maintaining relationships and lost several jobs over the years because of the abuse. Dykes was convicted three times between 1983 and 1994 of sexually abusing boys, most of them Scouts.
Although there have been dozens of lawsuits against the organization over sex abuse allegations, judges for the most part have either denied requests for the files or the lawsuits have been settled before they went to trial. The Boy Scouts had fought to keep the files being used in the Portland trial confidential. But they lost a pretrial legal battle when the Oregon Supreme Court rejected their argument that opening the files could damage the lives and reputations of people not a party to the lawsuit. The lawsuit also named the Church of Jesus Christ of Latter-day Saints because the Mormons acted as a charter organization, or sponsor, for the local Boy Scouts troop that included the victim. But the church has settled its portion of the case.
The Portland trial comes as the Boy Scouts are marking their 100th anniversary. "They spent a century building the Boy Scout brand," said Patrick Boyle, author of a book about sex abuse in the Boy Scouts. "It's one of the most respected organizations in the world." The trial "can only erode what they have been doing for 100 years," he said. The Portland case centers on whether the Boy Scouts of America did enough to protect boys from Dykes. The Mormon bishop who also served as head of the Scout troop, Gordon McEwen, confronted Dykes after receiving a report of abuse by the mother of one boy in the troop in January 1983.
In a video deposition played for the jury, the bishop said Dykes admitted abusing 17 boys. But McEwen said he contacted the parents of all 17 boys and the boys themselves, and none would confirm any abuse. Dykes was arrested in 1983 and pleaded guilty to attempted sexual abuse, received probation and was ordered to stay away from children. Clark told the jury Dykes continued with his scouting activities until he was arrested in July 1984 during a routine traffic stop while he was driving a van full of Scouts on a camping trip.
A spokesman for the Boy Scouts of America at its headquarters in Irving, Texas, said in a statement the organization cannot comment on details of the case. But it has worked hard on awareness and prevention efforts, including background checks. "Unfortunately, child abuse is a societal problem and there is no fail-safe method for screening out abusers," Deron Smith said.
---
The New York Times by RACHEL DONADIO and NICHOLAS KULISH, published March 13, 2010
ROME — As new details emerged on allegations of child sexual abuse by priests in the Munich archdiocese then led by Pope Benedict XVI, the Vatican spoke out on Saturday to protect the pope against what it called an aggressive campaign against him in his native Germany.
At the same time, a high-ranking Vatican official overseeing internal investigations on Saturday acknowledged that 3,000 cases of suspected abuse of minors had come to its attention in the past decade, of which 20 percent had been brought to trial in Vatican courts...
---
by Dirk Hoag on Oct 9, 2009 10:24 AM EDT
What many have long suspected, is finally coming to light today. In his new autobiography, Playing With Fire, longtime NHL star Theo Fleury claims to have been sexually abused by his junior hockey coach Graham James. Back in 1998 I was fortunate enough to cover Games 1 & 2 of the Stanley Cup Finals in Detroit, and during those days, Sheldon Kennedy had just brought his story of sexual abuse by James to public attention. I observed at his press conference as he talked about raising awareness for the issues that abused teens face; isolation & fear of ridicule, which often leads to substance abuse and anger management problems in adulthood. It was a sad tale, but Kennedy gamely stood in the spotlight to tell it, and helped send James to prison for his crimes.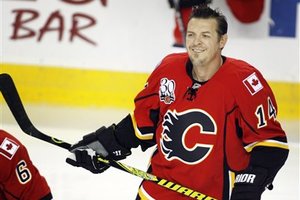 Many had long thought that Fleury, who was a teammate of Sheldon's in junior and experienced many of the same off-ice problems that Kennedy did, was also a likely victim. As Eric Francis writes in today's Calgary Sun: "While the horrific abuse of trust Kennedy bravely told police of stemmed from a relationship that started when he first met James at age 14, Fleury's introduction to James came at a similar age, leading up to his one-year stint under James in 1984, when he joined the Moose Jaw Warriors as a 16-year-old."
Kennedy played on the same team in 1984-85 and told the Sun yesterday he knew Fleury was also a victim. "I knew, but it wasn't my place to say anything," said Kennedy, who lives in Calgary and spearheads several programs aimed at curbing abuse. "I made a commitment to myself I wasn't blowing the whistle on anybody. "I did know deep down Theo was going to have to deal with it one way or another."
Sheldon's book,Why I Didn't Say Anything: The Sheldon Kennedy Story, is an absolutely heartbreaking read; as a teenager he was victimized by the leading authority figure in his life, and feared the reaction from his teammates. Let's face it, whether it was abuse or not, athletes in general (and young hockey players in particular) typically have a great deal of homophobia in mind when they hear of such things, and wonder to what extent the victim "went along with it". Such thinking makes guys in Kennedy's situation even more isolated from those he should be able to trust. We can only wish the best of luck to Theo in the months ahead; surely getting these personal demons out into the open will help him, and others down the road. And sadly enough, we know there are others. Again, from Francis: "Shortly after being sentenced in early 1997, James called the Sun with hopes the paper would slam Don Cherry for suggesting on Coach's Corner James be "drawn and quartered" for what he did to innocent teens. When asked if there were more victims, James, now 55 and believed to be living in Montreal, intimated he "loved many people" -- a chilling response suggesting several other players had been abused."
It just makes your skin crawl, doesn't it?
---
By Julie Steenhuysen, Posted 2009/12/09 at 6:35 pm EST
CHICAGO, Dec. 9, 2009 (Reuters) — U.S. researchers have found a drug-free way to block fearful memories, opening up the possibility of new treatment approaches for problems such as post traumatic stress disorder, they reported on Wednesday. The findings in people build on studies in rats that showed that reactivating a memory -- by showing people objects that stimulate the fearful memory -- opens up a specific time window in which the memory can be edited before it is stored again.
"Before memories are stored, there is a period where they are susceptible to being disrupted," said Elizabeth Phelps of New York University, whose study appears in the journal Nature. Earlier studies have shown that drugs can be used to block fearful memories, but the results were not long lasting. Phelps and colleagues based their studies on findings in rats that showed that old memories can be changed or reconsolidated, but only during a specific window time after the rat is reminded of the fearful memory.
That window of susceptibility is typically between 10 minutes after re-exposure to the object to 6 hours later, when the memory stored once again in the brain. The researchers applied these findings to people in a lab setting. First, they created a fearful memory by showing the volunteers a blue square, and then delivering a mild shock. Once they had created the fear memory, they simply showed a blue square, which reminded them of the fear memory. The team waited 10 minutes and then started a training period where the volunteers were repeatedly exposed to the blue square without a shock.
Phelps said simply delaying the exposure training so that it falls within a period during which the memory is susceptible to being edited made a lasting difference in the ability to block the fear memory. A second group that was exposed to the blue square without the 10-minute waiting period, continued to show fear when exposed to the blue square. When they brought people back a year later, the group that got the training showed no fear response -- tracked by changes in the skin -- when exposed to the blue square, while other volunteers continued to have a fear response. Phelps said the important aspect of the study is the time window.
"What we think is happening is because we did it at the right time, you are restoring the memory as safe as opposed to just creating a new memory that competes with the old memory," Phelps said. She said the findings are the first of their type in humans, and she cautioned that the findings cannot be immediately applied to people with severe anxiety problems, such as post traumatic stress disorder. "We did a blue square with a mild shock," she said. "Normal fear memories are way more complex than that." But she said, the findings do open up the possibility of new training methods that can be studied to help people overcome difficult memories. "It's really exciting for the potential of treating these disorders. It's just a ways away," Phelps said. The study was supported through a grant by the National Institutes of Health's National Institute of Mental Health. (Editing by Anthony Boadle)
---
Court Enunciates New Test for Tolling Child Sex Abuse Statute of Limitations
New Jersey Law Journal, by Michael Booth, published 06-11-2009
The state Supreme Court [of New Jersey] on Thursday set out a two-stage analysis that trial judges must conduct to decide whether and for how long the two-year statute of limitations in child sexual abuse suits can be tolled. The formula, which includes objective and subjective elements, will determine whether a Morris County man can pursue a suit, filed in 2004, alleging that his stepfather sexually assaulted him multiple times from 1987 and 1990, when he was between ages 10 to 12.
Superior Judge David Rand dismissed the suit as time-barred, but the Appellate Division reversed, saying the plaintiff did not appreciate that the abuse caused his emotional injuries until undergoing psychotherapy in 2002 and thus that the complaint was filed within two years of accrual of the cause of action. In Thursday's ruling, R L. v. Voytac, A-61-08, Justice John Wallace Jr. said both lower courts erred. Rand did not conduct a thorough enough inquiry into when the plaintiff should have known that the root of his problems lay with the alleged sexual abuse, which the stepfather, Kenneth Voytac, denies.
And the Appellate Division mistakenly conflated two provisions in the Child Sexual Abuse Act. An action for child sex abuse must be filed within two years after "the reasonable discovery of the injury and its casual relationship to the act of sexual abuse" but the limitations period may be tolled because of the plaintiff's "mental state, duress by the defendant, or any other equitable grounds," the act says. "We conclude that pursuant to the Act, the trial court must first determine when a reasonable person subjected to childhood abuse would discover that the defendant's conduct caused him or her injury. That is an objective test," wrote Wallace. "If that period is more than two years prior to the filing of the complaint, then the court must next determine whether the statute should be tolled because of 'the mental state, duress by the defendant, or any other equitable grounds.'"
The justices remanded the case for that analysis and said that since Rand made several factual and credibility findings, another judge should handle it. Voytac's lawyer, William Johnson, says he and his client are pleased with the ruling. "The Court correctly interpreted the act as saying there is an objective standard to be applied when determining when the cause of action accrued," says Johnson, of Dover's Johnson & Johnson. "The Appellate Division had applied a subjective standard." R.L.'s lawyer, Victor Rotolo, who runs his own firm in Lebanon, says he relishes retrying the case. "I have to go back to the beginning, but that's fine," he says. "The ruling gives plaintiffs a clear roadmap as to what they have to do." Copyright 2009. Incisive Media US Properties, LLC. All rights reserved. New Jersey Law Journal.
---
Philadelphia Inquirer Staff Writer, by Dwight Ot, published, Mar. 11, 2009
(As we note in our book, abusers often give drugs or other substances to their victims to keep them quiet and to continue the abuse. ~ Marie & Marlene)
The former president of Archbishop Ryan High School faces up to 24 years in prison after pleading guilty to stealing more than $900,000 from the school and his friars order, using some of the money to pay off a former student he is accused of sexually molesting. The Rev. Charles Newman, 58, accused of taking the money from the school and his order of Franciscan friars, entered his guilty plea on felony forgery and theft charges. He was president of the school from July 2002 to Nov. 20, 2003, when he was fired. Sentencing has been set for May 8.
Newman had been accused of giving $54,000 of the money to a former student, Arthur Baselice 3d, from 2002 to 2003. Newman did not face criminal charges on the sexual-abuse allegation because the complaint came to light after the statute of limitations on such cases had expired. Baselice's father told a grand jury that his son, a 1996 Ryan graduate, said that Newman repeatedly sexually abused him and introduced him to illegal, addictive drugs during his junior and senior years.The younger Baselice, of Gloucester County, died Nov. 30, 2006, of a drug overdose. He was 28. © Copyright | Philly Online, LLC.
---
Scientific Blogging, by News Staff, published, March 3, 2009
The helpless behavior that is commonly linked to depression and post-traumatic stress disorder (PTSD) is preceded by stress-related losses of synapses—microscopic connections between brain cells—in the brain's hippocampal region, researchers at Yale School of Medicine report in Biological Psychiatry.
The team used a six-day treatment with the antidepressant desipramine to reverse helpless behavior and restore hippocampal synapses in rats. "In clinical practice, the main problem with antidepressants is that they require weeks to exert their effect," said lead scientist on the project Tibor Hajszan, M.D., associate research scientist in the Department of Obstetrics, Gynecology & Reproductive Sciences at Yale School of Medicine. "Because there are ways to restore these lost hippocampal synapses in as little as hours or even minutes, our laboratory is currently testing rapid-acting antidepressants that could provide immediate relief from depressive symptoms."
Mental health disorders, including depression, are rapidly becoming the second largest public health problem, said Hajszan. "This is magnified by the fact that current antidepressant drugs remain ineffective in the majority of patients," he said. Researchers have suspected for years that changes in synapses may play a role in depression neurobiology. In this study, Hajszan and his team studied helpless behavior in rats and used electron microscopy to analyze directly what happens to hippocampal synapses in the presence or absence of helpless behavior.
"Because synapses have the potential for rapid response, synapse loss probably underlies the rapid deterioration of mood that depressed patients sometimes experience," said Hajszan. "Thus, it is possible to elevate mood rapidly by generating new hippocampal synapses, which is attainable by certain drugs we are testing."
Other authors on the study included Antonia Dow, Jennifer L. Warner-Schmidt, Klara Szigeti-Buck, Nermin L. Sallam, Arpad Parducz, Csaba Leranth and Ronald S. Duman.
---
The New York Times, by Benedict Carey, published, February 24, 2009
(As we note in our book, a brain can change as a consequence of abuse. ~ Marie & Marlene)
For years, psychiatrists have known that children who are abused or neglected run a high risk of developing mental problems later in life, from anxiety and depression to substance abuse and suicide. The connection is not surprising, but it raises a crucial scientific question: Does the abuse cause biological changes that may increase the risk for these problems?
Over the past decade or so, researchers at McGill University in Montreal, led by Michael Meaney, have shown that affectionate mothering alters the expression of genes in animals, allowing them to dampen their physiological response to stress. These biological buffers are then passed on to the next generation: rodents and nonhuman primates biologically primed to handle stress tend to be more nurturing to their own offspring, Dr. Meaney and other researchers have found.
Now, for the first time, they have direct evidence that the same system is at work in humans. In a study of people who committed suicide published Sunday in the journal Nature Neuroscience, researchers in Montreal report that people who were abused or neglected as children showed genetic alterations that likely made them more biologically sensitive to stress. The findings help clarify the biology behind the wounds of a difficult childhood and hint at what constitutes resilience in those able to shake off such wounds. The study "extends the animal work on the regulation of stress to humans in a dramatic way," Jaak Panksepp, an adjunct professor at Washington State University who was not involved in the research, wrote in an e-mail message. He added that the study "suggests pathways that have promoted the psychic pain that makes life intolerable," and continued, "It's a wonderful example of how the study of animal models of emotional resilience can lead the way to understanding human vicissitudes."
In the study, scientists at McGill and the Singapore Institute for Clinical Sciences compared the brains of 12 people who had committed suicide and who had had difficult childhoods with 12 people who had committed suicide and who had not suffered abuse or neglect as children. The scientists determined the nature of the subjects' upbringing by doing extensive interviews with next of kin, as well as investigating medical records. The brains are preserved at Douglas Hospital in Montreal as part of the Quebec Suicide Brain Bank, a program founded by McGill researchers to promote suicide studies that receives brain donations from around the province. When people are under stress, the hormone cortisol circulates widely, putting the body on high alert. One way the brain reduces this physical anxiety is to make receptors on brain cells that help clear the cortisol, inhibiting the distress and protecting neurons from extended exposure to the hormone, which can be damaging.
The researchers found that the genes that code for these receptors were about 40 percent less active in people who had been abused as children than in those who had not. The scientists found the same striking differences between the abused group and the brains of 12 control subjects, who had not been abused and who died from causes other than suicide. "It is good evidence that the same systems are at work in humans that we have seen in other animals," said Patrick McGowan, a postdoctoral fellow in Dr. Meaney's lab at McGill and the lead author of the study. His co-authors, along with Dr. Meaney, were Aya Sasaki, Ana C. D'Alessio, Sergiy Dymov, Benoît Labonté and Moshe Szyf, all of McGill, and Dr. Gustavo Turecki, a McGill researcher who leads the Brain Bank.
Because of individual differences in the genetic machinery that regulates stress response, experts say, many people manage their distress despite awful childhoods. Others may find solace in other people, which helps them regulate the inevitable pain of living a full life. "The bottom line is that this is a terrific line of work, but there is a very long way to go either to understand the effects of early experience or the causes of mental disorders," Dr. Steven Hyman, a professor of neurobiology at Harvard, wrote in an e-mail message.
Related link: In humans, childhood abuse alters HPA stress responses and increases the risk of suicide. See, Epigenetic regulation of the glucocorticoid receptor in human brain associates with childhood abuse. Nature Neuroscience 12, 342-348 (2009), Published online: 22 February 2009.
---
All Things Considered (NPR), by Barbara Bradley Hagerty, published, February 02, 2009
(The problem of abuse knows no religious, cultural, or racial boundaries. ~ Marie & Marlene)
Joel Engelman and Joe Diangelo are driving through their old Brooklyn neighborhood. Williamsburg is a place from another time and country. The shop signs are in Hebrew. The men scurry by in long black coats; their hair hangs in corkscrew curls. Married women wear wigs to cover their heads. Engelman and Diangelo haven't been here in years. They just met a few weeks ago, but as they begin swapping stories and the names of family members, they realize they have a lot in common. Both men are in their 20s, both were raised as strict Hasidic Jews, and both fled their upbringing for the same reason.
"Are you ready for this?" Engelman asks Diangelo, glancing at his friend in the back seat. "Yeah," Diangelo says, his breath quickening. "Yeah, I'll do it, just a quick pass by." Diangelo grows quiet as we approach a nondescript brownstone building: a synagogue. "See the Hebrew sign?" he says, pointing. "You go downstairs, and that's where the mikvah is."
The mikvah is a bathhouse usually used by women for ritual cleansing. But in some Hasidic communities, like this one, fathers bring their young sons on Friday afternoons before Shabbat begins. Twenty-one years ago, when he was 7, Diangelo recalls going to the mikvah with his father to find the place packed with naked men and boys. "And I was in the tub, and I had my back turned, and somebody raped me while I was in the water," he says. He takes a shaky breath. "And I didn't know what happened. I couldn't make sense of it, really."
Diangelo says he never saw the man who abused him. These days, monitors are posted by the bath to stop any sexual activity. But back then, the boy was on his own. He told no one but began refusing to go to the mikvah. He left Orthodox Judaism when he was 17. He changed his name from Joel Deutsch and cut almost all ties with his family and friends. Now, Diangelo wears black leather and mascara. He plays in a rock band and takes refuge in the heavy-metal lyrics of Metallica. "There are so many songs, you know. They have a latest song, which is called 'Broken, Beaten & Scarred,' and one of the verses is: 'They scratched me, they scraped me, they cut and raped me.' " He laughs wearily. "And that's my life right there. When I listen to it, it gives me strength."
Allegations Of Abuse
For these two men, this is a tour through aching secrets and violent memories. Diangelo and Engelman are unusual because they let their names be used. But they believe that sexual abuse is woven throughout this Hasidic community. For Engelman, the loss of innocence came at school. "This is it, right here," he says. Engelman parks his car across from the United Talmudical Academy, a hulking building on a desolate street. This was the yeshiva, or Jewish boys' school, that Engelman attended. Engelman says he was 8 years old, sitting in Hebrew class one day, when he was called to the principal's office. When he arrived, he says, Rabbi Avrohom Reichman told him to close the door.
"He motioned for me to get on his lap, and as soon as I got on the chair, he would swivel the chair from right to left, continuously," Engelman says. "Then he would start touching me while talking to me. He would start at my shoulders and work his way down to my genitals." Engelman says this occurred twice a week for two months. He told no one for more than a decade. Reichman was, after all, a revered rabbi. Four years ago, he told his parents. And a year ago, when he heard that Reichman had allegedly abused several other boys, they confronted Reichman. When the school heard about it, they gave the rabbi a polygraph. "He failed miserably," Engelman says. "So they told me, 'This guy is gone. This guy has to go.' "
But a few weeks later, a religious leader from the school approached Engelman's mother, Pearl. He posed an astonishing question: On a scale of 1 to 10, how bad was the molestation? She was speechless. Then she says, the man continued, " 'We found out there was no skin-to-skin contact, that it was through clothing.' So he's telling me, 'On a scale of 1 to 10, this was maybe a 2 or a 3, so what's the big fuss?'" The school hired Reichman back. That was in July 2008 — one week after Joel Engelmen turned 23 and could no longer bring a criminal or civil case against the rabbi.
An Open Secret
Reichman and school officials declined to be interviewed for this story. But Rabbi David Niederman, who heads the United Jewish Organizations of Williamsburg, says the school did its due diligence. He says the allegation was thoroughly investigated by an independent committee of lay people and rabbis. "I'm convinced that they made a serious investigation," he says. "They felt that it's not credible." Now Engelman has filed a long-shot civil suit against Reichman and the school, claiming they broke an oral contract. Reichman's attorney, Jacob Laufer, says the lawsuit is baseless and that the community is fully behind the rabbi. "Even after these accusations were publicly made," he says, "the parents continue to compete among themselves for the opportunity to have their children be educated by Rabbi Reichman."
The Reichman case is not isolated. Four ultra-Orthodox rabbis in Brooklyn have been sued or arrested for abusing boys in the past three years. That's a tiny fraction of the actual abuse, says Hella Winston, author of Unchosen: The Hidden Lives of Hasidic Rebels. She says that in researching her book, she encountered dozens of alleged victims who told her sexual abuse is an open secret in the Hasidic community. But the community is so insulated and the rabbis are so powerful that few dare to come forward. "If I become known as an informer, then people also won't want to have anything to do with my family," she explains. "They won't want to marry my children, won't want to give me a job. This is the fear."
But more and more accusations against rabbis have begun to circulate. Last August, politician and radio talk show host Dov Hikind devoted an hourlong program to sexual abuse. He interviewed Pearl Engelman, who spoke under an alias, about her son's case. The calls flooded in. Hikind, who is an Orthodox Jew himself, represents this area in the New York Assembly. He says after the show, people started showing up at his office with their stories. "Fifty, 60, 70 people," he says, "but you got to remember for each person who comes forward, God only knows how many people are not coming forward."
Ongoing Investigations
Hikind refuses to release the names of alleged perpetrators, although he is working with the district attorney's office. He says the people who confided in him are afraid to go public, which creates a perfect situation for abusers. "If you're a pedophile, the best place for you to come to are some of the Jewish communities," he says. "Why? Because you can be a pedophile and no one's going to do anything. Even if they catch you, you'll get away with it." "To me, it does not make sense," says Niederman, of the United Jewish Organizations, "that so many people have been violated and for so many years they have been quiet. Something does not add up. It's being blown out of proportion — big time."
Brooklyn District Attorney Charles Hynes says he has 10 active sexual abuse cases involving Orthodox Jews — including a school principal who was recently arrested on a lead from Hikind. And Hynes says there could be many more. Yeshivas are private schools, which means they don't have to report accusations of sexual abuse to civil authorities. "I've got no way to know if there's a pattern of concealing the conduct," he says. Hynes says the Jewish leaders — like Catholic bishops — try to handle these affairs internally, through a rabbinical court. It's a practice that infuriates him. "You have no business taking these cases to religious tribunals," Hynes says. "They are either civil or criminal in nature. Or both. Your obligation is to bring these allegations to us and let us conduct the investigation."
Hynes says he's trying to work out a memorandum of understanding with the rabbis, in which they promise to bring the prosecutor every allegation of abuse. Pearl Engelman is skeptical: The rabbis have hardly been forthcoming in her son's case. Still, she loves her community and worries these allegations have tarnished it. "This is a community of the most wonderful people, hardworking people who lead righteous lives," she says. "And it's just a few corrupt people who give us a bad taint." Her son Joel isn't so sure it's that few. Anyway, for him, any remedies come too late.
"Pretty much, I left my childhood here," he says. "After I left here, I had a totally different picture of school, religion and life." But Engelman hopes that his story will shine a light on the secret and, perhaps, protect the next generation of children in this community.
Joel Engelman, featured in the story, is a co founder of Survivors for Justice, an organization formed by vicitms of sexual abuse in the Orthodox Jewish community. A confidential hotline is available.
---
Survivors Network of those Abused by Priests (SNAP) news, published, January 27th 2008
Responding to numerous requests, CinemaSalem will reprise the award-winning documentary film about how the Catholic clergy sex abuse scandal impacted one Salem family. "Hand of God", directed and produced by Salem native, Joe Cultrera, will screen at the theater January 30-February 5 in the new 20-seat Screening Room.
The film tells the story of Joe's brother, Paul Cultrera, who through courage and persistence, over a 30-year struggle, survived abuse as a child, and worked to confront the church and expose the scandal ten years before the Boston Globe reported on widespread and recurring abuse in the Boston Diocese. The 96-minute film sold out four shows at CinemaSalem in the summer and fall of 2006, and interest in the film has remained high, according to CinemaSalem co-owner, Paul Van Ness. "Several times a month, people ask us to screen "Hand of God". I think this story of betrayal and courage in our own backyard really hits home for people."
"Hand of God" has won numerous awards at film festivals throughout the world, including the Award for Best Documentary Feature at the Kansas, Tupelo and S.N.O.B Film Festivals, Audience Award for Best Documentary Feature at the Ashland Independent Film Festival and a Special Recognition Award at the Boston International Film Festival. The film was also featured on the PBS public affairs series, Frontline, where it became one of that program's most talked about shows.
The film garnered rave reviews from critics across the country. The Kansas City Star wrote, "(It's) quite possibly the most gripping and illuminating documentary ever made from the point of view of a sexual abuse victim...The film works not only as journalism but also as cinematic art." The Missoulian adds, "Hand of God is like a symphony that builds through a leisurely first movement, quietly foreshadows a coming tempest, then unleashes itself. And when that tempest comes, it is a fine and glorious example of speaking truth to power. Hand of God is exceptional documentary work."
Contacts:
Mr. Paul Van Ness (CinemaSalem): paul (a) cinemasalem (dot) com
Mr. Joe Cultrera ("Hand of God"): joe (a) zingerplatz (dot) com
---
NY Daily News, by Simone Weichselbaum, published, January 26th 2009
(As we note in our book, most abusers are well-known to the family and/or the victims. The so-called "stranger danger" problem is less common than the dangers existing from the perpetrators in the midst of the community. ~ Marie & Marlene)
Two teenage boys told cops they endured years of sexual abuse at the hands of a Brooklyn high school principal who was arrested over the weekend, police said. Emanuel Yegutkin, 30, was suspended Sunday from Elite High School, a private Jewish school in Bensonhurst with mainly Russian-American students. Yegutkin forced a 17-year-old into lewd sex acts from the age of 7 to 14, cops said. He subjected a 19-year-old to five years of fondling, beginning when the teen was 12, police said. Neither child attended Elite, school officials said. "This has nothing to do with the school," said Elite High School Headmaster Tzvi Koff. "But we have to protect our students. He no longer has access to the school building and he is not part of our institution anymore."
The disgraced educator - who also worked in upstate Gilboa as a lifeguard at Oorah summer camp last year - was charged with endangering the welfare of a child and sexually abusing children for more than a four-month period, according to a spokesman for the Brooklyn district attorney's office. A message left at Yegutkin's Ocean Parkway home was not returned. Oorah Camp Director Elisha Lewenstein said Yegutkin came highly recommended. "We investigated him before we hired him and never had a complaint," Lewenstein said.
Yegutkin, a one-time rising star within the Orthodox Jewish community, lost a second prominent job yesterday: volunteer medic for the Flatbush Hatzoloh ambulance service. "If anybody in Hatzoloh is accused of any criminal issue, we suspend them until the issue is cleared up," Hatzoloh spokesman Heshey Jacob said. Yegutkin "suspended himself" when he was contacted yesterday, Jacob said. Yegutkin's arrest is the latest blow to Brooklyn's Orthodox Jewish community. Since October, at least four Orthodox Jewish men in the borough have been charged with sexually abusing children.
---
The Independent, by Kim Pilling, PA, published, 22 December 2008
(As we note in our book, grooming is a technique perfected by abusers to gain their victims' confidence. ~ Marie & Marlene)
A paedophile royal butler was jailed today for a minimum of six years after he admitted committing a string of sexual offences against young boys. Described by police as a "brilliant groomer", Paul Kidd, 55, of Stalybridge, Greater Manchester, even took one of his victims for tea with the Queen Mother. Kidd started grooming one of the boys when he was aged 12 as he met him as a patient on a hospital ward where he worked as a trainee nurse. Another was 14 years old when he first spoke to Kidd on the CB radio airwave, Manchester Minshull Street Crown Court heard.
The defendant was senior footman to the Queen Mother from 1979 to 1984 and previously worked as a royal butler to The Queen from 1977. Judge Mushtaq Khokhar told him: "You were someone who had influenced your victims to such an extent they were under your spell. "They would do anything you asked them to do. I regard you as someone who is dangerous and presents a risk to all the young people you may come across." He gave Kidd an indeterminate sentence and recommended that he remain in prison for at least six years for public protection until he could be considered for parole.
---
Wall Street Journal by Suzanne Sataline, with Nathan Koppel contributing, November 25, 2008
A federal appeals court has permitted a lawsuit over alleged sexual abuse to proceed against the Vatican, creating potential liability for the seat of the Roman Catholic faith for the activities of Catholic clergy in the U.S. Monday's ruling, issued by the U.S. Circuit Court of Appeals in Cincinnati, marks the first time a court at so high a level has recognized that the Vatican could be liable for the negligence in sexual-abuse cases brought in the U.S.
The ruling is seen as a breakthrough by those allegedly abused by priests. Investigators and grand juries have found several instances where the church failed to report alleged abusers and covered up alleged misdeeds to protect them. Jeffrey S. Lena, the attorney for the Holy See, said he was not "presently inclined" to ask the U.S. Supreme Court to review the decision. It remains to be seen whether the Vatican, which is a sovereign state recognized by the U.S. government, will make further arguments that it is immune from U.S. civil proceeding.
Catholic dioceses in the U.S. have paid out at least $1.5 billion to alleged abuse victims, most of this since the scandal broke open nationwide in 2002. The appeals court found that the church government may be held liable for actions taken in the U.S. based on the Vatican's policies or directives. "What the court has allowed us to do is proceed against the Vatican for the conduct of the U.S. bishops because of the bishops' failure to ... report child abuse," said William F. McMurry, the attorney for three men who claim they were abused as children by priests in the Louisville, Ky., archdiocese. He is seeking class-action status in the district-court case.
The ruling marks the first time that a federal appeals court recognized that the Vatican could be liable under the Foreign Sovereign Immunities Act, a 1976 law that governs when a foreign nation or its agents can be sued, said Marci Hamilton, a constitutional-law scholar who is part of the legal team in the Louisville case."If someone can crack that barrier of immunity, it opens the door to other claims against the Catholic church," says Jonathan Levy, a Washington, D.C., attorney who represents concentration-camp survivors in a suit against numerous parties including the Vatican bank. The Vatican, in that case, prevailed in its claim of sovereign immunity.
Mr. Lena, the lawyer for the Holy See in the Louisville case, said Monday's ruling is a small step and one that is far from establishing whether Vatican policy contributed to thousands of incidents of abuse that have been alleged over several decades. "We're miles away from liability," he said. The ruling is "very incremental." One of the central pieces of evidence in the case is a 1962 memo, issued by the Vatican and disclosed by reporters in 2003, which directs Catholic bishops to keep silent about claims of sex abuse. The document was approved by Pope John the 23rd. Monday's ruling will allow the plaintiffs' case to proceed in U.S. District Court in Louisville. Among the legal questions yet to be decided in the case is whether U.S. bishops are employees of the Vatican, and whether they acted on the Holy See's orders.
---
Fordham's "The Paper" by Peter Mullin with Bill Donahue, dated November 20, 2008
(As we note in our book, this article cites the repression so common to young male abuse victims. ~ Marie & Marlene)
...Father O'Brien is accused of molesting a former Fordham Prep student over a period of several years, starting when the alleged victim was a student at the high school from 1964 to 1966. The alleged victim, a 58-year-old who spoke at length to the paper on the condition of anonymity, said that the priest molested him on numerous occasions, including several of which he claims occurred during a trip through Europe with Father O'Brien and five other Prep students.
"I don't know if I was raped or penetrated, but I was violated," Father O'Brien's accuser told the paper. "He would jump in the bed with me and I would just shut down, close my eyes and go somewhere else," he said of the man he recalled as "a real father figure." After the alleged incidents of sexual molestation, the now-middle aged man said he "just repressed it all," even to the point that he allowed Father O'Brien to perform his marriage ceremony. The alleged victim also claims to have had an encounter with Father Drake in the Fordham University Seismic Observatory, next to Freeman Hall. Inside the observatory, Father Drake attempted to molest him: "I was literally running around in circles around this table to get away from him until I could escape."
He repressed the memories until 1997, when he met a counselor for victims of clergy sex abuse who, he says, helped him go through the process of bringing his allegation to the attention of the University. "I was after an apology, some kind of an explanation to what had happened," he said. According to a copy of a 1997 settlement available online, the ensuing lawsuit involving Father O'Brien was settled for $25,000. In addition to the Jesuit priest, the New York Province of the Society of Jesus, the Archdiocese of New York, Fordham University, and Fordham Prep were named in the settlement and released from any "past, alleged or actual, current and future liabilities."
When the paper attempted to confirm the terms of the settlement by contacting the office of Rev. Thomas R. Slon, S.J., the executive assistant to the head of the New York Jesuits who spoke with the Times, he was unavailable for comment. Peter Feuerherd, a communications consultant for the Province who spoke with the paper, said he was not familiar enough with the situation to comment. In the Times article, Father Slon would neither confirm nor deny the terms of the 1997 settlement regarding Father O'Brien. Joseph Zwilling, a spokesman for the Archdiocese of New York, when asked by the paper to confirm the terms of the settlement, said the Archdiocese "could not find anything in the files." According to the anonymous accuser, the most emotional day of his life came when he met Father O'Brien again in 1997. At that meeting, Father O'Brien blamed his actions on alcohol abuse and would not apologize. "I wanted an admission of guilt," the alleged victim told the paper. He says he was never concerned with taking the Jesuits down. "It's [about] accountability," he said.
---
By Nicholas Thibideau, published, 11/5/08 Section: News
Two groups have accused Fordham University of harboring priests who were accused of sexual abuse. The Survivors Network of Those Abused by Priests and BishopAccountability.org provided the New York Times with documents detailing a settlement between the school and the Rev. Eugene O'Brien, a former principal of Fordham Prep, according to an article published on Oct. 21. In addition, Richard Cerick, a 53-year-old lawyer, claims he was raped by the Rev. Roy A. Drake in 1968. Drake lived in Murray-Weigel Hall until 2006, when he was transferred to a treatment center for troubled priests. Drake passed away at the center.
In the Times article, Cerick said he did not file a complaint with the school until he learned about Drake's whereabouts in 2005. "They allowed Father Drake, who lived and worked for decades on Fordham's campus after abusing me, to continue working and residing there," Cerick said in the article. "This is incomprehensible. The innocent deserve protection."
O'Brien served as principal and president of Fordham Prep from 1960 to 1979, during which time an unnamed student claimed he was molested, according to the Times. That case was settled in 1997 for $25,000 by the Archdiocese of New York, the Society of Jesus and Fordham University. A spokesman for the archdiocese said he was familiar with the claim brought by Cerick but could not comment on the terms of the 1997 settlement. A spokesman for the Jesuit order of New York also declined to comment. The Fordham University administration had not released an offical statement by presstime.
---
NY Daily News, by Oren Yaniv, published, August 14th 2008
A retired city cop bared his private pain Thursday, claiming he was molested by a popular Harlem priest who was recently bounced from the pulpit amid charges he fondled children for decades. Breaking nearly 30 years of silence, former NYPD Officer Eric Crumbley Sr. said Msgr. Wallace Harris baptized him, taught him - and tormented him. "I was sexually molested numerous times on various occasions," said Crumbley, 42. Crumbley said in an interview that the abuse started in 1979, when he was 13, and lasted until he was 16. The prominent monsignor, now 61, found excuse after excuse to grope him, said Crumbley, who has a second career as the pastor of the nondenominational Harlem Faith Center.
"Harris repeatedly manipulated seemingly innocent, everyday situations to his advantage to create any excuse to touch me improperly - more specifically, to fondle or to grab my genitals," Crumbley wrote in a letter sent yesterday to the New York Archdiocese. Harris could not be reached to respond to the allegations. Well-connected and well-respected, Harris delivered the invocation at Gov. Paterson's inauguration in March and coordinated Pope Benedict's April Mass at Yankee Stadium.
His devoted parishioners at the Church of St. Charles Borromeo were stunned when he was stripped of his priestly duties on Aug. 3. Two unidentified men had accused Harris of molesting them 20 years ago when he was a teacher at Cathedral Preparatory Seminary, an upper West Side high school. The Manhattan district attorney did not pursue the old charges because the five-year statute of limitations had expired. The identities of the two men who made those allegations - which Harris denied - were never made public.
Crumbley said he was not one of the two men. He is stepping forward now, he said, to help his healing process and to encourage other victims to speak out. "I'm not hiding behind anything," he said. "I say, 'I am a victim.'" Save for telling a few close confidants, Crumbley said, he kept the molestation a secret. "As a result, for years I have lived with intense anxiety, sleeplessness and night terrors," said the divorced dad of three. "The experience also has affected my personal relationships with women."
Crumbley, who was a cop for 15 years before retiring in 2002, said that after others accused the priest, he felt ready to speak. He shared his story with his family and congregation and plans to meet with archdiocese officials. Crumbley said Harris not only baptized and confirmed him but was also his godfather. Harris later taught him at St. Joseph's Elementary School and at Cathedral Preparatory, he said. A classmate confirmed Crumbley attended the schools. Archdiocese spokesman Joseph Zwilling said the review of Harris' status is in its initial stages and an advisory board will determine his future as pastor. "You could do great things," Crumbley said, "but that does not negate the fact that this person is a pedophile."
---
The New York Times, by Leslie Kaufman, published, August 6th 2008
(For more on Dr. Levine, see story below. ~ Marie & Marlene)
The Boston Globe, By David Abel, Globe Staff, published April 1, 2008
A renowned pediatrician and bestselling author who served for 14 years as chief of ambulatory pediatrics at Children's Hospital Boston is accused of sexually abusing at least seven boys in his care, according to a civil lawsuit filed in Suffolk Superior Court yesterday.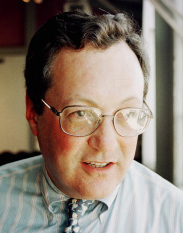 The lawsuit, filed by an unnamed plaintiff who was 8 years old when the alleged abuse began, said Dr. Melvin D. Levine "sexually assaulted, battered, and abused" him between 1980 and 1985. "Levine, during his treatment sessions, under the guise of performing repeated but unnecessary physical examinations, sexually assaulted John No. 5, including numerous acts of genital fondling, masturbation, and other attempted and threatened acts of assault," the lawsuit asserts.
In a faxed statement, Levine's lawyer, Edward Mahoney of Boston, said the doctor is innocent. "Dr. Mel Levine has provided pediatric care to more than 15,000 children over 40 years and categorically denies that he has ever been abusive in any way toward any patient," said Mahoney, who questioned the motives of the lawyer filing the suit. "He adamantly denies these claims. Dr. Levine is distressed about the distorted or misinterpreted memories from decades past and questions the motivations."
Levine, 68, who has appeared on "The Oprah Winfrey Show" to promote his books, did not return messages left at his home in Rougement, N.C., where he moved after leaving Children's Hospital. In a separate statement, officials at Children's Hospital said Levine worked there between 1971 and 1985, specializing in children with developmental and educational issues. "This work led to Dr. Levine developing a national reputation as an expert in these fields," the statement said.
Children's Hospital is also named as a defendant in the lawsuit. The hospital's statement said it "never had any complaint from any patient or parent of any patient suggesting inappropriate conduct of any nature by Dr. Levine." It added: "Children's Hospital's most important goal is to protect children's health and promote their well-being. Our staff is trained and experienced in detecting abuse and mistreatment of children. Such behavior, if identified, is treated with the utmost seriousness and addressed immediately."
Levine, who trained as a resident at the hospital in 1965, is now a professor of pediatrics at the University of North Carolina Medical School in Chapel Hill. University officials did not return calls. He is the author of at least six books, including "A Mind At A Time," which was a New York Times bestseller, and helped found All Kinds of Minds, a nonprofit institute that studies learning. He studied at Brown University, was a Rhodes Scholar at Oxford University in England, graduated from Harvard Medical School, and received the C. Anderson Aldrich Award for outstanding contribution to the field of child development in 1995, according to a biography on the All Kinds of Minds website.
"Dr. Levine's groundbreaking framework for understanding why children struggle in school provides a straightforward, practical system for recognizing variations in the way children learn and use their strengths to help them become more successful students," according to the biography.
The lawsuit filed yesterday was not the first against Levine alleging abuse. A federal suit filed in 1988 asserted that between 1978 and 1984 Levine conducted "improper and repeated examinations of the plaintiff's testicles out of the presence of the plaintiff's parents." The lawsuit was dismissed. In 1993, the Massachusetts Board of Registration in Medicine received a complaint from a former patient of Levine's who said the doctor had fondled his penis and asked him repeatedly about whether he was having wet dreams. That charge was also dismissed.
"The significance of this case is that now we have evidence of seven complaints of sexual abuse over a 17-year period and multiple instances for the people who were abused," said Carmen L. Durso, who is representing five of the alleged victims and held a press conference yesterday at his Boston office. "We need to find out if there are more people and whether they will support the allegations of these people, and we need to find out what Children's Hospital's role was. We don't have answers as to why Levine was able to do this with such ease." The other alleged victims said Levine abused them when he worked in Boston, when they ranged in age from 5 to 13. The complaint did not provide details of the abuse alleged in those cases or answer why they waited so long to come forward.
The plaintiff who filed the lawsuit "was unable to recall and to understand" the abuse until February 2006, the complaint said. It says he has been in therapy since. Durso did not specify the damages his clients are seeking. © Copyright 2008 The New York Times Company.
---
State v. Scott E. Schnabel (A-13-07)
On July 29, 2008, the New Jersey Supreme Court ruled that Child Sexual Abuse Accommodation Syndrome (CSAAS) evidence is admissible only for the limited purpose to explain traits sometimes found in abused children that might otherwise undermine their credibility. The trial court must inform the jury of that limited purpose of CSAAS evidence and recommends that the jury be charged in accordance with Model Jury Charge (Criminal), Child Sexual Abuse Accommodation Syndrome (2001).
In this case, the State called Dr. Anthony D'Urso as an expert witness on child sexual abuse. Dr. D'Urso described CSAAS as "typical sequences of behavior that kids exhibit who are victims of child abuse and neglect." He emphasized that CSAAS was not a tool for diagnosing whether a child suffers from sexual abuse and that whether it applies to a given child depends on the particular facts of the case. He described the five sequences of CSAAS: (1) secrecy; (2) helplessness; (3) entrapment, coercion, or accommodation; (4) delayed or unconvincing disclosure; and (5) recantation. Dr. D'Urso noted, however, that a child may suffer from the syndrome without undergoing all of the sequences of behavior and that disclosure may be purposeful or accidental.
---
Childrens' rights advocate Marci Hamilton to discuss church/state relations and childhood sexual abuse cases, for Book TV on C-SPAN2, air date: June 28, 2008
The Program in Law and Public Affairs will host a live recording of Book TV on C-SPAN2 featuring Marci A. Hamilton, Visiting Professor and the Kathleen and Martin Crane LAPA Fellow at Princeton University, on Wednesday, May 28th at 4:30 p.m., in Wallace Hall 300. This event is free and open to the public. Professor Hamilton will discuss her timely new book, Justice Denied: What America Must Do to Protect Its Children (Cambridge 2008), David Clohessy National Director of the Survivors Network of those Abused by Priests (SNAP), will introduce Professor Hamilton.
Recent events such as the raid on the polygamist Fundamentalist Church of Jesus Christ of Latter Day Saints (FLDS) sect in Texas resulting in the removal of over 400 children for fear of rampant abuse, and the Pope's visit to the United States, in which he directly addressed the ongoing clergy abuse scandal in the Catholic Church, have brought the once-taboo subject of childhood sexual abuse to the forefront. But despite increasing awareness of the problem, the U.S. has not succeeded in establishing an effective means of deterring and preventing it, leaving the children of today and tomorrow vulnerable.
In her book, Professor Hamilton predicts a coming civil rights movement for children and explains why it is in the interest of all Americans to allow victims of childhood sexual abuse this chance to seek justice when they are ready. She proposes the elimination of the arbitrary barrier that has kept survivors of childhood sexual abuse out of court - the legal statute of limitation. Removing this merely procedural barrier permits the millions of survivors to make public the identities of their perpetrators and to receive justice and much-deserved compensation. Standing in the way, however, are formidable opponents such as the insurance industry and the hierarchy of the Roman Catholic Church. Marci A. Hamilton is an internationally recognized constitutional law expert specializing in church/state relations, and a tireless crusader for children's rights. She is a Visiting Professor and the Kathleen and Martin Crane Fellow in the Program in Law and Public Affairs at Princeton.
Professor Hamilton has represented numerous survivors of childhood sexual abuse, particularly those involving circumstances where the abuse was made possible by religious organizations. In recent weeks, she has appeared on ABC's "Good Morning America," "World News with Charles Gibson," "CBS Saturday Morning," and CNN.com to comment on the recent FLDS case and the Pope's visit to America. Professor Hamilton holds the Paul R. Verkuil Chair in Public Law at the Benjamin N. Cardozo School of Law, Yeshiva University, and is the Founding Director of the Cardozo Intellectual Property Law Program. She is the author of Justice Denied: What America Must Do to Protect Its Children (Cambridge 2008) and God vs. the Gavel: Religion and the Rule of Law (Cambridge University Press 2005, 2007). She is also a columnist on constitutional issues for Findlaw. Professor Hamilton clerked for Associate Justice Sandra Day O'Connor of the United States Supreme Court and Judge Edward R. Becker of the United States Court of Appeals for the Third Circuit.
Each weekend, Book TV features 48 hours of nonfiction book programming from Saturday 8:00 AM to Monday 8:00 AM ET. For additional information, please telephone 609-258-8377 or visit the Princeton Law and Public Affairs Web site.
---
Danielle M. Villa v. John F. Short (A-7-07)
(We discuss how sexual abuse can intersect with insurance coverage--or not--in Chapter 15. ~ Marie & Marlene)
On June 5, 2008. The New Jersey Supreme court ruled that the homeowner's policy language that excludes coverage for the "intentional or criminal acts of an insured person" operates to exclude coverage for all insureds [in this case, the parents of the abuser] under the policy, and not merely for the insured [Joseph, the mentally retarded son, who sexually abused his niece] who committed the intentional or criminal act.
John's dad (the victim's grandfather) argued that the insurance exclusions were inapplicable because his son's acts could not have been intentional due to his mental incapacity. Allstate contended that the dad did not raise that argument in his Petition for Certification and therefore the Court should not address it in the appeal. The Court agreed with Allstate's contention and did not reach that issue. See Proformance Ins. Co. v. Jones, 185 N.J. 406, 414 (2005).
---
The New York Times, by Ian Fisher and Laurie Goodstein, published, April 18, 2008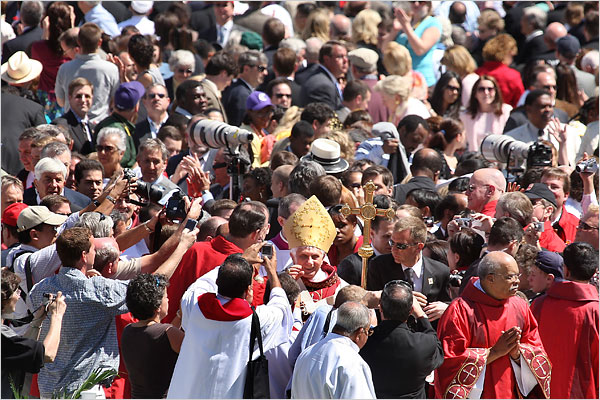 WASHINGTON — Pope Benedict XVI came face to face with a scandal that has left lasting wounds on the American church Thursday, holding a surprise meeting with several victims of sexual abuse by priests in the Boston area. The handful of victims, now adults, gave the pope a notebook listing some 1,000 boys and girls who were abused in the Boston archdiocese alone going back several decades, a Vatican official said. The pope himself had requested the meeting, said the official, the Rev. Federico Lombardi, which took place at the papal nuncio's residence. The pope prayed and spoke personally with each of them, in a meeting that lasted about 25 minutes. Some wept, Father Lombardi said.
The victims at the meeting were not immediately available for comment, but three were interviewed on CNN later in the night. "He congratulated me on my upcoming wedding," said Faith Johnston, who said that the pope had read a summary of their lives before meeting them. She said she cried during the meeting. It was absolutely emotional," Olan Horne, another victim, told CNN. "It was a moving experience," said Cardinal Sean P. O'Malley of Boston, who organized and attended the meeting, speaking to reporters afterward. "It was very positive and very prayerful."
The meeting made clear that for all the messages that Benedict wished to send during his five-day trip to the United States, his first as pope, the one concerning priestly abuse was most central. He raised the issue first with reporters on his trip from Rome on Tuesday, and did so for a third time Thursday morning during a huge open mass at Nationals Stadium before nearly 50,000 people, his first major encounter with America's diverse church. "No words of mine could describe the pain and harm inflicted by such abuse," the pope said in his homily. "It is important that those who have suffered be given loving pastoral attention."
The surprise meeting far overshadowed the rest of the pope's schedule, the third day of his trip to America and a day before he leaves for New York to address the United Nations. But he also gave a substantial address to Catholic educators, many of whom have been struggling with funding shortages, changing missions and conflicts over whether Catholic schools are Catholic enough. He spoke to about 200 college presidents and the superintendents of Catholic schools in the nation's 195 dioceses.
At a time when many dioceses are closing down parochial schools for K-12 students, Benedict stressed the importance of keeping them open, especially to serve immigrants and the underprivileged. He also used the occasion to clarify limits, saying that although academic freedom is valuable, it must not be used to "justify positions that contradict the faith and the teaching of the Church." He had additional healing work to do at his evening encounter with Muslim, Jewish, Buddhist, Hindu and Jain religious leaders. On a previous trip, to his German homeland, Benedict had set off a paroxysm of anger with comments that appeared to denigrate Islam. He has also offended Jewish leaders by reinstituting a prayer for the conversion of the Jews in the Latin prayers on Good Friday. On Thursday, he offered an olive branch to Jewish leaders, and affirmed that all religions should have a common goal of working for peace. But he also issued a challenge, saying that interfaith dialogue that does not deal with existential "truth" is insufficient. And he talked of the need to protect religious freedom, pointing out that religious minorities in some countries are subject to discrimination and prejudice.
For years, victims of abuse in the United States had beseeched the Vatican for a meeting with the pope, first asking John Paul II, who died in 2005, and finally, six years after the outbreak of the scandal, one was granted. The scandal affected nearly every diocese in America, revealed more than 5,000 abusive priests and more than 13,000 victims and has cost the church more than $2 billion in settlements and legal fees. It also has cost the church trust and respect, both of which the pope is clearly aimed at restoring. But reaction from victims and their advocates varied, with some praising the meeting as an important step and others saying that still it was not enough. "This is a small, long-over due step forward on a very long road," Joelle Casteix, southwestern regional director of the Survivors Network of those Abused by Priests, said in a statement. "We're confident the meeting was meaningful for the participants and we're grateful that these victims have had the courage to come forward and speak up. "But fundamentally it won't change things," she said. "Kids need action. Catholics deserve action. Action produces reform and reform, real reform, is sorely needed in the church hierarchy." But Gary Bergeron, who said he was abused by a priest in Lowell, Mass., said: "I think we moved the ball down the field this week. The fact that we finally got the pope to actually stand up and put a statement on record, I really think he set the bar this week." Mr. Bergeron, author of the book "Don't Call Me a Victim," went to Rome in 2003 and tried to meet with Pope John Paul II, with no success. "We made some progress this week, and that's what's important," he said.
Mitchell Garabedian, an attorney who represented hundreds of people abused by priests, none of whom attended the meeting with the pope, said he hoped that the pontiff would meet with more victims. "He certainly will need more than a half hour to understand the pain victims are feeling because of being sexually abused by priests," he said. While some abuse survivors were encouraged to hear of the encounter, others said they would not feel comforted until the church calls bishops and those in the hierarchy to account. While the meeting with victims was historic, and a surprise, it is the address the pope gave to Catholic educators that is likely to receive the most scrutiny.
Benedict praised Catholic schools that have "helped generations of immigrants to rise from poverty to take their place in mainstream society." And he encouraged Catholics to continue to contribute generously to Catholic schools "to ensure that they are accessible to people of all social and economic strata." There have been sporadic controversies over what kinds of curriculum, outside speakers, faculty members, campus clubs, drama and art are acceptable at Catholic colleges and universities.
Catholic universities and colleges have come under fire for hosting speakers who favor abortion rights, like Hillary Clinton, Eliot Spitzer and the actor Stanley Tucci, who was dropped from an event at Catholic University. The University of Notre Dame was recently criticized for allowing a campus staging of "The Vagina Monologues," a feminist theater piece. The Pope did not refer explicitly to the controversies. However, he said that church teachings must shape "all aspects of an institution's life, both inside and outside the classroom," in an insistence on adherence to church doctrine that Benedict stresses for Catholics in all parts of their lives, from their personal behavior to what kind of politicians they support. "Divergence from this vision weakens Catholic identity, and, far from advancing freedom, inevitably leads to confusion, whether moral, intellectual or spiritual," the pope said.
For faculty, he said: "I wish to reaffirm the great value of academic freedom. In virtue of this freedom you are called to search for the truth wherever careful analysis of evidence leads you. Yet it is also the case that any appeal to the principle of academic freedom in order to justify positions that contradict the faith and teaching of the Church would obstruct or even betray the university's identity and mission." The educators in the room were encouraged by the pope's speech, and applauded his call to keep schools open for poor students. The Rev. Robert A. Wild, the president of Marquette University, said after the pope's speech: "What was most striking to me is what it was not. We were not being told that most Catholic schools are not faithful to our message. It was not a finger-waving exercise. It was mostly to encourage us."
At the new Nationals Stadium, with a gorgeous view of the Capitol and Potomac, the outdoor mass combined the spiritual with the spectacular: Some 46,000 people waved Vatican flags and shed tears when Pope Benedict arrived in his transparent popemobile, in a ball-field setting complete with sausage and $20 souvenir pope hats. The mass was the pope's first real encounter with the American church, and they poured out affection as much as shined a mirror of their diverse self back onto Benedict: conservative and liberal, black, white, Latino and Asian. Although Benedict is avowedly part of the church's more orthodox wing, some at the mass said he seemed on this American trip eager to address the full church, in all its complexity.
"He is open to things and that gives a feeling of hope to people who have felt left out," said Barbara Thomas, 51, an administrative assistant from Columbia, Md. In a shift of perception that the Vatican clearly hoped would be common on this trip, Mr. Thomas said she found him "a little more open, not so stern as what the general impression had been." Steve Brown, 55, a doctor from Fairfax, Va., said seeing pope was particularly important to him because he is suffering from terminal cancer. "Seeing him person gave me a warm feeling of being at peace," he said. "Just his aura — a kind of spirituality that emanated from him. Before I wasn't as moved with him as I was with John Paul II. Now, seeing him, I feel moved." (Ian Fisher reported from Washington, and John Sullivan from New York. Copyright 2008 The New York Times Company.)
---
The Journal News, by Shawn Cohen and Rebecca Baker, published, March 21, 2008
YONKERS - A Yonkers monk has pleaded guilty to sexually abusing four boys from the same family last year, authorities said yesterday. Dominick Bokulich, 34, also known as Brother Leopold, was living at St. Felix Friary at 15 Trinity Plaza in Yonkers at the time of the incidents, which took place during 2006 and 2007, Yonkers police said.
Bokulich, a member of the Franciscan Friars of the Renewal who is originally from Sullivan County, pleaded guilty Tuesday to first-degree sexual abuse and course of sexual conduct, felonies, and two counts of endangering the welfare of a child, misdemeanors, before Westchester County judge Jeffrey A. Cohen.
Yonkers police detectives received a tip in October from the Westchester District Attorney's Office that Bokulich had sexually abused three boys who live in Yonkers. The abuse allegedly occurred at a residence in Yonkers and in areas outside Westchester. He was arrested Oct. 12. He is due to be sentenced on June 10.
---
AP, Chicago, by Lindsey Tanner, published Mar 18, 2008
Cutting-edge new research helps answer the puzzling question of why post-traumatic stress doesn't happen to everyone who endures horrible trauma. In this case, the trauma was child abuse. The researchers found that survivors of child abuse were particularly likely to have symptoms of post-traumatic stress as adults if they also had specific variations in a stress-related gene. Among adult survivors of severe child abuse, those with the specific gene variations scored more than twice as high (31) on a scale of post-traumatic stress, compared with those without the variations (13). The worse the abuse, the stronger the risk in people with those gene variations.
The study of 900 adults is among the first to show that genes can be influenced by outside, nongenetic factors to trigger signs of post-traumatic stress disorder, or PTSD. "The study is groundbreaking," the largest of just two reports to show molecular evidence of a gene-environment influence on PTSD, said Karestan Koenen, a Harvard psychologist doing similar research. She wasn't involved in the new study.
"We have known for over a decade, from twin studies, that genetic factors play a role in vulnerability to developing PTSD, but have had little success in identifying specific genetic variants that increase risk of the disorder," Koenen said. The results suggest that there are critical periods in childhood when the brain is vulnerable "to outside influences that can shape the developing stress-response system," said Emory University researcher and study co-author Dr. Kerry Ressler. The study appears in Wednesday's Journal of the American Medical Association.
Ressler noted that there are likely many other gene variants that contribute to risks for PTSD, and others may be more strongly linked to the disorder than the ones the researchers focused on. Still, he and outside experts said the study is important and that similar advances could lead to tests that will help identify who's most at risk. Treatments including psychotherapy and psychiatric drugs could be targeted to those people, Ressler said. Several study authors, including Ressler, reported having financial ties to makers of psychiatric drugs.
About a quarter of a million Americans will develop PTSD at some point in their lives after being victimized or witnessing violence or other traumatic events. Rates are much higher in war veterans and people living in high-crime areas. Symptoms can develop long after the event and usually include recurrent terrifying recollections of the trauma. Sufferers typically avoid situations and people who trigger the memories and often have debilitating anxiety, irritability, insomnia and other signs of stress.
Though preliminary, the study provides needed insight into a condition expected to hit rising numbers of veterans returning from Afghanistan and Iraq, said Dr. Thomas Insel, director of the National Institute of Mental Health. The agency paid for the study. Insel said the results help explain why two people in the same jeep see a roadside bomb, and one simply experiences it as "a bad day but goes back and is able to function," while the other later develops paralyzing stress symptoms. "This could be quite a wave that will hit us over the months and years ahead," Insel said.
Study participants were mostly low-income black adults, aged 40 on average, who sought non-psychiatric health care at a public hospital in Atlanta. They were asked about experiences in childhood and as adults and gave saliva samples that underwent genetic testing. Almost 30 percent of the participants reported having been sexually or physically abused as children. Most also had experienced trauma as adults, including rape, attacks with weapons and other violence. The researchers focused on symptoms of PTSD rather than an actual diagnosis, and found that about 25 percent had stress symptoms severe enough to meet criteria for the disorder, Ressler said.
Childhood abuse and adult trauma each increased risks for PTSD symptoms in adulthood. But the most severe symptoms occurred in the 30 percent of child abuse survivors who had variations in the stress gene. The researchers were not able to determine if the symptoms were reactions to the child abuse or to the more recent trauma - or both, said co-author Rebekah Bradley, also of Emory University.
The study is an important contribution to a growing body of research showing how severe abuse early in life can have profound, lasting effects, said Duke University psychiatry expert John Fairbank, co-director of the Duke and UCLA-run National Center for Child Traumatic Stress. He was not involved in the research.
Association of FKBP5 Polymorphisms and Childhood Abuse With Risk of Posttraumatic Stress Disorder Symptoms in Adults (JAMA)
Post-Traumatic Stress Disorder (PTSD) from NIMH
---
NY Daily News, by Brian Harmon, published, March 13th 2008
A suspended Catholic priest already accused of molesting a 10-year-old boy has been hit with sexual abuse charges that he forcibly touched a man. The Rev. Gerald Twomey, 53, of Uniondale, was arraigned in Suffolk County 1st District Court in Central Islip Wednesday on charges of forcible touching and third-degree sexual abuse, said Robert Clifford, spokesman for Suffolk County District Attorney Thomas Spota. The alleged incident occurred in "a private home in 1996," Clifford said.
Twomey, the former pastor of Our Lady of Fatima Church in Manorhaven, was placed on administrative leave in June after allegations surfaced that he had sexually abused a 10-year-old boy while he served at St. Anne Church in Brentwood 10 years earlier. The boy was recovering from a car accident and said he was abused at home, according to a letter written by an official with the Diocese of Rockville Centre to the Suffolk County district attorney's office.
Authorities were prevented from filing criminal charges against Twomey, a priest since 1981, because of the statute of limitation for sex abuse, which was five years at the time of the alleged abuse of the boy."We're saddened by the news of the arrest. We'll continue to fully cooperate with law enforcement," said Sean Dolan, spokesman for the Diocese of Rockville Centre.
---
AP, New Haven, CT, published, February 20, 2008
(As we note in our book, sexual abuse of boys is a widespread problem, unconfined to the Roman Catholic church. ~ Marie & Marlene)
NEW HAVEN (AP) - A former music director at a prominent Greenwich church who was convicted of possessing child pornography hired a pedophile and failed to tell the authorities when that man sexually assaulted a choirboy, prosecutors disclosed on Tuesday.
The music director, Robert F. Tate, faces 9 to 11 years in prison under federal guidelines when he is sentenced on Thursday, prosecutors said in court papers.
Mr. Tate, 65, was choir director for 34 years at Christ Church, an Episcopal church, and he created a music program that gained an international reputation. Former President George H. W. Bush attended the church while growing up, and funeral services for his parents were held there.
Prosecutors said Mr. Tate permitted two sexual predators to remain in the church's choir at various times. They also said that he rehired an assistant organist who had been dismissed for sexually assaulting a choirboy and that he failed to tell the authorities when the organist assaulted another choirboy.
"We now know that the former assistant organist was a serial child predator who sexually abused children wherever he went," prosecutors wrote.
"Mr. Tate has great shame about much of his conduct over the years," said his lawyer, Francis O'Reilly. "The reference by the United States attorney causes him great shame, knowing a child was harmed by his conduct."
Mr. Tate was immediately terminated when the pornography was discovered on his laptop computer, said Eugene J. Riccio, the church's lawyer.
Mr. Tate's case also led to the conviction of a former lawyer for the church for destroying Mr. Tate's laptop computer containing child pornography. The lawyer, Philip D. Russell, was sentenced to six months of home confinement.
---
All Things Considered, reported by Barbara Bradley Hagerty, December 31, 2007
When it comes to sexual abuse, the religious orders have flown under the radar.
About a third of all Catholic clerics serve in religious orders — they're the Jesuits who teach high school or the Franciscans who serve the poor.
The sex abuse scandal that broke five years ago focused on parish priests and forced dioceses to push big reforms. But when it comes to religious orders, their reforms are voluntary, and the orders are not accountable to anyone. As a result, abuses may go undetected.
Reporting Only to Rome
Father Aaron Joseph Cote — known as A.J. — is a Dominican friar, part of a religious order founded nearly 800 years ago. As a Dominican, he was entrusted with preaching the Gospel and living a contemplative life — until two years ago, when he was sued for allegedly abusing a minor.
Cote's case is unusual because, if news accounts are any measure, religious orders have escaped much of the scandal that engulfed the larger church.
In a deposition videotaped in August 2006, Cote looks grim as attorney Jeff Anderson questions him. Anderson represents a young man who accused Cote of sexually abusing him in 2001 and 2002.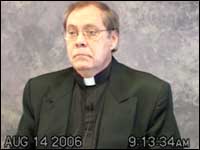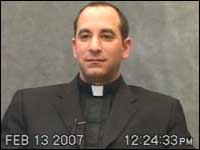 Anderson: "Do you have a sexual attraction to post-pubescent adolescents?"
Cote: "I refuse to answer on the ground it may incriminate me."
Anderson: "Do you know the word 'pedophilia'?"
Cote: "I refuse to answer on the ground that it may incriminate me"
And so it went for the better part of an hour.
Patrick Wall, a former Benedictine monk, served for 12 years at St. John's Abbey in Minnesota. In those years, he heard one confession after another of fellow Benedictine brothers who had abused children. Of 300 monks at St. John's Abbey, 32 were "perpetrators against children," Wall said.
Wall finally quit the priesthood in 1998 and began investigating clergy sex abuse for victims and their lawyers.
Wall found no shortage of work: He figures he has investigated two dozen religious orders, ranging from the Franciscans and Dominicans to the Marists and Salesians. Most recently, Wall turned his gaze on Jesuit missionaries sent from Oregon to Northwest Alaska. Last month, the Jesuits settled with more than 110 Eskimos for $50 million.
Wall and others believe the rate of abuse in the religious orders is higher than among the parish priests — although no one knows for certain because the orders are not required to submit their records to anyone in the United States. They report only to Rome. And they are not bound by the charter signed by the U.S. Bishops in 2002 that promised to stop protecting suspected abusers and report them to police.
Wall says abusers from the orders are easier to tuck away. A bishop in San Diego, for example, can transfer a problem priest only so many places. But religious orders are international, which Wall says is convenient.
"You get them out of the state. You avoid any kind of criminal liability because you get them out of the area, so that the statute of limitations can run," he said. "But you keep them in the family so it just looks like, well, 'The abbot assigned Father Dominic to St. Augustine's in the Bahamas.'"
That is pretty much what happened to Father Cote for more than 20 years. Cote denies he has abused anyone, and neither he nor his attorney responded to requests for an interview. In fact, no Dominican official connected to this case would grant an interview — even after several requests over two months.
But videotaped depositions in Cote's case serve as a rare window into the Dominicans' world. The depositions reveal a system in which warning signs can go undetected or ignored, and a problem priest can find refuge in new assignments for years.
The First Red Flag
In October 1985, Cote, then a seminarian, led a youth retreat near Washington, D.C.
In a taped deposition last year, Anderson read an assessment from Cote's file to Father Raymond Daley, who was the leader of the Dominicans in the 1980s. The assessment said that Cote paid too much attention to boys and that he stayed out all night and returned in the morning with a teenager named Will. It said he had two glasses of wine before the service, that his talk on sex discussed oral sex and that he bared his chest during his talk.
When asked if he had any recollection of the assessment, an elderly Daley answered softly, "I do not," a refrain repeated by Dominican leaders throughout the depositions.
A year after the youth retreat, Cote was ordained and eventually sent to Somerset, Ohio, to oversee two small parishes. His secretary, Jill Sullivan, told NPR that the young cleric instantly captured the hearts of the children. But she soon began to wonder about the youth group he started.
"You never saw any girls," Sullivan said. "There were only boys. And at a teen youth group, why wouldn't you see any girls?"
Sullivan started hearing rumors about Cote's relationship with the boys. And then one morning, she found some papers on her desk — Xeroxes made the night before on the copying machine.
"And I noticed they were of boys, their rear ends, their genitals, and I went to Father A.J. and said, 'What is this?' He wouldn't look at me, and he said, 'I'll take care of this. It won't happen again.'"
Parishioners began to complain about Cote's conduct with children. According to two parents interviewed under oath, they worried that Cote held sleepovers for boys and might be serving them beer. The parents met with a senior priest in the area, who wrote of complaints to Dominican leaders in New York.
The Dominicans apparently received the letter but now say it is missing. Dominican leaders said under oath they never heard complaints of a sexual nature.
1989: Chimbote, Peru
In 1989, the Dominicans transferred Cote to one of their foreign missions, in Chimbote, Peru.
The pattern began again. Cote launched a youth group for teenage boys, and boys stayed over at the house that he shared with another priest. That priest testified that Cote hugged and kissed the boys with an intimacy that alarmed parents.
Cote favored one boy in particular, who stayed overnight in Cote's room, the priest said.
The priest said under oath that he reported to the head Dominican in Peru four times. The Dominican leader in Peru — who is no longer alive — wrote the head office in New York that parishioners had witnessed "improper conduct on the part of Father Cote." But, he added, these complaints were just "hearsay and rumor."
Anderson, the attorney, asked Father Thomas Ertle, who was the Dominican leader at the time, why he didn't take action. Ertle said he relied on his fellow friar's word that nothing was amiss and on the word of Cote.
"He gave me no indication that there was anything immoral in his contact or association with them," Ertle said of his conversation with Cote.
"And did you rely upon him in Cote's representation that there was nothing immoral?" Anderson asked.
"Yes."
Anderson doubts that leaders didn't know of any sexual abuse or chose to "see no evil."
"I took the depositions of every official, every provincial and every vice-provincial that presided over A.J. Cote," Anderson said. "And each of them lied."
Anderson says the Dominicans are a small order. There are only a few hundred in the U.S. It is a tight-knit spiritual family.
"They live in community, which means they live together, and they report to one another regularly," Anderson said. "And there is no way that the reports made in Somerset, Ohio, in Chimbote, Peru, and elsewhere didn't go to the leaders of the Dominican order."
2000: Germantown, Md.
Soon after the complaints surfaced, Cote asked to leave Peru. Back in the U.S., he moved from one assignment to another for a decade. No allegations surfaced during this period. Then in 2000, Cote landed as a youth pastor at Mother Seton parish in Germantown, Md. There he met 14-year-old Brandon Rains.
Rains testified last year that his friendship with Cote began when Cote "took a special liking to me," by waving or winking at him from the altar during the Mass.
And Cote eventually spent a lot of time with Rains after his parents learned the boy had begun using and selling marijuana in the ninth grade. Rains' mother told NPR they felt the only refuge was his church youth group.
"He spent so much time with Father Cote," she said, holding back tears. "He was like the one safe, positive person in his life that we would allow him to see. Not his friends. We thought that was the source of the trouble."
She added: "I felt like I just handed him over."
By midyear, Rains testified, Cote was taking him to a private apartment or hotels to watch pornography. He masturbated in the boy's presence and persuaded Rains that he should do the same, Rains said.
Rains said Cote did this about 10 times and touched him once.
In August 2003, Rains confided in his parents about Cote's behavior and filed a report with police in Maryland. His stepfather, Joe McMorrow, says he called the Dominicans, who assured him they would investigate.
"And then, months passed," McMorrow said. "We had very little contact with the Dominicans; most of it we initiated."
Something just didn't seem right, McMorrow said. "One day, I went out on the Web, and I find that A.J. Cote is a youth minister at a Catholic parish in Rhode Island."
Not the Whole Story
How could this happen?
Father Dominic Izzo, the current head of the Dominican Province, said in his videotaped deposition that he didn't consider Brandon Rains' allegation credible.
Anderson asked Izzo what would have made it credible. First, Izzo said, if Cote's psychological evaluation indicated he was a pedophile. Second, he said, if the police had found concrete evidence of abuse.
"The investigation would have said that yes, this did happen on this date," Izzo said. "That did not happen. And so we took the advice of professionals." He said that he sent all the information they had about Cote to the Rhode Island Bishop's independent review board, and when they did not ask for more information, he considered the matter closed. Izzo recommended Cote be allowed to serve in ministry in Rhode Island.
But Dennis Roberts, the former state attorney general and head of that review board, told NPR he didn't get the whole story from the Dominicans.
"They didn't exactly lie to us, but they didn't tell us the whole truth," Roberts said.
Roberts' board gave the green light for Cote to begin ministry in Providence. He said after looking at materials NPR gathered for this story, he was floored by all that the Dominicans had omitted — files from Cote's seminary days, complaints from Ohio and Peru, the attempts to unload Cote on different dioceses.
Roberts said that his review board had access to all local priests' files. But with religious orders like the Dominicans, Roberts said, "we don't have the full package. And therefore in dealing with an issue like Father Cote's, we really do have to rely on the good faith and forthcoming nature of the disclosures made to us by the order. And here that was not very good."
In the deposition, Anderson handed Izzo Exhibit 100, a letter dated July 26, 2005. It's from Catherine Wolf, a teacher in Somerset, Ohio. Wolf wrote that she had just learned that Cote had repeatedly molested a student in the late 1980s. "I believe that Father A.J. is a danger to children," she wrote, "and should not be allowed to associate with them in any capacity."
Under the Dominicans' own policies, they were supposed to report all credible allegations to the police. Anderson asked if Izzo did so.
"Did I supply this letter to the police?" Izzo asked? "No, I did not."
When asked why not, Izzo said he didn't recall. "We just didn't submit it to the police," he said.
Izzo said he did not consider that allegation credible because it did not come from the alleged victim. He didn't inform Cote's parish in Rhode Island, nor did he alert the review board.
Dennis Roberts said he wishes Izzo had.
"What we would have done at that point," Roberts said, "taking that new information, is tell the father provincial [that] Father Cote was no longer welcome here at that point, [that] the man has to be removed from ministry."
Cote was just about to attend a church youth retreat in November 2005 when Rains filed a civil suit against Cote and the Dominicans in Washington, D.C. The Dominicans pulled Cote from active ministry.
Four months ago, the Dominicans agreed to settle with Rains for $1.2 million. Based on evidence revealed in the lawsuit, prosecutors in Maryland have reopened a criminal investigation.
2006: Massachusetts
In May 2006 — smack in the middle of the Rains litigation — a woman filed a complaint with the police in Massachusetts.
She claimed that Father Cote had abused her two boys while babysitting. The Dominicans offered their sympathy, but they did not mention this new allegation in their sworn testimony in the Rains suit.
The boys at the time were 4 and 6.
Related NPR Stories
---
All Things Considered, Frank Morris, of member station KCUR reports. Air date: November 16, 2007
Last year, the Missouri Supreme Court ruled that the statute of limitations on childhood sexual abuse cases should start ticking when the victim realizes he or she was hurt, rather than a set time after the incident. As a result, dozens of long-stalled priest sexual abuse cases are moving ahead in the state.
Other state courts and legislatures have also moved back deadlines and statutes of limitations for filing sexual abuse suits.
---
All Things Considered, Barbara Bradley Hagerty, reporter, aired October 29, 2007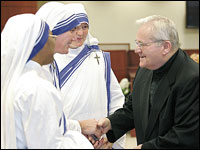 Father Donald McGuire was convicted last year of sexually abusing two teenaged boys in the 1960s. Jesuit leaders insist they had no knowledge of any other abuses by McGuire, but documents reveal they were alerted by concerned parents many times over the past 38 years. ©2007 WNYC Radio.
---
By Beverly Keel, The Tennessean, August 12, 2007
Two days after attending a Radius 10 party celebrating the platinum success of his second album, Doin' Somethin' Right, country singer Billy Currington was diagnosed with acute laryngitis and canceled all immediate obligations.
What came next was a quiet unlike anything he had ever known.
With no work to fill his usually hectic schedule, the 33-year-old spiraled into a painful examination of his past. For nearly a dozen years of his childhood, Currington says, he was the victim of physical and emotional abuse at the hands of four adults, most of whom were men. Currington now believes the childhood trauma has left him with anger issues and a hatred of men that have affected personal and professional relationships throughout his adult life.
Dealing with the fallout is prompting his exit from country music for the rest of 2007, despite recently celebrating his second No. 1 single, "Good Directions."
"For so long, I didn't know what was going on inside of me, but I knew it was affecting my life in negative ways," Currington said during an exclusive interview I conducted for People magazine with the agreement that the story also would appear in The Tennessean.
June 26 — five days after his million-selling-album party — Currington checked into a 30-day trauma recovery program at Arizona's Sierra Tucson.
"It was pretty much the breakdown, the realization that I was powerless over a trauma and at that point, it felt like my life was completely unmanageable," he says. "I felt the bottom, so to speak."
He'll focus on healing
Last week he began finishing the last recording sessions for his third album. That will be his last career duty before putting the music industry on hold, even parting ways with his band, to focus on healing.
Although his girlfriend — "the truest love I've ever known" — was instrumental in helping him find Sierra Tucson, he says she couldn't understand all that he'd been through, and they broke up. On Aug. 26, he flies to Hawaii to work with two therapists specializing in childhood trauma.
"All of this started happening and I felt like it was the time in my life that nothing else mattered — where my career goes, girlfriends, whatever," he says. "What matters the most is me."
Currington had no plans to speak publicly about this private matter, but rumors spread that he was addicted to drugs or alcohol, and he wants to set the record straight.
"I feel like I am being used at the moment, and all I can say is, 'God, please use me.' If someone else in this world needs to heal from this, then let them be healed.
"Secrets hold a lot of power, and when they are revealed… they hold no more power."
Singer/songwriter Scotty Emerick, his good friend, says he's proud of Currington.
"I think his health, happiness and well-being should come first in his life," Emerick says. "I think this will really help him in the long run. I will support any decisions he makes."
He calls abuse frequent
Currington, who grew up in a trailer with his mother, brother and sister in Rincon, Ga., had three stepfathers by the time he turned 14. The first, Laurie "Larry" Currington — whom the singer thought was his biological father until he discovered the truth as a teen — was, Currington says, an abusive alcoholic for whom the singer later wrote his Top 10 hit "Walk a Little Straighter," and "Living with the Devil." The stepfather died when Currington was 25.
"This man had no sense of heart at all," he says.
Currington's stepsister, Ann Roose, 48, disputes all of the claims against his father.
"None of it ever happened," says Roose, who says she never lived in the house with them. Her brother Chuck Currington echoes her views. (They are from their father's first marriage; Currington is from his third. Chuck Currington says he lived with the family briefly when he was about 14.)
Billy Currington's grandmother Evelyn Helmly, his mother's mother, backs his version: "Billy was abused. Larry was a drunk; he was mean."
Currington says his stepfather abused him "just whenever he felt like it, that I needed a good beating." When he was about 5, Currington says, he was forced to sit in his stepfather's lap and shave his face with an electric razor. "I accidentally hit his moustache, and that was a nightmare after that. I got chucked across the room and cussed at, hit, whatever."
Because their window air conditioner rarely worked, Currington frequently had to fan his stepfather with a paper bag until the man fell asleep. "I remember with every fan I would hate him more and more," he says.
His mother and stepfather divorced when Currington was 7, but he continued to see his stepfather on weekends. When Currington was 10, he and his siblings spent July 4 with their first stepfather, who, Currington says, was downing whiskey and relieving himself in the bushes during the fireworks show. "That's when I thought the words, 'Walk a little straighter, Daddy.' Time went on and I wrote the song."
Currington refused his stepfather's demand that the boy cross a busy street to buy him a soda. "That was the first time I was ever knocked out completely cold," Currington says. "I think I was knocked out for five or 10 minutes. I woke up and saw the police hauling my dad to the car. He never got put in jail that night though; he got let go on the spot after we left."
Trauma leads to anger
By grade school, Currington started getting into fights. "When you are taught to hate, you carry that with you. You don't know any better." The abuse was never discussed at home or school. "It was just, 'Forget about it and move on.'"
In high school, he was introverted and laid back, except for the times that Little Billy would raise his ugly head.
"I call myself 98 percent laid back, but there's that 2 percent of Little Billy, my inner child that's hurt, sad and furious because he was never taken care of. When he comes out, he comes out very quickly and it goes away very quickly.
"And in those instances, that rage can destroy relationships, whether it's with a girlfriend or a business partner or a fan. It doesn't take long to screw it all up."
After each verbal outburst, he would say, "I know what I did was wrong and it will never happen again." But it did.
By his early 20s, he realized he had a problem, and spent the next decade reading self-help books, which didn't help.
He says there wasn't one event or fight that triggered his treatment, but just the undeniable realization that he needed more help than books offered. "I didn't know I was going to need more help than I actually thought I did at the time."
30 days changed his life
When he arrived at Sierra Tucson, counselors took his computer, phone, health food and guitar. He was immersed in classes and homework. Like the others, he drew a time line of his life that was placed on the wall for all to see. "My unit therapist pulled me aside one day and said, 'Billy, I really have to tell you, man, that your life, your time line, is probably about the worst I've seen. I can't believe you're not in jail at the moment."
While Currington eventually settled into treatment, he packed his bags twice to leave. The second time, a counselor intervened. "He taught me a word in my bedroom that day I never knew: still. 'You have to learn to be still, Billy,'" Currington says. "I don't know what it was, but his way of dealing with me was like no way that a man had ever dealt with me before. It was in a gentle, respectful way that I understood."
Near the end of his stay, he heard something for the first time in his life: a grown man saying, "I love you."
Currington called his grandmother Helmly, with whom he had always felt safe, and told her everything. "She said, 'I'm going to tell you like my Mama told me, "Just put it under a rug and move on. Bury it, tell it goodbye and move on." '
"I said, 'I'm here to tell you today that's not the way to deal with what is going on in my life at this moment.' You could have heard a pin drop. She didn't know what to say. She said, 'Really?' And I said, 'Yeah, it's not.' "
Currington walks taller
The relief of dealing with the lifelong burden is apparent in his appearance and demeanor: He stands taller and is more animated in conversation.
"Billy was always somebody who has to be moving and going and making stuff happen," says Brian Wright, vice president of A&R (artists and repertoire) at Universal Music Group Nashville. "Now he's more relaxed, calm and thoughtful in the way he's talking about this. Usually we talked about music and sports and writing, but now it's just more about life. "
Currington owns the fact that all of these horrible things happened to him.
"But when you add them all up, it really isn't my fault, and I did the best I could. I was powerless over angry men who were bigger and stronger than me," he says.
"I grew up to hate them and I grew up to be defensive and I took on ways that they taught me. Now, I sit here at what I feel is my first stage of manhood. I am here proud, I am here confident and I am ready to take on whatever it is out there that will help me get to the core of the problem and fix it and move on with my life in the healthiest possible way."
---
The comedy actor Chris Langham broke down in the witness box today at Maidstone Crown Court and claimed that he was sexually abused as a child.
Mr Langham, who is accused of downloading child pornography and sexually abusing an underage girl, wept as he denied being a paedophile.
His voice quivered as he recalled being raped by a man while on a sailing trip away from his parents on Lake Ontario in Canada, where he grew up.
Asked by Judge Philip Statman to elaborate, Mr Langham said: "I was eight. My parents had moved to Canada when I was five. I was quite a frightened child. I got beaten up all the time because I spoke with an English accent.
"We stayed in a tent and this guy – I don't remember his name – I remember he had red hair... The thing I can't get out of my head is lying in bed with him with his arm around me and him telling me I had done well and me having two thoughts in my head. I had done well because he liked me. My second thought was a deep, deep shame that I would do that to be liked.
"A slut, for a kind word, is what I am. I have always despised myself for my approval-seeking."
Mr. Langham accused the police of trawling for allegations to throw at him.
Referring to his arrest by police for looking at child porn on the internet, he said: "They had me on a plate because I said I did it, but they weren't happy. They wanted to convict me on the basis I had an abnormal interest in children, that I'm a paedophile, and I'm not."
At this point the Bafta award-winning actor's voice became very shaky. He continued: "That part of the crime is a life sentence and that is the part of the crime I did not do.
"I have to stand up and tell you the truth but I will not stand here and admit a crime I didn't commit.
"I'd like to make it clear I am not taking the crime I committed lightly. I did it in an arrogant way, I know who I am. I know who I am. And I did a very arrogant thing to not think that the law applied to me."
His defence counsel, David Whitehouse, QC, asked him: "The prosecution say you are a paedophile because you paid for child pornography sites in 1997, 1999 and 2002."
Mr Langham replied that he had never seen any child pornography on the site he had paid for. He said: "I never saw anything that gave me any concerns." He also said: "I've looked at pornography sites for years. I look at a lot of porn, I'm afraid it doesn't make me look good but I've done it for years."
He continued: "My sense of my own sexuality is that I'm rather depressingly normal for a man of my age."
In about January 2005, he said he came across an indecent film of a child while searching for adult pornography. He said: "I opened it and it was not particularly vicious, but it was still a child. I closed it and I was very shaken by it.
"I talked to my wife about it. I'm one of the children in the photographs. That's the problem I have with it. I don't know how to react to it."
His lawyer has told the court that his client downloaded some images while researching a character in Help, the BBC comedy drama about a psychotherapist and his patients which Mr Langham co-wrote.
Later, laughter was heard in court as the jury was shown an episode of Help.
Mr Langham explained that Help introduced a character called Pedro in order to explore the stance society should take against paedophiles. He and his barrister read out dialogue from draft scripts.
The actor said that he had looked at the child pornography to help him to understand the character and his world. "I know about the world of being at the receiving end of a paedophile but I don't know about paedophilia, the networks, the slang, what does the room look like," he told the court.
He claimed that when he accessed the indecent pictures he had only been able to bear to watch a few seconds at a time. "My heart started beating, my mouth went dry and I started feeling sick. I tried to think what was the connection that made me go there."
He went on: "I have no sexual interest in children, I have children myself. I find them (the images) very upsetting. To me it was like putting my face in a chainsaw. I had to get out.
"I did it on four occasions and had I not been arrested, I probably would have done it again."
His lawyer asked him why he returned to view the images, Mr Langham replied: "Because it's an issue in my life. It was horrible."
Earlier this week Paul Whitehouse, the Fast Show star who was his writing partner on Help, told the court that he and Mr Langham had not discussed researching child pornography for the show.
The prosecution has also told the court that Mr Langham, a married father-of-two, groomed and then sexually abused a 14-year-old girl.
Before the hearing resumed today, the jurors were directed to find Mr Langham not guilty of four offences of indecent assault. It is understood that, after lengthy legal submissions yesterday by Mr Langham's defence team and by prosecutors, the charges had been found legally to be time-expired under the terms of a House of Lords ruling.
Legal experts said that it was not unusual for the charge sheet against a defendant to be altered mid-trial once the full extent of the prosecution case had been heard.
Mr Langham, 58, of Golford, near Cranbrook, Kent, denies 15 counts relating to child pornography, six of indecent assault and two of serious sexual assault on an underage girl.
The trial continues.
---
By Neil Genzlinger, The New York Times, July 12, 2007
The theater starts out cold and — unusual for a New York black box in July — keeps getting colder as "What Happened When," a dark two-hander by Daniel Talbott, progresses. If the show were any longer, falling icicles would become a hazard for the audience at Here Arts Center's underground space.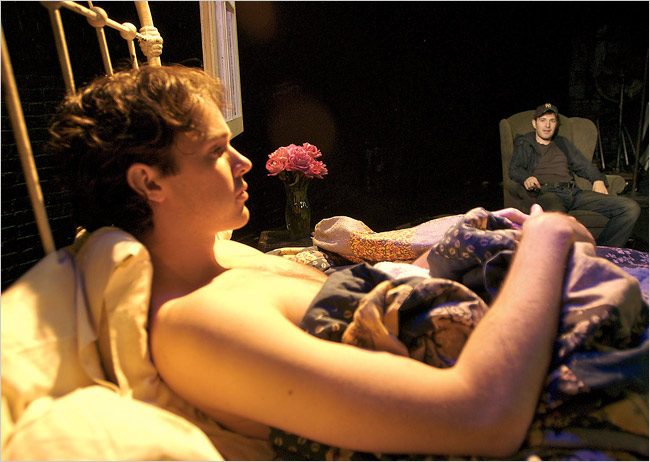 That the show isn't any longer is unfortunate. Its 45 minutes are full of half-sentences and fragmentary memories, but the premise and the actors are strong enough that you wish Mr. Talbott had taken things further, spent less time being cryptic and more time fleshing out his portraits.
Jacob Fishel and Jimmy Davis play two unnamed brothers reminiscing about an ugly past. But this is no ordinary conversation: Mr. Fishel's character, who appears to be the older of the two, is dead. In fact, a lot of people associated with this family seem to be dead, and as the two men trade remembrances there are hints of sinister explanations. Sex and sexual abuse are prominent.
The production, by Rising Phoenix Repertory (of which Mr. Talbott is artistic director), goes for ghost-story creepiness and achieves it. Mr. Fishel even injects a little pathos as the departed brother who still wants to be protective of his sibling.
That the two actors succeed so well is especially impressive because, under Brian Roff's direction, neither ever changes position: Mr. Fishel is rooted to a chair and Mr. Davis to a bed. They create a captivating dynamic. If only the play didn't leave you feeling that you did not get enough of a good thing.
Through Monday [July 16, 2007] at Here Arts Center, 145 Avenue of the Americas, South Village; (212) 352-3101.
---
A hearing to decide who won the last Tour de France has suddenly lurched from numbing details about laboratory testing methods into testimony about sexual abuse, blackmail and what some may construe as a near confession. Greg LeMond, a winner of the Tour three times, provided the spark that turned the hearing's uneventful opening three days into high drama. In the world of blogging, it is being described as circus. At the expense of revealing his long-held secret that he was sexually molested for months as a youth, LeMond has offered damaging testimony against Floyd Landis, accused his business manager of trying to blackmail him about the molestation and has stoked the public feud among the three Americans who have finished first in the Tour de France.
The three - LeMond in 1986, 1989 and 1990, Landis last year and Lance Armstrong from 1999 through 2005 - have a history of exchanging mockery and suspicions, of threatening business ruin and lawsuits. On Friday, though, none had any comment on LeMond's testimony against Landis or his manager at an arbitration hearing into doping charges. Armstrong was unavailable, LeMond did not respond to phone calls and Landis is officially barred from public comment during the hearing. The business manager, Will Geoghegan, who was immediately fired by Landis in the courtroom after LeMond described a phone call threatening to make public his sexual molestation, was also unavailable.
Usually the catalyst in the quarrels among the riders is Armstrong, now 35, who retired after his seventh consecutive victory in the world's greatest bicycle race and became a fulltime campaigner against cancer. Before then, he tried to humiliate Landis, most famously in the Tour de Georgia in 2005, for presumed disloyalty in leaving Armstrong's U.S. Postal Service team to become the leader of Phonak. LeMond was a more frequent target, especially after he hinted that Armstrong's first victory in the Tour was either a major feat for a cancer survivor or a major fraud. (Read doping.)
Landis, 31, had testy words in rebuttal to Armstrong and has sniped at LeMond ever since Landis failed a doping test in the last Tour and thought LeMond was not supporting him, as Armstrong in fact has been. Now a 45-year-old bicycle manufacturer and businessman, LeMond squared the circle Thursday with his charges about Landis and his entourage. After an opening three days of uneventful testimony, the hearing into whether Landis used illegal drugs in the Tour burst into high drama with LeMond's account of his sexual abuse, his recollection of what seemed to be an incriminating phone call from Landis and his charge that Landis's business manager tried to blackmail him.
LeMond appeared at the arbitration hearing in Malibu, California, as a witness for the U.S. Anti-Doping Agency, which is seeking to strip Landis of his first place in the Tour and ban him from the sport for two years. First LeMond discussed a phone call Landis made to him last summer shortly after news of his positive A urine sample in the race was leaked to the media. LeMond said that he was "inundated with requests" for comment and that he was "expressing disappointment."
On Aug. 6, LeMond said, while he was at a charity event in Massachusetts, he got a call from Landis that lasted 36 minutes. LeMond said he urged Landis to confess if his backup B sample also proved to be positive. "I made it very clear that I did not judge that he did or didn't because his B sample was not positive at that time," LeMond testified. "I said, I don't know if you did or didn't, but if you did, you can be the one to change the sport . . . salvage the sport. I would encourage you to come clean." In addition to helping the sport, he continued, he told Landis that a confession would "more importantly, help himself." "At this point, he said, 'I don't see anything that . . . . What good would it do? If I did, it would destroy a lot of my friends and hurt a lot of people,' " LeMond testified.
He then said he told Landis how destructive it was to keep a trauma secret. Specifically, he continued, he described his pain in keeping it secret that he was sexually abused by a friend of his father's when he was 10 or 11 years old and living with his family in Nevada. "It nearly destroyed me by keeping the secret," LeMond said. He said he told Landis that very few people knew that about him. One who did is Frankie Andreu, 40, a former rider who finished all nine Tours de France he entered. "I've known this a long time," Andreu said Friday by phone from Arkansas, where he was directing his Rock and Republic team. "Greg and I are old friends and he's talked to me about this."
Andreu added that LeMond had also told him months ago about the call from Landis in August. The B, or second, urine sample after Landis's comeback victory on the 17th of 21 daily stages in the Tour did prove positive for an illegal ratio of testosterone to its natural precursor epitestosterone. Other tests at a French laboratory have since reportedly confirmed the presence of synthetic testosterone. Landis has steadfastly denied doping. If he loses his case before the three-member arbitration panel, he can appeal to the Court of Arbitration for Sport in Switzerland, the final authority. Discussing the phone call from Landis, LeMond then testified that he received a call Wednesday night before the hearing from Landis's manager, who threatened to reveal the secret of sexual abuse if LeMond showed up to testify.
"He said, 'I'll be there tomorrow and we can talk about how we used to' " perform a sexual act, LeMond said of the phone call. "I thought this was intimidation to keep me from coming here." He said he traced the call to the cell phone of Geoghegan, the manager, and filed a police report, which was presented as evidence. Malibu sheriff's officials said only that the case was under investigation. After this testimony, Geoghegan walked up to LeMond, apologized and admitted he made the call, LeMond said.
While they were still in the hearing room, a Landis attorney, Maurice Suh, then announced that Geoghegan had just been fired. On Friday, a spokesman for Landis, Michael Henson, who heads the Floyd Fairness Fund defense committee, said: "I want to stress that Mr. Geoghegan was immediately fired by Floyd - this was done in the courtroom - and that Mr. Geoghegan never received any payment, financial or otherwise, from the Floyd Fairness Fund. He will not receive any severance from the Floyd Fairness Fund." Off the witness stand at the Pepperdine law school, LeMond denounced Geoghegan's phone call.
"It was a real threat, it was real creepy, and I think it shows the extent of who it is," he said. "I think there's another side of Floyd that the public hasn't seen." In the hearing, a lawyer for the U.S. Anti-Doping Agency, Matt Barnett, cited an Internet message board posting that LeMond said was the work of Landis. It said, in part, if LeMond "ever opens his mouth again and the word Floyd comes out, I will tell you all some things that you will wish you didn't know and unfortunately I will have entered the race to the bottom which is now in progress."
Barnett asked LeMond: "He confirmed he personally had posted it?" LeMond replied, "Yes." "What did you understand was the subject matter Mr. Landis was referring to?" the lawyer asked. LeMond answered: "He was referring to the conversation on Aug. 6, about my personal story to him about why he should come clean." Landis, who had worn a yellow tie - the color of the Tour leader's jersey - for the first three days of the hearing showed up Thursday in a black one to symbolize his feelings toward LeMond. In another setback for his defense, the cross-examination of LeMond, designed to explore his motives and impeach his credibility, was called off because he refused to answer questions about Armstrong. "I just have to say, again, this is completely unfair," said another Landis attorney, Howard Jacobs.
---
NY Post, Page Six, by Richard Johnson, published April 23, 2007
CHEVY Chase has made us laugh since his first routines on "Saturday Night Live" in 1975, but behind the clownish façade are horrific memories of a childhood of beatings and psychological torture by a mentally ill mom and twisted stepdad.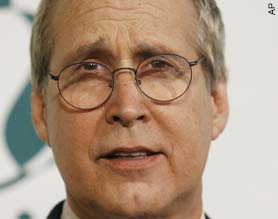 "I lived in fear all the time - deathly fear," Chase says in a new authorized biography, "I'm Chevy Chase . . . And You're Not," by Rena Fruchter, out next month from Virgin Books. It reveals that Chase's concert-pianist mother, Cathalene, was a "very unhappy woman" who suffered from depression and panic attacks that could set her off at a moment's notice. They had her locking young Chevy in a closet for hours at a time and waking him up in the middle of the night to slap him "continually and hard, across the face," Chase tells the author. "I don't remember what it was for, or what I had done."
One of her other brutal punishments was to whip Chase over a period of days. "She would say to me, 'Ten lashes on the backs of your legs every day for a week at 5 p.m.' How can you hold on to that kind of anger against your kid?" Chase relates to Fruchter. "I knew I was a 'bad boy,' but I didn't know that everybody wasn't punished the same way I was."
Chase's younger half-brother, John, tells the author: "My mother, at her worst, was like an unleashed animal. It was at her hands, in her feral states, that Chevy suffered the darkest of his secret torments."
Chase was also traumatized by his mom's second husband, John Cederquist, who heaped on him "emotional and physical abuse that sometimes bordered on torture," Fruchter writes.
The comic, who starred in such flicks as "Caddyshack" and "National Lampoon's Vacation," is 63 now, and his tormentors are dead. But, he tells Fruchter, "I always turn to it in my mind . . . I'll never forgive them. At their graves I didn't. It was too hard for me. You would think a grown man could shake it off, as the coffin was being lowered, to say, 'I forgive you.' I don't forgive."
---
New York 1 newsman Dominic Carter tells in memoir how his mother sexually abused him when he was a boy.
Dominic Carter, a high-profile journalist who once interviewed Nelson Mandela and now commands attention as the host of "Inside City Hall" on NewYork1, has spent his life hiding a painful childhood secret.
One night, when Carter was about 7, his mentally ill mother, Laverne, ordered him to climb into her bed. Then, in a voice no louder than a whisper, she told him to take off his clothes.
She sexually assaulted him.
In a memoir titled "No Momma's Boy: How I Let Go of My Past and Embraced the Future," Carter candidly recounts the sexual and physical abuse of his childhood and chronicles his journey from Bronx housing projects to the upper echelons of New York journalism.
After his mother died in January 2001, Carter, who had been shielded by family members from the details of her mental illness, decided to do what reporters do - report. He delved into her past and found the medical records that would unlock the secrets of his mother's life and ultimately help him heal his own.
From the scrawled penmanship of psychiatrists and social workers, Carter learned that his mother had been diagnosed as a chronic paranoid schizophrenic, that her first sexual experiences occurred at an early age with two uncles, and that she got electroshock therapy as a teen.
He discovered from the records that she beat him and nearly strangled him when he was an infant. One record showed she harbored thoughts of pushing Carter out a window. She heard a voice tell her, "Do it."
In his book, which Carter plans to self-publish next month, he recounts many of the troubles of his childhood - a father he never knew, a grandfather who once took him to a drug den - but he also tells of the unconditional love and support he received from his grandmother and his aunt, two women who always treated him like a prince.
Carter's aunt, Inez Carter, told the Daily News she was apprehensive about his making the family's secrets public.
"But the more I thought about it, you can't hide the truth," she said.
Steve Paulus, senior vice president at NY1, described Carter's decision to go public as "courageous."
Carter, 42, who is married with two children, said he plans to try to help others cope with the horrible memories of child sexual abuse. He called writing his memoir therapeutic.
"It's been helpful to the degree that it's given me courage to stand up and say, 'Dominic, you did nothing wrong. You don't have to hide anymore. It's okay. You don't have to spend the rest of your life as a prisoner within your own mind having this dark secret,'" he said.
"I feel free," he said. "For the first time in my life, I feel free."
---
TCM, published April 4, 2007
The Who rocker Pete Townshend has revealed he was sexually abused as a child.
In a new excerpt from his upcoming autobiography, Who He?, which the guitarist has posted on his blog PeteTownshendWhoHe.Blogspot.com, Townshend recalls he was forced to shower naked before two men when he was 10 years old - as part of a Sea Scouts initiation.
He also implies that further sexual abuse followed, writing only that: "What followed needs no description."
Townshend goes on to reveal the experience has affected him ever since.
In an earlier excerpt, the rocker revealed he was physically abused by his mentally-ill grandmother at the age of six.
In January 2003, Townshend was arrested on suspicion of possessing child pornography, while researching his memoirs. He was cleared of the charges four months later.
Who He? is set to hit book stores in 2008. © Thomas Crosbie Media - Thomas Crosbie Holdings, Ireland, 2007.
---
By Thomas Roberts, CNN, March 12, 2007
Editor's note: Thomas Roberts has been a Headline News anchor since 2001. In this story, he discusses being sexually abused by a Catholic priest as a teenager.
ATLANTA, Georgia (CNN) -- I became a victim of sexual abuse at the age of 14; the abuse lasted three years. It took me nearly 20 years to gather the strength to help put my abuser behind bars. Now, a year after "justice" was done, I am ready to tell my story publicly in ways I never have before.
My abuser was Father Jeff Toohey, a trusted man of God. He was the equivalent of a religious celebrity in my private all-boys Catholic school in Baltimore, Maryland. Father Jeff was every boy's friend and mentor. I considered him my mentor as well.
When my parents divorced, I was sent to Father Jeff to help me cope with all the changes. Divorce in the mid-1980s still seemed so foreign. Plus, I was just a kid, and I didn't know much about divorce. I just knew it sucked.
All I had at that time in my life was my family and school. Those were my constants. But as my family fell apart, so did my life at school. After the abuse began, high school became a prison of shame and lies.
I felt trapped. My parents would be horrified to know their failure at marriage put their son at risk to be sexually abused and that the man abusing me was the high school chaplain and beloved priest. (Watch Roberts' mom say the priest will 'burn in hell' )
The school would never believe me, I thought, and I feared I would be expelled if I revealed the abuse. I was 14, with no voice, except the one in my head saying, "You can never tell the truth about what is happening."
Roughly a month after the abuse started, I attempted to commit suicide. I took a bottle of my mother's pills. I lined them up one-by-one on my maple dresser. I took them all and lay on my bed hoping to just fade away and die.
My sister, Patsy, came home and found me. It was the day before her 18th birthday. She saved my life that day just by merely coming to my room to say, "Hi." She saw the pill bottle and went to get ipecac, which made me throw up.
My parents were terribly upset by my actions. Father Jeff was told I tried to kill myself. All agreed I just needed more counseling. Father Jeff's exact words were, "You have so much to live for." I felt so cornered, and I had nowhere to go and no one to run to. I just became numb to the abuse.
"This too shall pass" is one of my favorite religious sayings. The abuse did pass, but it left me so insecure about who I was.
When I was in college, another boy, Michael Goles, came forward and reported his abuse at the hands of Father Jeff. I knew I could help Michael if I, too, revealed Father Jeff's abuse, but out of a feeling of self-preservation, I remained quiet. Michael wasn't believed, and his case was thrown out of court.
Nearly 20 years after the abuse started, I became strong enough to go back and confront what had happened to me. I was strong enough to tell my family the truth. I was strong enough to report it to the archdiocese. And I was strong enough to call Michael Goles and tell him, "I am sorry," and that I believe him because it happened to me, too.
Together, we were strong enough to see our abuser finally admit his crimes. Father Jeff was charged with 10 criminal counts of child sexual abuse in relation to my case. He asked for a plea and admitted his guilt in court. He was sentenced to five years in jail but only served 10 months. He was released early to serve eight months in home detention.
This story is so layered. For a long time, I couldn't talk about it without crying. But a year ago, CNN Anchor Anderson Cooper and CNN Senior Producer Charlie Moore approached me about telling and following my story. I was scared. I was scared of being so honest and televising this journey.
What would people think? Would I ruin my career? But I came to the conclusion that I will not be scared anymore. I will not be scared of telling the truth because it might be uncomfortable for people to hear.
If this story compels even one person to seek help for being sexually abused, then it is all worth it. All it takes is telling one person. From there, strength grows and you can tell a second person and so on. Then you can finally have control of your life back.
---
The Bulletin, by Susan Chenery, published, July 11, 2006
It was while he was being educated by the Christian Brothers that he was persuaded by proselytising films of missionaries wearing straw hats in Africa to enter a seminary in England at the age of 12 to prepare for the priesthood. He has admitted he was beaten by the Christian Brothers and later sexually abused by his Latin teacher in the seminary. "I wanted to please him," he told The Bulletin during an interview on the set of Jindabyne.
The price was a "tremendous" loss of confidence and a lack of self-esteem. In many ways, he says, acting is about "finding approval at a mass level ... about trying to make up for the love and approval you didn't get as a child".

Predictably, perhaps, his ecclesiastical career ended abruptly when he was kicked out of the seminary after five years, for smoking in the graveyard and possibly for lack of conviction after furtive forays into the swinging London of the '60s.
"I can't tell you what it was like to go from the cloistered silence of the seminary to being surrounded by girls in mini skirts."
But it was some time before he found his true calling. He studied archaeology at University College in Dublin, then drifted, working as a short-order cook, a plumber's apprentice, a morgue attendant and in a factory that made teddy bears.
---
The Mirror, By Ryan Parry, Published May 4, 2006
BULLIED: Cruise. "It was a great lesson in my life - how he'd lull you in, make you feel safe and then, bang. "For me it was like, 'There's something wrong with this guy. Don't trust him. Be careful around him'. There's that anxiety."
When Tom was 12 his mother left, taking him and his siblings. He said: "My mother was the one who rose to the occasion. "She held three jobs. She said, 'We are going to get through this'." It was 10 years before Tom, now 43, saw his dad again when he was dying of cancer in hospital.
He told Parade magazine: "He would only meet me on the basis that I didn't ask him anything about the past. "When I saw him in pain I thought, 'Wow, what a lonely life'. He was in his late 40s. It was sad."
---
by World Entertainment News Network, February 7, 2006
Actor Terrence Howard was terrorized by thugs as a five-year-old in his Cleveland, Ohio, neighborhood and had to relive those feelings of fear while filming hit movie Crash. The actor became a target of vicious, sometimes sexually-oriented attacks because of his lighter black skin and fine features.
He says, "It just makes you not trust the world. I would carry a screwdriver and have bricks and bottles placed strategically along my route home." The actor maintains he had to revisit those feelings of vulnerability to give an authentic performance in Crash when his wife is being groped by a rogue cop played by Matt Dillon. He explains, "That was probably the hardest role I've ever played in my life. To actually become afraid. I didn't want to go back there (to his childhood memories). But I knew that feeling of praying, 'Somebody please come help me.'"
---
IMDB, published, December 1, 2003
Rocker Ozzy Osbourne suffered two years of sexual abuse as a child but was too afraid to report the horrific attacks. The former Black Sabbath frontman, 54, was just 11 when he was tormented by two boys who lay in wait for him as he walked home from school in Birmingham, England in the 1950s. And Ozzy - who was too scarred by the abuse that he decided not to include it in new family biography Ordinary People - admits that the memory of his trauma still impacts on his life.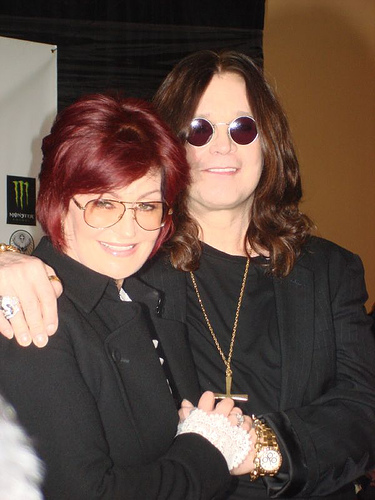 He says, "Two boys used to wait for me to come home after school. Then they would f**k around with me. They didn't f**k me but they messed around with me. They would force me to drop my pants and all that s**t. They felt me and touched me and...it was terrible. They first time it happened was in front of my sister June and that affected me even more. Everything when you are a kid affects you in later life.
I was afraid to tell my father or mother and it completely f**ked me up. Dirty little secrets fester and that is one of the first things I said to my kids. When I was a kid, people did not talk about these things like they do now. You didn't have chat shows talking about child molestation. I worked it out with a therapist but if you have a traumatic experience when you are young it does f**k you up. My wife Sharon knows all about it and it was only with her that I could finally relax and be myself."Copyright © 1990-2007 Internet Movie Database, Inc.
---
60 Minutes II, CBS Worldwide Inc, published, Sept. 6, 2002
...Santana built this place in 1983, about when he began smoking marijuana after 10 years of abstinence. In 1991 he was arrested for misdemeanor possession, and his wife Deborah insisted that he give it up for good.
Four years later she demanded something else: "He needed to make some changes in his life on a grand scale in order to be with me and in order to be the father that our children needed," Deborah Santana explains.
"I was very angry at one point - and I didn't know that I was so angry," Carlos Santana recalls. His wife told him around 1994, 1995 and 1996, "It concerns me that you're always angry," and that he acted this way around the children. She urged him to seek a therapist.
Carlos Santana reluctantly agreed. "On the seventh time, (the therapist) interrupted me in the middle of the session," he recalls of the breakthrough session. "She goes, 'What makes you think or believe that the world wakes up to screw you every morning?' And that was it," he says.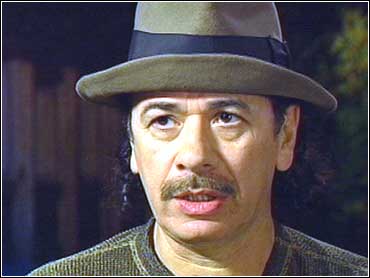 "It made me realize that I was thinking wrong, like a victim. I mean the issues of, being child molested, were surfacing," says Carlos Santana. He reports he felt angry because as a child he had been molested by a man, from 1957 to 1959.
For almost 40 years Carlos Santana had kept this secret. He never talked about it publicly. Even his wife didn't know the whole story. "It's a very, as children say, icky part of your life," he now says.
Telling his story is changing him. "I'm free," he says. "By the grace of the holiest of holiest, I am free from feeling guilt, shame, judgment, condemnation, fear."
"Because of that is the CD," notes Carlos Santana of his turning point. "This is the reward of myself facing my so-called demon." The work it produced has reclaimed him for another generation.
But to Carlos Santana, the big story isn't the comeback, rather it's where he's come from. And that is what gives his success meaning, he says. "I know what it's like to - to live in a neighborhood with no running water, no electricity, no toilet," he says. "When I go to Hong Kong, Tijuana or India whatever - whatever it is, it smells the same."
"People who identified with me from - from those places who are - not so well-to-do on this planet, they claim - you know I represent them to a certain extent," he says. "That is my reward: to be connected with just people." © MMII, CBS Worldwide Inc. All Rights Reserved.
---
Blender, By Ben Mitchell, published Feb/Mar 2002
The anguished persona of Chester Bennington, a former drug addict and victim of abuse, has helped turn Linkin Park into an unstoppable, five million-selling rap-rock juggernaut. This is how he did it...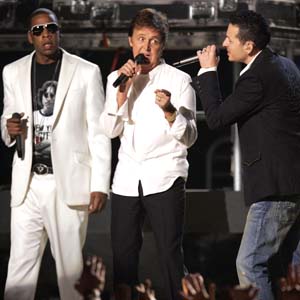 Bennington appeared to be a normal, happy kid. The son of a policeman and a nurse, he did well at school, enjoyed theater and thought The A-Team ruled. One day when he was 11, he came home from school, "and Mom wasn't there anymore — she left. I took the divorce pretty badly — started sleeping in class, getting high. I just wanted to get away...I was going through the molesting part of my life then, too."
For someone who has made no secret of being abused as a child, it seems unusual that Bennington sometimes wears a T-shirt bearing the logo of Hustler magazine's unsavory comic-strip deviant Chester the Molester.
"That's just a name people have always called me," he says. "When somebody meets me and I go, 'Hi, I'm Chester,' they go, 'Chester the Molester!' "
What exactly happened to you when you were younger?
"I'm over it. I mean, what exactly happened is a lot...Just...certain situations..."
Bennington stares at the floor. "I don't know...I don't really want to talk about it."
A few uncomfortable moments later, Bennington shakes off the silence with a smile. "It's all good. It sucks when those things happen, but going through them made me who I am today. And I'm a pretty decent person, I think."© 2007 Dennis Digital, Inc. All rights reserved. BLENDER® is a registered trademark owned by Alpha Media Group Inc. BLENDER.COM is a trademark owned by Alpha Media Group Inc.
---
The Rolling Stone, by Kim Neely, published, April 2, 1992
(Axl Rose speaks candidly about his abuse in the 1992 Rolling Stone Interview excerpted below. ~ Marie & Marlene)
...It's the evening before a sold-out show in late January, and Rose is in an extremely good mood. Catching the singer in this frame of mind at the scheduled time for an interview can seem like a blessing from above if you've ever been around him in the other mood. When Rose is feeling pressured or angry, talking to him is a lot like dodging bullets. He tends to rant, barely stopping for breath, and even the most innocent of comments can set him on edge. It is a distinctly uncomfortable feeling to be in a room alone with Axl Rose and see storm clouds suddenly gather on his face because of something you've just said. It is a feeling of wanting to get out, fast.
But Rose can be a disarming -- and formidable -- conversationalist if you catch him at the right time. When he is relaxed, he seems to delight in the challenge an interview presents, and it is all but impossible to rattle him. Tell him that much of the public views him as spoiled, and he'll surprise you by agreeing. Inform him that a character in Stephen King's latest novel describes him as an asshole, and he'll ask, ever hopeful, "Was it a good character or a bad character?" The thornier the issue, the more conviction Rose displays in offering his opinion.
During this conversation, Rose covered some especially rocky terrain. He talked about rhythm guitarist Izzy Stradlin's resignation from Guns n' Roses late last year. He addressed his tardiness to shows, his ongoing war with the media, his reputation as a misogynist, a homophobe, a bigot. Rose also talked in detail for the first time about childhood traumas that likely played a large part in shaping his volatile nature. He spoke about some highly disturbing memories involving his biological father that were dredged up in regression therapy and also leveled serious charges at his stepfather. (Rose's natural father could not be found for comment on the issues raised in this story; his relatives believe him to be dead. Rose's brother, his sister and a family friend corroborated the allegations concerning his stepfather. Rose's mother and stepfather declined comment.)
In talking about his early years, Rose grew soft-spoken and contemplative, displaying the rarely seen vulnerability that once prompted Sinead O'Connor to remark that Rose made you want to "bring him home and give him a bowl of soup." Perhaps more than anything else, it is this surprising air of fragility, coupled with the hair-trigger temper that has all but become Rose's personal trademark, that makes him such a compelling figure.
...Do you want to talk about your childhood in a little more detail? Sure.
What's your earliest memory? My earliest conscious memory was of a feeling that I'd been here before and that I had a toy gun in my hand. I knew it was a toy gun, and I didn't know how I knew. That was my first memory. But I've done regression therapy all the way back, just about to the point of conception. I kind of know what was going on then.
Can you talk about what you've learned? Just that ... my mom's pregnancy wasn't a welcome thing. My mom got a lot of problems out of it, and I was aware of those problems. That would tend to make you real fucking insecure about how the world felt about your ass. My real father was a pretty fucked-up individual. I didn't care too much for him when I was born. I didn't like the way he treated my mother. I didn't like the way he treated me before I was born. So when I came out, I was just wishing the motherfucker was dead.
Talking about being conscious of things that happened before you were born might throw a few people. I don't really care, because that's regression therapy, and if they've got a problem with it, they can go fuck themselves. It's major, and it's legit, and it all fits together in my life. Everything is stored in your mind. And part of you is aware from very early on and is storing information and reacting. Every time I realize I have a problem with something, and I can finally admit it to myself, then we go, "Okay, now what were the earliest stages?" and we start going back through it.
What have you figured out? I blacked out most of my childhood. I used to have severe nightmares when I was a child. We had bunk beds, and I'd roll out and put my teeth right through my bottom lip -- I'd be having some violent nightmare in my bed. I had these for years.
Do you remember what the nightmares were about? No, I only remember one dream. I dreamt I was a horse. You ever see those movies of wild mustangs running and how heavy that looks? I dreamt about that. I dreamt I was caught and then put in the movies. And in some really stupid movies. And it was totally against my will, and I could not handle it, and I freaked. I didn't understand the dream. Back then, I was like "I was a horse, they tried to put me in the movies!" You know, all I could think of at the time was Mr. Ed or Francis. But I always remembered that dream, and now I understand it real well. I didn't know what my nightmares were about. My parents had always said something really tragic and dark and ugly happened. They wouldn't say what happened--they always just freaked out whenever anything was mentioned about my real father. I wasn't told I had a real father until I was seventeen. My real father was my stepdad, as far as I knew. But I found some insurance papers, and then I found my mom's diploma, with the last name Rose. So I was never born Bill Bailey. I was born William Rose. I am W. Rose because William was an asshole.
Your mother married your biological father when she was in high school? Yeah. My mom's eyes actually turn black whenever it's brought up how terrible this person was. And what I found out in therapy is, my mother and him weren't getting along. And he kidnapped me, because someone wasn't watching me. I remember a needle. I remember getting a shot. And I remember being sexually abused by this man and watching something horrible happen to my mother when she came to ge me. I don't know all the details. But I've had the physical reactions of that happening to me. I've had problems in my legs and stuff from muscles being damaged then. And I buried it and was a man somehow, 'cause the only way to deal with it was bury the shit. I buried it then to survive -- I never accepted it. I got a lot of violent, abusive thoughts toward women out of watching my mom with this man. I was two years old, very impressionable, and saw this. I figured that's how you treat a woman. And I basically put thoughts together about how sex is power and sex leaves you powerless, and picked up a lot of distorted views that I've had to live my life with. No matter what I was trying to be, there was this other thing telling me how it was, because of what I'd seen. Homophobic? I think I've got a problem, if my dad fucked me in the ass when I was two. I think I've got a problem about it.
Yeah, I would imagine so. What happened later? After I was two, my mom remarried, and I was really upset by that. I thought I was the man in her life or something, because she got away from this man and now she was with me. You know, you're a baby.
She was yours. Yeah. And then she married someone else, and that bothered me. And this person basically tried to control me and discipline me because of the problems he'd had in his childhood. And then my mom had a daughter. And my stepfather molested her for about twenty years. And beat us. Beat me consistently. I thought these things were normal. I didn't know my sister was molested until last year. We've been working on putting our lives together ever since and supporting each other. Now my sister works with me. She's very happy, and it's so nice to see her happy and that we get along. My dad tried to keep us at odds. And he was very successful at some points in our lives.
Where is your real father? His brother called me right around the Stones shows, and I had my brother talk to him. I didn't talk to him, 'cause I needed to keep that separation. I haven't heard from him since. But I confronted my mom, and she finally talked to me a bit about it, and they told me that he was dead. It looks pretty much to be true that he is. He was pretty much headed for that anyway. A very unsavory character. I've had a problem with not wanting to be him. I had to be macho. I couldn't allow myself to be a real man, because men were evil, and I didn't want to be like my father. Around the Stones shows, some paper in L.A. wrote this piece about how "The truth will come out about Axl's anger," and they were making it look like I was trying to hide something. I wasn't trying to hide it. I didn't know what had happened to me. I wouldn't allow myself to know. I wouldn't have been able to handle it.
How do you deal with knowing now? It's not about going, "Well, I can handle it, I'm a man." And it's not about going, "Well, I forgive them now." You have to reexperience it and mourn what happened to you and grieve for yourself and nurture yourself and put yourself all back together. And it's a very strange, long chain. Because you find out your mother and father had their problems, and their mother and father had problems, and it goes back through the ages.
How do you stop the cycle? I don't know. It's finding some way to break the chain. I'm trying to fix myself and turn around and help others. You can't really save anyone. You can support them, but they have to save themselves. You know, you can live your life the way you have and just accept it, or you can try to change it. My life still has its extremes and ups and downs, but it is a lot better because of this work. I'm very interested in getting involved with child-abuse organizations. There's different methods of working with children, and I want to support the ones that I believe in.
Have you talked to anyone yet? I've gone to one child-abuse center. When I went, the woman said that there was a little boy who wasn't able to accept things that had happened to him and to deal with it, no matter how many children were around him who'd had the same problems. And apparently he saw something about me and childhood problems, and he said, "Well, Axl had problems, and he's doing okay." He started opening up, and he's doing all right. And that's more important to me than Guns n' Roses, more important to me than anything I've done so far. Because I can relate to that more than anything. I've had such hatred for my father, for women, for ...
Yourself? Yeah. Myself. And it's just made me crazy. I'm working on getting past those things, and the world doesn't seem to be too tolerant of me doing that in public. It's like "Oh, you got a problem? You go away and take care of it." All these relatives knew little pieces of this puzzle, and nobody helped me with shit. I'm angry about that. I can't sit and think about Uncle So-and-So and enjoy it much. And if you're talking with any of these people, they try to get you to just tolerate it and take things back to the way they were: "Let's not get it public." My family did everything they could, thinking they were doing what was right, to bury it all. My stepfather was just adamant that he was going to protect Mom and himself: "Your real father does not get brought up." And he was also trying to cover his own tracks for what he did.
Why are you talking about this publicly? One reason is for safety's sake. My stepfather is one of the most dangerous human beings I've ever met. It's very important that he's not in my life anymore or in my sister's. We may be able to forgive, but we can't allow it to happen again. There's a lot of reasons for me to talk about it publicly. Everybody wants to know "Why is Axl so fucked up?" and where those things are coming from. There's a really good chance that by going public I'm gonna get attacked. They'll think I'm jumping on a bandwagon. But then it's just gonna be obvious who's an asshole and who's not. There are probably people that are jumping on a bandwagon. But I think it's time. Things are changing, and things are coming out.
It's only been in the last few years that people have really been talking about what constitutes abuse. I'm not talking about molestation but emotional abuse. All parents are going to abuse their children in some way. You can't be perfect. But you can help your child heal, if he's able to talk to you. Then he can say, "You know, when I was five, I saw this." I wear a shirt onstage sometimes that says, TELL YOUR KIDS THE TRUTH. People don't really know what that's about. Up until early this year, I was denied what happened to me, who I was, where I came from. I was denied my own existence, and I've been fighting for it ever since. Not that myself is the greatest thing on earth. But you have a right to fight for yourself.
If you don't have a sense of your own identity, everything's going to seem like a losing battle. My growth was stopped at two years old. And when they talk about Axl Rose being a screaming two-year-old, they're right. There's a screaming two-year-old who's real pissed off and hides and won't show himself that often, even to me. Because I couldn't protect him. And the world didn't protect him. And women didn't protect him and basically thought he should be put out of existence. A lot of people out there think so now. It's a real strange thing to deal with on a consistent basis. I'm around a three-year-old baby now and then, and sometimes after a few days it's just too overwhelming for me. My head is spinning because of the changes it's putting me through.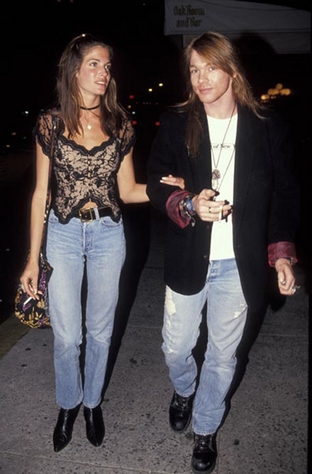 You mean Stephanie's son? Yeah. Stephanie (Seymour, Rose's girlfriend) has been very supportive in helping me deal with all this. People write all kinds of things about our relationship, but the most important thing in our relationship is that we maintain our friendship. The romance is a plus. We want to maintain our friendship and be really protective of how our relationship affects Dylan. Dylan gets priority over us, because he could be greatly damaged, and I don't want that to happen.
You were talking about Dylan last night. Oh, man, they jump off things and stuff. It scares me. It's like they could break at any time. It scares the shit out of me. I've been with Dylan and he'll be upset about something, and I'm trying to help him, and he gets mad at me, and I've been offended. I've thought, "The only way I can deal with this is 'Okay, he's just being a jerk right now.' " But it was pointed out to me that he's not being a jerk, he doesn't know. What he needs is love. I thought about it, and I was like "Yeah, because I was told that, too." About my music, which is pure expression and honest emotion and feeling. I mean, I'll be singing something and know "Man, they're not gonna like this" and "This isn't right." But it's how I feel. The way I've been attacked has been strange. The press has actually helped me get my head more together. You know, my stepfather helped me, too. I learned a lot of things. That doesn't mean he wasn't also being an asshole. It's not quite fair to bring a two-year-old into the realities of who's an asshole and who's not. There's a part of me that's still two and getting a little better every day.
That would explain a lot. One thing I want to say is, these aren't excuses. I'm not trying to get out of something. The bottom line is, each person is responsible for what they say and what they do. And I'm responsible for everything I've said and everything I've done, whether I want to be or not. So these aren't excuses. They're just facts, and they're things I'm dealing with. And if you've got a real problem with it, don't come to the show. If you gotta be home at fucking midnight, don't bother. Do yourself a favor. I'm not telling you to come -- I don't think that I'd want to. If you've got a problem with me trying to deal with my shit and doing the show the best I can, then just don't come, man. It's not a problem. Just stay the fuck away. Because you're getting something out of it, but I'm also there for myself. I've got a lot of work to do. A lot of work to do. I've done about seven years' worth of therapy in a year, but it takes a lot of energy. And Guns n' Roses takes a lot of energy. It's a weird pressure to try to deal with both at the same time. And I'm gonna do it the best I can when I can and how I can. And I'm the judge of that--not anybody in the crowd.
How do you think all of this will affect your songwriting? I really think that the next official Guns n' Roses record, or the next thing I do, at least, will take some dramatic turns that people didn't expect and show the growth. I don't want to be the twenty-three-year-old misfit that I was. I don't want to be that person.
Who do you want to be? I guess I like who I am now. I'd like to have a little more internal peace. I'm sure everybody would. (RS 627, April 2, 1992)
(Above articles are © Copyright protected by their sources; emphases supplied by Marlene and Marie.)
---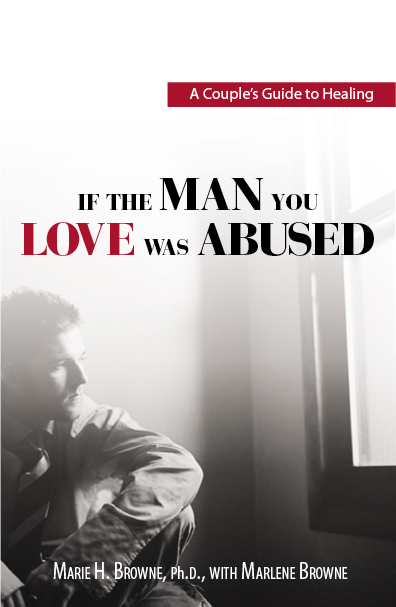 Additional resources for the partner of an abused male:
MaleSurvivor, formerly The National Organization on Male Sexual Victimization (NOMSV).
SNAP, The Survivors Network of those Abused by Priests
Survivors for Justice, an organization formed by vicitms of sexual abuse in the Orthodox Jewish community. A confidential hotline is available.
Dr. Richard Gartner's Web site, Dr. Richard Gartner is a psychologist and psychoanalyst specializing in male sexual abuse and the author of several books and articles concerning the subject.
Dr. Jim Hopper's Web site, Dr. Jim Hopper is a researcher and therapist and his site contains articles and resources about child abuse and how to seek help.
The Next Step Counseling, Mike Lew's Web site with resources and help for the male victim of abuse.
Dr. Daniel Jay Sonkin's Web site, Dr. Sonkin is a Licensed Marriage, Family, and Child Counselor in a group practice in Sausalito, California. He is a domestic violence expert and wrote the book, Wounded Boys Heroic Men: A Man's Guide to Recovering from Child Abuse, also published by Adams Media.
Dr. John Briere's Web site, Dr. John N. Briere writes about and researches psychological trauma and the long-term effects of child abuse.
Voice of the Faithful, a Boston-based group formed in response to the crisis in the Archdiocese of Boston, and the broader difficulties afflicting those abused by clergy.
Sidran Institute, Traumatic Stress Education & Advocacy
Male Survivors of Childhood Sex Abuse
Partners of Adults Sexually Abused as Children (PASAC)
Survivors in Transition (SiT), U.K.
Sexual Assault Help, is a Canadian victims advocacy Web site that helps promote understanding and awareness of sexual assault and child sexual abuse issues and provides resources and information for Canadian victims of sexual abuse.