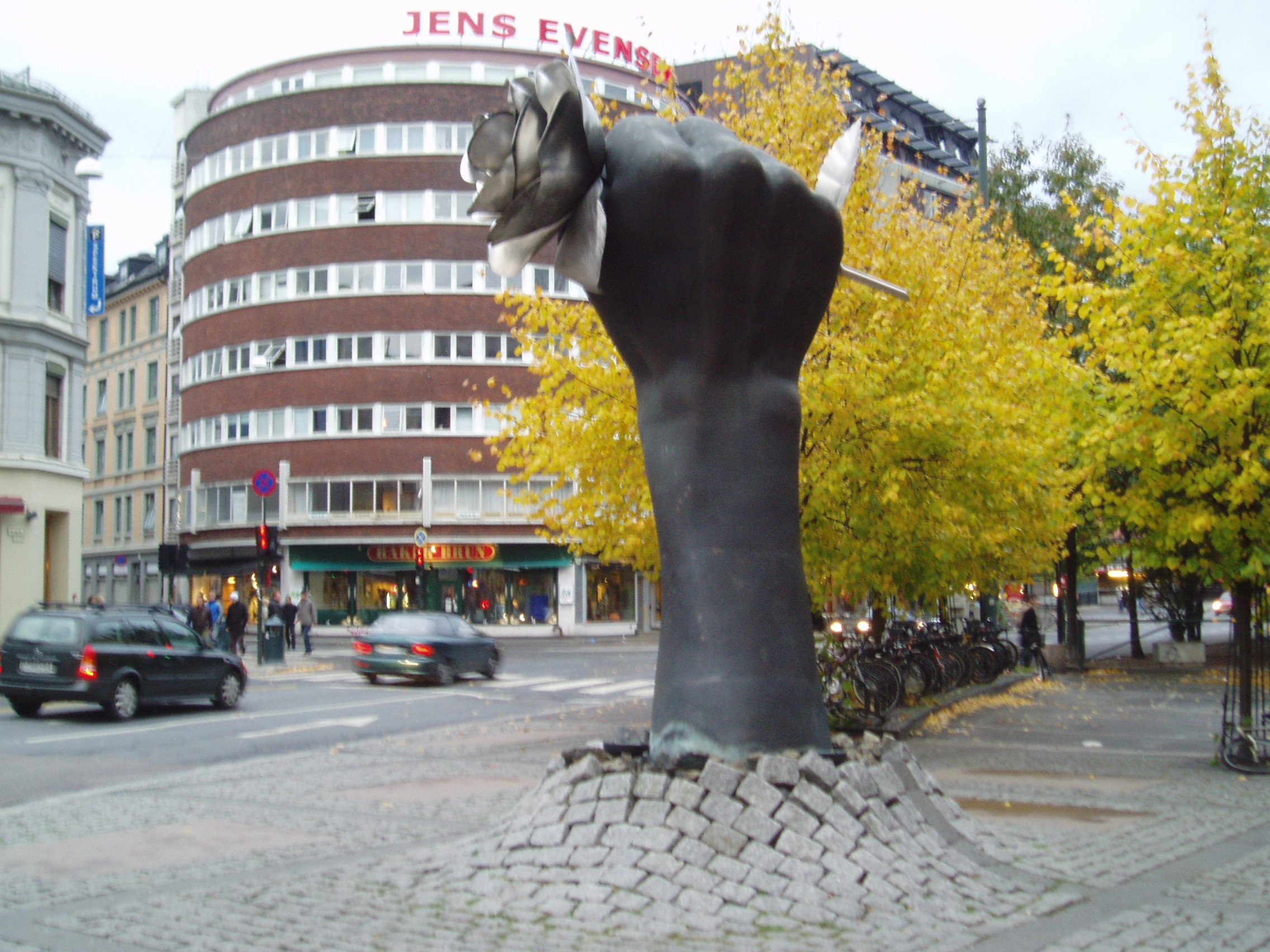 Adultery in the News
(Read this account of adultery between a therapist and her patient, ending in the therapist's loss of license and the patient's divorce and additional trauma. ~ Marie & Marlene)
---
HuffingtonPost.com, Inc., Updated: 04-14-10 07:35 PM
(Affairs can and do happen between a husband and his wife's friends and even her sister. ~ Marie & Marlene)
Larry King and wife Shawn Southwick are divorcing after a marriage that lasted over a decade. One possible reason for the split is that Shawn believes Larry is having an affair with her sister, Shannon Engemann. Engemann's website says she has experience in modeling, music, voice-over, and hosting/presenting.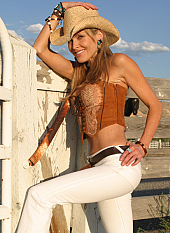 Shannon tells TMZ that her sister is convinced the two are having an affair: Shannon says Shawn has been accusing her of fooling around with Larry for months. She says Shawn has repeatedly pointed to the fact that Larry gave Shannon numerous gifts as evidence. But Shannon says, "This is so ludicrous. She's singling me out, but Larry has been nothing but generous to our entire family, including me."... Shannon said, "Shawn has left me threatening messages." After the National Enquirer published a story suggesting an affair, Shannon says, "Shawn left me a message ... 'If you dare sue the Enquirer I will pull out every last receipt that proves you had an affair with Larry.'" "I'm tired for taking the wrap for things," Engemann told TMZ. "I did not have an affair with Larry. He's been like a father to me."
RadarOnline reports that "Shawn and Shannon fought bitterly over the situation," and though Shannon, Shawn, and Larry have all denied the affair, "a source close to the family says it is true." "People close to the situation said they believed Larry bought Shannon a $160,000 luxury car and spent more than one million dollars on her!" Radar adds. Engemann grew up in Los Angeles and Provo, Utah and attended BYU, according to her Google profile.
---
By Jennifer Fernandez, Staff Writer, published March 18, 2010
GREENSBORO — A jury in Guilford County District Court this week awarded $9 million to a former Greensboro woman, agreeing that her husband's lover ruined their marriage. Cynthia Shackelford, 60, who now lives in Raleigh, sued Anne Lundquist in 2007 for having an affair with her husband, Allan Shackelford.
In the lawsuit, Cynthia Shackelford said her husband began an affair with Lundquist before the Shackelfords separated in April 2005. She said she and her husband were still in love when Lundquist broke up the marriage. Cynthia Shackelford said in a telephone interview Wednesday that her husband, a Greensboro attorney at the time, met Lundquist while providing legal services for Guilford College. Lundquist was the dean of campus life at the private school.
"If you want to know the truth, I am still like in a fog," Cynthia Shackelford said. She said the two-day trial, which ended Tuesday, was difficult. Testimony included the private investigator detailing times that he saw her husband spending time with Lundquist, she said. "I really loved him, and I really thought he loved me," Cynthia Shackelford said. "I had not a clue that Allan would wander. He kept telling me 'Oh, she's just a friend. There's no affair. I love you.'"
Lundquist did not return a call late Wednesday afternoon. She is the dean of students at Wells College, according to the Web site of the small private school in central New York. In 2007, she and Allan Shackelford co-authored a book through LRP Publications. Court records show the Shackelfords' divorce has not been finalized. Cynthia Shackelford said she believes Lundquist and her husband are still a couple. The jury awarded Cynthia Shackelford money for alienation of affections, criminal conversation (legal speak for adultery) and intentionally or recklessly causing severe emotional distress.
North Carolina remains one of a few states that allow someone to sue the person alleged to have interfered in a marriage — called alienation of affections. More than 200 such cases are filed statewide in an average year, according to the Rosen law firm in Raleigh. The firm cites several high-dollar cases over the years, but none near the mark of the Shackelford-Lundquist case. In 1997, separate juries awarded $1 million in an Alamance County case and $1.2 million in a Forsyth County case. In 2001, a jury awarded $1.4 million to a distraught husband in Mecklenburg County. On appeal, the court reversed the decision on $910,000 of the award but left about $500,000 for the husband.
Collecting money in such awards can be difficult but is not impossible, said Will Jordan, the Greensboro attorney who represented Cynthia Shackelford. "We may not get the full $9 million, but I'm hopeful that we'll collect a substantial sum of money," he said. "In addition to just collecting the judgment, there's a certain amount of validation or vindication that goes with having a jury acknowledge that you were done wrong." Cynthia Shackelford said she gave up teaching to raise two children and support her husband's career. After the marriage fell apart, she moved in with friends because she couldn't afford an apartment.
Court records show that Allan Shackelford has never paid court-ordered spousal support and faces arrest on a contempt of court charge for violating that support order. Cynthia Shackelford, who eventually moved to Raleigh, wanted others to know about her case. "We would like for people to respect the sanctity of marriage," Cynthia Shackelford said. "We wanted a number high enough that it would keep other people from ... going after other married spouses."
---
Slate.com, by Christopher Beam, posted Friday, Jan. 29, 2010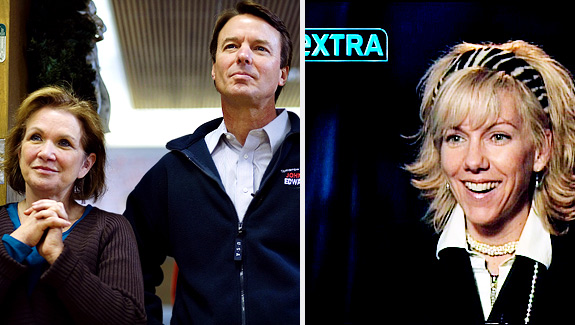 (For more on the perfidious Rielle and John Edwards, click here ~ Marie & Marlene)
John Edwards: Among the revelations in Andrew Young's new book about John Edwards is that once the whole sordid truth about Edwards and Rielle Hunter emerged, Bill Clinton "called the senator and said, in effect, 'How'd you get caught?'" It's not a surprising question, given the source. But the better question may be how Edwards got away with it for so long.
Between early 2006, when the senator's dalliance with his campaign videographer began, and August 2008, when he confessed to it, Edwards engaged in all sorts of subterfuges in an attempt to hide his liaison with Hunter from his wife, his staff, and the press. The Politician, written by Edwards' primary romantic facilitator, provides a blow-by-blow account how he did it—and why he failed. Consider this list a kind of public service to any elected official ever considering a secret romp.
Get a cell phone and use it exclusively for your affair. Once the affair took off, Edwards bought a cell phone to take calls exclusively from Hunter, which he dubbed the "Batphone." Edwards failed, however, to keep the phone hidden from his wife. Elizabeth discovered it ringing one night in his bag, answered it, and heard Hunter launch into a "romantic monologue." That's when Edwards confessed to Elizabeth that he'd had a "one-night stand." (An understatement.) From then on, Edwards and Young arranged handoffs so Edwards wouldn't have the Batphone while Elizabeth was around.
Use your calling plan's enhanced features. When Edwards didn't have the Batphone, Young set up three-way conference calls and had both Edwards and Hunter dial-in. That way there would be no record of the call when Elizabeth would check Edwards' call log, as she routinely did.
Make fake hotel reservations. When Hunter traveled with Edwards, Young would reserve a room in his own name and tell the hotel staff that his "wife" would be checking in on that account. That way, there would be no evidence Hunter stayed in the hotel. Hunter would then join Edwards in his suite and leave before aides came to wake him up.
Use separate doors. And don't forget to stagger your entrances. Heading back to the campaign office in South Carolina after a rally, Edwards had Young drop him off in the parking garage, and he took the elevator up. Hunter entered through the front, where she ran into Elizabeth. Elizabeth later "confronted her husband about the glowing blond woman who had obviously arrived with him from the road."
Use cash. When Edwards gave Hunter his bank card, Elizabeth noticed money inexplicably withdrawn in New York. From then on, Edwards—through Young—gave her cash stipends and her own separate credit card. As one Edwards donor tells Young: "Old Chinese proverb: Use cash, not credit cards."
Funnel money. When Edwards started paying Hunter's living expenses, the money came from the nonagenarian philanthropist Rachel Lambert "Bunny" Mellon, who didn't ask any questions about where the cash was going. Mellon would pay her interior decorator, who would pass the money along to Young. The cash would be concealed in boxes of chocolates.
Destroy all evidence. Edwards was not as careful as he could have been. At one point, Edwards' nanny discovered a Marriott key card on the kitchen counter. Young noticed that when Edwards would receive notes from "eager women" on the campaign trail, he "occasionally pocketed" them instead of handing them off for disposal. And many nights, Edwards would take mysterious 2 a.m. "jogs."
Seriously, destroy all evidence. Elizabeth spent days going through the footage Hunter shot for the never-aired "Webisodes" of the Edwards campaign, searching for evidence of cheating. However, she was never able to find the tapes shot at the Edwards house while she was away. Young and his wife later allegedly found a half-destroyed tape, allegedly shot by Hunter, of her and the senator allegedly having sex. Allegedly. (Hunter has now filed for a restraining order to keep Young from releasing it.)
Don't canoodle in front of aides. While Elizabeth was on a book tour in 2006, Hunter came over to Edwards' house and the two spoke openly in front of Young about getting married in a rooftop ceremony with music played by the Dave Matthews Band. (The band didn't like her when they met her.) Hunter and Edwards would kiss in front of Young and cuddle in front other another aide, prompting him to ask Young, "What the hell is going on?"
Choose a discreet lover. Hunter was a noticeable presence on the trail, according to Young. She dressed in bright colors, talked loudly, and flirted constantly. She spoke to "close friends" about their affair, but trusted them because of their "spiritual connection." She recounted their sexual exploits to Young and his wife. She even talked to Newsweek's Jonathan Darman about having an affair with a powerful man whom she wouldn't name. (Darman knew she worked with the Edwards campaign.) When rumors of the affair started circulating, she continued to risk getting spotted in hotel lobbies and grocery stores. "I think she wanted to get caught," Young writes.
Maintain plausible deniability. Even after Young learned about the affair, Edwards continued to use vague language while on the phone with Hunter—just in case he or Young, who overheard them, had to deny it. When Hunter said she loved him, Edwards "would say only, 'Me too.' And if she asked him if he missed her, he would say, 'That's correct' … but never, 'I miss you.' " On calls with Young, top Edwards donor Fred Baron would refer to Edwards as "the principal" and to Hunter as "her."
Don't sign any cards you send to the new mother of your child. When Hunter gave birth to their daughter, Frances Quinn Hunter, Young asked Edwards if he wanted to send her flowers. "Yeah, that's a good idea," Edwards said. "But don't sign it from me. Someone might see it.
Wear a condom. Edwards claims that Hunter told him she couldn't get pregnant. You know the rest.
---
Daily Mail, published, 8th December 2009
A woman was rushed by ambulance to hospital from Tiger Woods' home in the early hours of this morning. Emergency services were called to the golfer's Florida £1.7m mansion, where he has been hiding since a raft of sordid revelations about his private life....
The circumstances of the 911 call, which comes after days of revelations about Wood's private life, are not yet known. Ms Holmberg, a Swedish politician, and Woods' mother Tida were thought to have been at his house in Windermere, near Orlando, on the night of his crash last month. The golfer and his wife have been in hiding since then as a flood of lurid claims about his alleged affairs began to emerge but it is not known if their parents stayed on. The tally of women linked to the superstar sportsman has now reached eight and includes a porn star. His lawyers are braced for more to emerge as they try to cash in. Earlier today, it was revealed Woods was categorised as a suspected overdose patient after he smashed his car into a fire hydrant and tree outside his home last month.
His wife gave paramedics at the hospital two bottles of prescription drugs, Vicodin painkillers and Ambien sleeping pills, according to influential celebrity website TMZ. The golfer was said to have been struggling to breathe with doctors resorting to using a tube to help get air to his lungs. The Florida state trooper who investigated the scene sought a court order to get a blood sample because he believed the golf star had been driving under the influence. The trooper is thought to have been told by a witness who removed the driver from the vehicle - thought to be Woods' wife - that the golfer had been drinking earlier in the day and was prescribed medication. His request for a blood test was denied because of insufficient evidence, prompting questions about whether Woods received special treatment. Police have said that alcohol was not a factor and merely issued a £100 ticket for careless driving.
It was claimed last night that Nordegren, the mother of Woods' two young children, had moved out of the property to a nearby house. She and her twin sister Josefine are said to have bought a new home in her native Sweden for $2million amid speculation she might move back there. According to Swedish newspapers she bought Faglaro Mansion, which sits on an island close to Stockholm, with her sister rather than with her husband. Woods, 33, is still believed to be living in his family home and it is claimed he wanted to keep her departure quiet in the hope he can persuade her to return. It is not known where the couple's two children, Sam, two, and ten-month-old Charlie, are staying.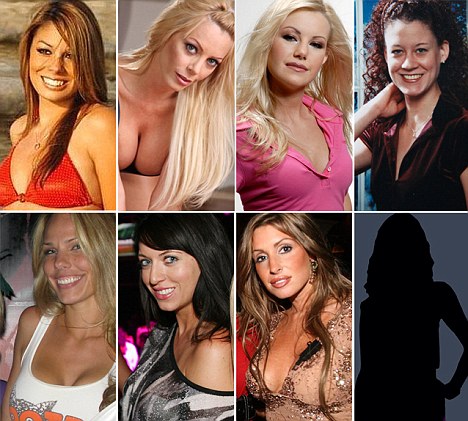 The latest twists came after two more women were added to the list of the golfer's alleged mistresses. One of the two further women who came forward yesterday is a porn star named Holly Sampson whose CV includes films such as Lingerie Or Bust and Diary Of A Horny Housewife. The second is an unnamed cocktail waitress who says she had a two-year affair with the billionaire golfer and claims he told her his marriage was a sham and 'just for publicity'....
Michael O'Quinn, who is representing an unnamed 26-year-old, believed to be woman number eight, said that she met Woods in 2004 while working as a cocktail waitress for VIPs at the Roxy Nightclub near his home in Orlando.Woods was already engaged at the time. 'Her relationship was not a one-night stand,' Mr O'Quinn told the New York Post. 'It was long-term, and it was witnessed by many people in this community. She has detailed knowledge of his life, his habits.' The waitress is said to have had qualms about the affair after Woods married Swedish au pair Miss Nordegren in 2004, according to the TMZ website. Woods and his wife went on to have two children - daughter Sam, aged two, and ten-month-old son Charlie. The well-connected site also claimed last night that Woods even repeatedly tried to contact the first of his alleged mistresses, club promoter Rachel Uchitel, 34, after he crashed his car, telling her he wanted to figure out a way to see her. The 34-year- old club promoter allegedly claimed Woods pursued her for four months before they got involved and was very 'possessive' and 'jealous'. Rumours also persist linking Woods with a well-known female British TV presenter, whom he is claimed to have met on his frequent visits to the UK....
Although the women named so far are all American, it is strongly expected that the list of lovers will increase. And since he has been a regular visitor to Britain because of his busy playing schedule, it seemed a strong possibility that someone on this side of the Atlantic had fallen for his charms. According to the Sun, there are claims that Woods had enjoyed a fling with a well-known female British television presenter. It quoted a source as saying: 'He would hook up with her when he went to the UK. She's really sexy and very well known. A good friend of mine told me about it years ago.' The source, said to be a sports marketing executive who had known Woods for years, added: 'Both will be hoping this one doesn't come out. It will take the scandal to a new level.' The claim was furiously denied yesterday by the woman in question, who insisted there was no truth in what was being claimed. Woods has been visiting Britain for the Open championship since 1995....
---
Posted by Adam published, December 2, 2009
(As we note in our book, affairs often start during a wife's pregnancy. ~ Marie & Marlene)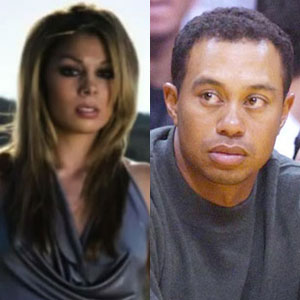 TIGER Woods begged his alleged mistress, Jaimee Grubbs, to take her name off her phone — just in case his wife called her!
"Hey, it's Tiger," the golfer said in voicemail obtained by Us Weekly magazine. "I need you to do me a huge favor. Can you please take your name off your phone? My wife went through my phone and may be calling you.
"So if you can, please take your name off that. Just have it as a number on the voicemail. You got to do this for me. Huge. Quickly. Bye."
Tiger made the phonecall on Nov. 24 — the day before reports of his alleged infidelity first surfaced. In the new issue of Us Weekly, Grubbs apparently details her 31-month affair with the sports star. She reveals that they first hooked up in April 2007, and went on to have 20 sexual encounters. She also shares her evidence, including photos and more than 300 racy text messages. One from Woods begins: "I will wear you out…"
"I loved how we got along," Grubbs said. "But I knew, in the back of my mind, there could never be just us. There would always be the wife, or somebody else."
---
Read the full e-mail exchange in Thursday's edition of The State The State, by John O'Connor, published, June 24th 2009
(Below are excerpts of e-mails, obtained by The State newspaper in December, between Gov. Mark Sanford's personal e-mail account and Maria, a woman in Buenos Aires, Argentina. )
The State has removed the woman's full name and other personal details, including her address, e-mail address and children's names. Sanford's office Wednesday did not dispute the authenticity of the emails. McClatchy special correspondent Angeles Mase visited the 14-story apartment building in Buenos Aires Wednesday where the woman lives, according to the emails, which included her address. The woman at the address answered to the name in the emails and, at first, agreed to speak to a visitor, but she declined after the visitor identified herself as a reporter. The doorman at the building, shown a photograph of Sanford, said he did not recognize him. According to the doorman, the woman has two sons, one a teenager of driving age and the other younger. The emails refer to the woman's two sons.
From Gov. Sanford,
Date: Thursday, July 10, 2008, 12:24 a.m. "One, tomorrow leave at 5 a.m. for New York and meetings. Will think about you on its streets and wish I was going to be there later in the month when you are there. Tomorrow night back to Philadelphia for the start of the National Governor's Conference through the weekend. Back to Columbia for Tuesday and then on Wednesday, as I think I had told you, taking the family to China, Tibet, Nepal, India, Thailand and then back through Hong Kong on world wind tour. Few days home then to Bahamas for 5 days on a friend's boat for the last break of the summer. The following weekend have been asked to spend it out in Aspen, Colorado with McCain - which has kicked up the whole VP talk all over again in the press back home ...
Two, mutual feelings .... You have a particular grace and calm that I adore. You have a level of sophistication that so fitting with your beauty. I could digress and say that you have the ability to give magnificent gentle kisses, or that I love your tan lines or that I love the curve of your hips, the erotic beauty of you holding yourself (or two magnificent parts of yourself) in the faded glow of the night's light - but hey, that would be going into sexual details ...
Three and finally, while all the things above are all too true - at the same time we are in a hopelessly - or as you put it impossible - or how about combine and simply say hopelessly impossible situation of love. How in the world this lightening strike snuck up on us I am still not quite sure. As I have said to you before I certainly had a special feeling about you from the first time we met, but these feelings were contained and I genuinely enjoyed our special friendship and the comparing of all too many personal notes ...
Lastly I also suspect I feel a little vulnerable because this is ground I have never certainly never covered before - so if you have pearls of wisdom on how we figure all this out please let me know... In the meantime please sleep soundly knowing that despite the best efforts of my head my heart cries out for you, your voice, your body, the touch of your lips, the touch of your finger tips and an even deeper connection to your soul."
From Maria,
Wednesday, July 9, 2008 8:14 p.m. "As I told you I shouldn't have done this trip but I would have felt worst if I wouldn't have come because it was too over the date, he is a very nice guy, great heart ... but unfortunately I am not in love with him ... You are my love ... something hard to believe even for myself as it's also a kind of impossible love, not only because of distance but situation. Sometimes you don't choose things, they just happen... I can't redirect my feelings and I am very happy with mine towards you."
From Gov. Sanford,
Tuesday, July 8, 1:42 a.m. "Got back an hour ago to civilization and am now in Columbia after what was for me a glorious break from reality down at the farm. No phones ringing and tangible evidence of a day's labors. Though I have started every day by 6 this morning woke at 4:30, I guess since my body knew it was the last day, and I went out and ran the excavator with lights until the sun came up. To me, and I suspect no one else on earth, there is something wonderful about listening to country music playing in the cab, air conditioner running, the hum of a huge diesel engine in the back ground, the tranquillity that comes with being in a virtual wilderness of trees and marsh, the day breaking and vibrant pink coming alive in the morning clouds - and getting to build something with each scoop of dirt."

I would like to start by saying I love my husband and I believe I have put forth every effort possible to be the best wife I can be during our almost twenty years of marriage. As well, for the last fifteen years my husband has been fully engaged in public service to the citizens and taxpayers of this state and I have faithfully supported him in those efforts to the best of my ability. I have been and remain proud of his accomplishments and his service to this state.
I personally believe that the greatest legacy I will leave behind in this world is not the job I held on Wall Street, or the campaigns I managed for Mark, or the work I have done as First Lady or even the philanthropic activities in which I have been routinely engaged. Instead, the greatest legacy I will leave in this world is the character of the children I, or we, leave behind. It is for that reason that I deeply regret the recent actions of my husband Mark, and their potential damage to our children.
I believe wholeheartedly in the sanctity, dignity and importance of the institution of marriage. I believe that has been consistently reflected in my actions. When I found out about my husband's infidelity I worked immediately to first seek reconciliation through forgiveness, and then to work diligently to repair our marriage. We reached a point where I felt it was important to look my sons in the eyes and maintain my dignity, self-respect, and my basic sense of right and wrong. I therefore asked my husband to leave two weeks ago.
This trial separation was agreed to with the goal of ultimately strengthening our marriage. During this short separation it was agreed that Mark would not contact us. I kept this separation quiet out of respect of his public office and reputation, and in hopes of keeping our children from just this type of public exposure. Because of this separation, I did not know where he was in the past week. I believe enduring love is primarily a commitment and an act of will, and for a marriage to be successful, that commitment must be reciprocal. I believe Mark has earned a chance to resurrect our marriage.
Psalm 127 states that sons are a gift from the Lord and children a reward from Him. I will continue to pour my energy into raising our sons to be honorable young men. I remain willing to forgive Mark completely for his indiscretions and to welcome him back, in time, if he continues to work toward reconciliation with a true spirit of humility and repentance.
This is a very painful time for us and I would humbly request now that members of the media respect the privacy of my boys and me as we struggle together to continue on with our lives and as I seek the wisdom of Solomon, the strength and patience of Job and the grace of God in helping to heal my family.
---
Las Vegas Review-Journal by Molly Ball and Steve Tretreault, published June 17th 2009
(As we note in our book, affairs often occur between family friends, think of the easy cover. ~ Marie & Marlene)
Calling it "absolutely the worst thing that I've ever done in my life," U.S. Sen. John Ensign admitted Tuesday that he had an affair with a campaign staffer last year. "If there was ever anything that I could take back in my life, this would be it," Ensign, 51, said Tuesday afternoon in Las Vegas, reading from a prepared statement in a brief news conference at which he took no questions. The Nevada Republican, a leading conservative voice in his party who has been listed as possible presidential material, indicated that he plans to remain in office and that his wife of 21 years, Darlene, is standing by him. The woman and her husband "were both close friends, and they both worked for me," Ensign said.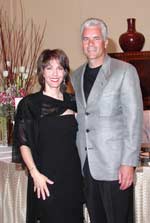 Ensign had the affair, from December 2007 to August 2008, with a woman who worked for his Senate campaign and his political action committee. The woman's husband, meanwhile, worked in Ensign's Senate office, according to an aide who spoke on condition of anonymity. By May 2008, both were no longer employed by Ensign, the aide said. Ensign did not name the woman. Sources with knowledge of the matter confirmed that the couple in question are Cindy and Doug Hampton of Las Vegas. Senate and Federal Election Committee records show that they fit the description outlined by Ensign and his aides. Calls made to the pair were not returned late Tuesday. They did not answer the door at their Summerlin home.
Ensign did not explain why he chose to come forward with his admission of infidelity Tuesday. A Washington source said Ensign decided to announce the affair after he was approached by the husband of the woman involved. The man asked Ensign for a "substantial" amount of money with the implication it would buy the couple's continued silence, according to the source. It was not immediately known how much money might have been involved, or whether Ensign reported the incident to authorities. Neither Ensign nor his spokesman would comment on the matter.
ALL APOLOGIES
Wearing a grim expression, standing alone at an unadorned podium, Ensign spoke for just over two minutes at Tuesday's news conference at the Lloyd George U.S. Courthouse in downtown Las Vegas, where his local Senate office is housed. He had flown home from Washington, D.C., earlier in the day to make the announcement, as word began to trickle out about the affair, missing a vote on a bill important to the travel industry. "I came back home to Nevada to come forward and explain to the citizens of our state something that I was involved in about a year ago," said Ensign, tieless and wearing a blue dress shirt. "Last year I had an affair. I violated the vows of my marriage."
Ensign said he takes full responsibility for his actions and apologized to those he had hurt and disappointed: "my wife, Darlene, my children, my family, my friends, my staff and all of those who believed in me." He and his wife went to counseling last year, he said, and have "rebuilt our marriage to where now it is even stronger than ever." The senator offered a partial explanation of how the affair happened: Two couples, all very close friends, with one there to lend an ear when the other was having a tough time at home.
John and Darlene Ensign were separated from April to July 2008, the senator's spokesman, Tory Mazzola, confirmed Tuesday evening. That would indicate the affair began five months before the couple separated and ended a month after they got back together. "Our families were very close," Ensign said. "That closeness put me into situations during a very difficult time in my marriage which led to my inappropriate behavior. We've caused deep pain to both families, and for that I am truly sorry." After reading his statement, Ensign said, "I will not be taking any questions," and exited through a side door.
Darlene Ensign, who did not attend the news conference, also put out a statement Tuesday, which was released by Ensign's staff. "Since we found out last year we have worked through the situation and we have come to a reconciliation," her statement said. "This has been difficult on both families. With the help of our family and close friends our marriage has become stronger. I love my husband." Married in November 1987, the Ensigns have three children...
---
People.com by Stephen M. Silverman, May 5, 2009
(As we note in our book, often wives, not the "other women," decide if the marriage continues. ~ Marie & Marlene)
The other woman In her book, to be published next Tuesday, Edwards slams Rielle Hunter, the woman with whom Edwards had the 2006 affair. Although she never uses Hunter's name in the book, Elizabeth paints her as a desperate groupie who seduced John Edwards. Speaking to Winfrey, Elizabeth relates, "What John said is that this woman spotted him in the hotel in which he was staying. He was meeting someone in the restaurant bar area, and she verified with someone who he worked with that it was John. John went to dinner at a nearby restaurant, and when he walked back to the hotel she was standing in front of the hotel. She said to him, 'You are so hot.'"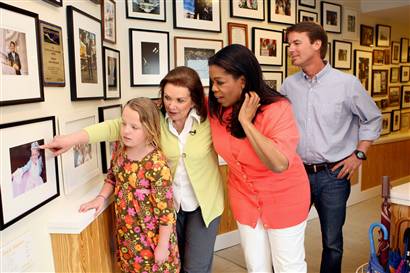 As for Hunter, "This person is very different from me, and really very different from him," says Elizabeth. "We're basically old-fashioned people. So, this was a pretty big leap for him. Maybe it's being so different is what was attractive." "The other woman has a baby," Winfrey notes. "And there is great speculation that your husband, John Edwards, is the father of that baby." "That's what I understand," says Elizabeth. "I've seen a picture of the baby. I have no idea. It doesn't look like my children, but I don't have any idea."
Detroit Free Press, by Patricia Anstett, published, September 18, 2008
Elizabeth Edwards says the admission by her husband, John Edwards, of an affair has helped her focus on the importance of her children and issues like health reform as she goes through "an ongoing process of finding your feet again." "There's a lot of adjustment to make," the wife of the former Democratic presidential candidate said in an exclusive interview with the Free Press this week. "When you mention trust, that's probably the most difficult hurdle." Edwards, who is being treated for breast cancer, also discussed motherhood and health in women's busy lives in the 45-minute telephone interview, disclosing that she once went eight years without a mammogram.
Emerging now from five weeks of near-silence since news of her husband's affair became public, Edwards will visit Detroit on Oct. 15 to talk about coping with life's setbacks, including the loss of her son Wade at age 16 in an auto accident and her 2004 diagnosis of cancer, which recurred last year. Those issues frame the themes of "Saving Graces: Finding Solace and Strength from Friends and Strangers," her 2006 book, updated last year (Broadway Books, $14.95). The revisions were made before John Edwards acknowledged in a "Nightline" interview Aug. 8 that he had repeatedly lied about having an affair in 2006 with a woman once employed by his presidential campaign, which he told his wife about the same year. The Edwardses kept the issue secret while he ran for the presidency, a fact that has drawn criticism of the couple -- him for cheating on a wife recovering from breast cancer, her for forgoing her usual frankness and keeping quiet so her husband could continue his campaign.
Asked whether she has forgiven her husband, Edwards replied: "I don't want to feed the monster, if you don't mind." She said that had her leg been amputated, instead of a child dying or her husband having an affair, people would not ask: "Are you over that leg thing yet?" Edwards, 59, wants her three children -- Cate, 26, Emma Claire, 10, and Jack, 8 -- to have an image of their father as "an advocate for poverty, not for this current picture of him to be the only one they carry with them, as young people and as adults." "I have to prepare for the possibility if I die before they are grown and" make them "able to function without an involved, engaged and admiring parent," she said. "So I need to create the picture for them that I want them to have."
She also is resuming her advocacy. Her Detroit-area speech is during Breast Cancer Awareness month. She will testify today before Congress on health care reform. She wants to ensure that any changes to fix the nation's health care system will allow people with preexisting medical problems to obtain insurance coverage; that changes won't whittle away at important benefits, such as screening, and that insurance companies will more routinely send reminders to women about getting a mammogram. Edwards said she postponed having the exam for about eight years even after a benign spot showed up on a test. She blames herself, saying that like many women, she was too busy with her children's lives and was preoccupied with trying to get pregnant.
"As I'm planning to do things, as I'm putting together a list of priorities, going to Build-a-Bear turns out to be more important," she said, referring to the stores where customers can create stuffed bears. She wants hospitals to offer walk-in mammography appointments. "You can get your nails done on a walk-in basis, you can get your hair colored, but you can't get a mammogram" immediately, she said. On improvements to the nation's health system, she said: "I really worry as we talk about a universal health system, we talk about something that becomes cheaper and cheaper. ... They are willing to do the kidney transplant when it's necessary. But that's a dollar we might not have to spend if someone had gotten to do their diabetes testing and gotten treatment earlier."
She continues to undergo chemotherapy for her Stage 4 breast cancer, which has spread to her bones. She said life with advanced cancer "is like dancing with a partner who keeps changing." She remains optimistic because "fortunately with the research, it looks like there may be a new drug for me down the line. My job is to stay alive until they find a cure. I don't think there's any way to live with this diagnosis than to have that kind of optimism." The political life behind them, she envisions her husband getting involved in antipoverty organizations, much the way former President Jimmy Carter helps build homes for Habitat for Humanity.
Edwards, an attorney, appreciates her mom role: driving Emma Clair to 7:25 a.m. safety patrol duties, attending Jack's baseball games, making lunches and helping with homework. Her setbacks give her insight that lets her focus on "issues that still matter to me, and on the children who are the center of my life." She said she finds comfort in "Anthem," a Leonard Cohen song whose lyrics she has posted in her kitchen and home office in Chapel Hill, N.C. Reciting the words, Edwards said: "Ring the bells that still can ring. Forget your perfect offering. There is a crack in everything. That's how the light gets in."
The New York Times, By Serge F. Kovaleski and Mike McIntire, August 15, 2008
After initially saying that he did not know how the lawyers were chosen to represent Ms. Hunter and Mr. Young, Mr. Baron acknowledged that he might have played a role. The revelations of ties among the lawyers emerged through public records and interviews with people close to Mr. Edwards and Ms. Hunter, which suggested that their affair went on longer than Mr. Edwards admitted and that the effort to conceal it by Mr. Edwards's inner circle was much more extensive than has been reported...
(For more on Edwards and his narcissistic mistress, see stories below. ~ Marie & Marlene)
NY Daily News, by by Nancy Dillon, Tina Moore, and Helen Kennedy, published August 14th 2008
An anguished Elizabeth Edwards decided to stay with her cheating husband because she is dying and worried about their two young children, her closest friend says. "It's just tragic. That's all I can say about it," Hargrave McElroy, Elizabeth's best friend and North Carolina teacher, told the Daily News. People magazine reported that John Edwards didn't confess his adultery with his flaky videographer, Rielle Hunter, until after he officially announced his presidential run in December 2006.
Then Elizabeth had a terrible choice to make. "There was anguish - excruciating anguish - for her in dealing with this....She couldn't say, 'Well, maybe we'll work through this for years, or maybe we should separate for two years,'" McElroy told the magazine. "[Cancer] forced her to choose whether to move forward." According to new reports in the National Enquirer, Edwards didn't confess until after an unwitting campaign staffer walked in on him with Hunter and word got back to his wife, who confronted him.
By staying by his side in life and on the stump, Elizabeth Edwards hoped to ensure that her youngest children, 10-year-old Emma Claire and 8-year-old Jack, still have an untarnished father when she's gone, friends and relatives said. That is no longer possible - not after Enquirer reporters confronted him and forced his televised confession last Friday. "It's so painful for her to see the father of her children become a pariah," McElroy mourned.
Worse, reports keep emerging that Edwards continues to lie and the affair never ended. "They broke up a bunch of times, especially when Elizabeth was rediagnosed [with cancer]," a friend of Hunter's, Texas publicist Pigeon O'Brien, told People. "But they got back together." The National Enquirer said Edwards, 55, and Hunter, 44, restarted the affair in 2007 and were still involved when Hunter got pregnant that May. She now has a 5-month-old daughter whose paternity is a mystery. The weekly also quoted sources close to Hunter saying that Edwards and his mistress choreographed their public tango over a DNA test: he offered to take one last week, she declined to allow it....
The New York Daily News, by Helen Kennedy, published, August 10th 2008
Freelance writer Sarah Miller, describing meeting Hunter at a party in Los Angeles some years ago, said Hunter was scatter-brained but ambitious. "I am going to be famous," she declared, according to Miller's account in the Los Angeles Times. "Rich and famous. I am going to meet a rich, powerful man." Miller said Hunter, who talked of energies in the air, said she would accomplish this feat by "manifesting it."
Newsweek, by Jonathan Darman, published, Aug 9, 2008
(As we note in our book, beware when a woman with a personality disorder--narcissistic, borderline, antisocial, etc.--sets her sights on your man. ~ Marie & Marlene)
The first time I laid eyes on Rielle Hunter, I could tell she was a story. She had frizzy blond hair with DARK roots, wore bright nail polish and moved like someone who knew how to work a room. She was on a cramped commuter flight and she was flirting with a candidate for president of the United States. It was July 7, 2006. I'd been sent to Iowa to write a piece on John Edwards. We were on our way to Des Moines, where I would be the only national reporter following him around the state for two days. From a few rows back, I tried to observe Edwards before the plane took off. Most of the other passengers seemed to have no idea who Edwards was. But this blond woman, putting away her bags, was visibly captivated by him. She tried repeatedly to engage him in conversation, but he seemed uninterested in talking. How the mighty have fallen, I thought. As John Kerry's running mate in 2004, Edwards had his own campaign bubble around him all the time; now he had to deal with strangers who flirt with him on planes. Of course, she wasn't a stranger. Edwards now admits that he had an extramarital affair with her. But at the time I had no reason to suspect there was anything between them.
She showed up at his first event that day in Des Moines with a video camera. She was trying to get as close to the candidate as she could. "Does she work for the campaign?" I asked Edwards's press secretary, Kim Rubey. "Oh, she's working on a documentary project," said Rubey. "We're not sure if it's going to work out." But it was soon clear that she was on Team Edwards. When it came time to drive to the next event, she rode in the car with the candidate. I drove behind in a rental car. I struck up a conversation with the woman at the next event, as we waited outside. She told me her name and asked me what my astrological sign was, which I thought was a little unusual. I told her. She smiled, and began telling me her life story: how she was working as a documentary-film maker, living with a friend in South Orange, N.J., but how she'd previously had "many lives." She'd worked, she said, as an actress and as a spiritual adviser. She was fiercely devoted to astrology and New Age spirituality. She'd been a New York party girl, she'd been married and divorced, she'd been a seeker and a teacher and was a firm believer in the power of truth.
She told me that she had met Edwards at a bar, at the Regency Hotel in New York. She thought he was giving off a special "energy." I didn't pursue the topic, and when I filed my story, I made no mention of Rielle. But I was, to say the least, curious. I tried, unsuccessfully, to track her down in the weeks that followed. I thought she would make a good source. She clearly knew I was a reporter, yet she spoke freely and openly about her own life and the Edwards campaign.
Four months later, Rielle found her way to me. It was November 2006. I received an e-mail from her, complimenting me on some stories I'd written on the midterm elections. She wanted to give me a story. Could I come for lunch in New York? We agreed to meet at Aqua Grill in SoHo on the Tuesday before Thanksgiving. When I arrived at the restaurant, she was already seated. She greeted me warmly with surprising intimacy, rising for two kisses on the cheek. "So it's afternoon," I said with a smile. "What do you think, are we drinking wine?" She smiled back at me. "Bottle or glass?"
I would soon learn that there was no such thing as small talk with Rielle Hunter. She told me that she'd felt a connection to me when we'd first met, that she could tell I was a very old soul. This meant a lot to Rielle. Her speech was peppered with New Age jargon—human beings were dragged down by "blockages" to their actual potential; history was the story of souls entering and escaping our field of consciousness. A seminal book for her had been Eckhart Tolle's "The Power of Now." Her purpose on this Earth, she said, was to help raise awareness about all this, to help the unenlightened become better reflections of their true, repressed selves.
Her latest project was John Edwards. Edwards, she said, was an old soul who had barely tapped into any of his potential. The real John Edwards, she believed, was a brilliant, generous, giving man who was driven by competing impulses—to feed his ego and serve the world. If he could only tap into his heart more, and use his head less, he had the power to be a "transformational leader" on par with Gandhi and Martin Luther King. "He has the power to change the world," she said. I had been nodding and sipping my wine through all this. "Do you talk about this stuff with the candidate?" I asked. "All the time," Rielle replied. "I'll lecture him on it when he's getting too much up in here," she said, gesturing toward her head. "He'll see a look on my face and say, 'Yes, I know, Rielle, "Power of Now" says …' " Rielle wanted me to know all these things because she wanted me to write about them. For the past five months, she said, she'd been traveling with Edwards with a video crew, capturing him in a variety of settings, public and private. She had cut her footage together into a series of short films, "Webisodes" that would run on the Internet. She hoped that with her unique eye for Edwards's true potential, she could show the world the real John Edwards and, in the process, help him to become the better version of himself. She wondered if I might be interested in writing a story. "Sure," I said, "if you let me see the films, we can talk about that." By this point, we were each well into our second glass of wine. "So tell me," I asked, "what do you think of Elizabeth Edwards?" "I've only met her once," Rielle said. "She does not give off good energy. She didn't make eye contact with me."
In NEWSWEEK, I wrote a short story about how Edwards had brought this rather unorthodox woman, whom he'd met in a bar, into his campaign to make videos that showed off his unseen side—a less slick, packaged Edwards. We ran it in the PERISCOPE section under the headline EDWARDS UNTUCKED. I didn't mention Rielle's belief in Edwards's potential to be Gandhi or her distaste for Elizabeth. I wanted to keep her as a source.
When I next saw Rielle weeks later, she told me that she'd been fired by the Edwards campaign. She seemed perfectly cheerful about it, but she proceeded to tell me a tale of woe—how the campaign hadn't understood her, how they'd ruined the Webisodes, how they'd impeded her vision and how Edwards himself had failed to defend her. The chief villain in this saga was Elizabeth Edwards. "Someday," Rielle said, "the truth about her is going to come out."
By then, I had decided that Rielle was a less than reliable source. I continued to see her, but more out of curiosity than a belief that I was going to learn much about Edwards from her. I liked Rielle. I let her do my astrological chart. I began to feel a little like the nun in that old joke who complains about receiving a three-hour obscene phone call …Why didn't I just hang up? But I didn't. I stayed in touch with Rielle for months. At lunch at the Soho House in late spring of '07, Rielle told me that she and novelist Jay McInerney were working on a "genius" idea for a television show about women who help men get out of failing marriages by having affairs with them. She said they wanted to pitch this idea to Darren Star, creator of "Melrose Place" and "Sex and the City." At lunch early that summer, I asked Rielle if she was dating anyone. She answered simply, "I'm in love." I asked, "Who with?" "I can't tell you," she said, "but maybe someday we'll all be friends."
That October, the National Enquirer wrote a story claiming that Rielle and Edwards were having an affair. Rielle called me to ask, should she put out a statement denying it? I asked her if she would give a statement to NEWSWEEK, which seemed to make her mad. She said she was talking to me as a friend, not a journalist. Though she said that our conversations had been "between you and me," we had never actually gone off the record. Our conversation ended abruptly. I never got to ask her the most important question: whether she had had an affair with Edwards. I tried to contact her several times in the months that followed, but she didn't return my calls. It occurred to me she was saddened that she had come to think of me as a friend, but I saw her as a story.
In December, the Enquirer ran an article claiming she was pregnant with Edwards's child. (Edwards denies he is the father, and has offered to take a paternity test to prove it. Prior to the child's birth, an Edwards aide, Andrew Young, told the Enquirer he was the father of Rielle's child. An Edwards adviser, speaking on Edwards's behalf, declined to comment for this story. Rielle did not respond to e-mails I sent her last week seeking comment.) In early January, I was surprised to receive an e-mail from her saying she was thinking about me and hoping I was OK. I haven't heard from her since. But I believe she really did hope I was OK. When my father died later that month, she sent me flowers.
---
Wife says Haggard told her of struggles years ago
The Associated Press, published, January 27th 2009
(As we note in our book, marriages can weather same sex affairs and same sex orientation, if both partners agree and desire that their union continue. ~ Marie & Marlene)
CHICAGO – Former evangelical pastor Ted Haggard's wife says she knew about his struggles with same-sex attraction for years and felt he was "winning the battle" before a scandal involving a male prostitute triggered his downfall in late 2006. Gayle Haggard makes the remarks in an appearance with her husband on "The Oprah Winfrey Show" to air Wednesday. She said she was shocked when Haggard first told her the truth about the allegations against him.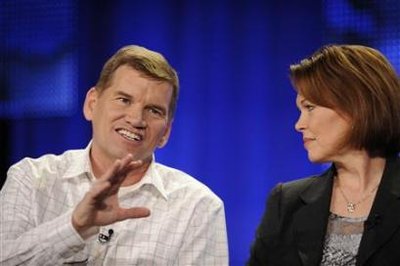 "The first words out of my mouth were, 'Who are you?'" she said, according to a publicity release issued Tuesday by Harpo Productions. However, Gayle Haggard also said her husband told her early in their 30-year marriage that he "struggled with some thoughts." "I felt it was the thing that could destroy Ted if he gave in to it," she said. "So I prayed for him and I felt as though he was winning the battle."
Haggard, 52, resigned as president of the National Association of Evangelicals and New Life Church in Colorado Springs, Colo., after the male prostitute went public. Haggard confessed to "sexual immorality." The scandal widened in recent days with disclosures that Haggard also admitted to an "inappropriate" relationship with a church volunteer, Grant Haas, who was 22 at the time.
Haas told KRDO in Colorado Springs that Haggard performed a sex act in front of him and sent him illicit text messages. He informed New Life Church shortly after the scandal broke, and the two parties reached a settlement in 2007 that included a confidentiality agreement. Haas went public as Haggard is heavily promoting an HBO documentary about his time in exile. Copyright © 2009 The Associated Press. All rights reserved.
---
The New York Times by Gretel C. Kovach (Grapevine, TX), November 24, 2008
...Mr. Young, known simply as Ed to his parishioners, and his wife, both 47, have been married for 26 years and have four children, including twins. They have firsthand experience with some of the barriers to an intimate sex life in marriage, including careers, exhaustion, outside commitments, and "kids," a word that Mr. Young told church members stands for "keeping intimacy at a distance successfully." But if you make the time to have sex, it will bring you closer to your spouse and to God, he has said. You will perform better at work, leave a loving legacy for your children to follow and may even prevent an extramarital affair. "If you've said, 'I do,' do it," he said. As for single people, "I don't know, try eating chocolate cake," he said.
---
Newsweek, by Jessica Ramirez, published, Sep 25, 2008
(A new study and book by Rabbi Gary Neuman proves what's in our book is true, and works for a wife or partner who wants to protect her relationship. ~ Marie & Marlene)
What did you find was the No. 1 reason men cheat? I think most people ascribe to the theory that men cheat for sex. Women are being told that unless they are unbelievable sexy and have a Ph.D. in prostitution education then the husband is going to cheat. But when the results came in [from my study] only 8 percent of cheaters said that sexual dissatisfaction was a primary contributor [in cheating] and only 12 percent said the mistress was better looking or in better shape than their wives. It really started to show a completely different pattern than what most expect. In fact, the majority—48 percent—said that the cheating was about an emotional disconnection.
---
NY Daily News, by Lisa Lucas and Bill Hutchinson, published, September 19th 2008
The ugly divorce battle that painted Yankee slugger Alex Rodriguez as a serial adulterer and "brainwashed" beau of pop icon Madonna is over. Rodriguez and his wife, Cynthia, announced Thursday night they have peacefully settled their multimillion-dollar divorce case. "Cynthia and Alex Rodriguez have amicably resolved their dissolution of marriage proceedings," read a terse statement released by the superstar ball player's lawyer, Alan Kluger. Kluger refused to go into details of the settlement that ends the couple's five-year marriage. "They deliberately engaged in a private negotiation," Kluger said. "This was and remains a personal family matter for both of them."
---
NY Daily News, by Lisa Lucas in Delray Beach, Fla., and Leo Standora in New York, published, July 31st 2008
Yankee slugger Alex Rodriguez is playing hardball against his wife in their divorce case, saying he wants their prenuptial agreement enforced and charges that he cheated on her removed from the record. In court papers obtained exclusively by the Daily News, A-Rod's side responds point by point to Cynthia's July 7 divorce filing. The All-Star admits the marriage is "irretrievably broken," but says that because Florida is a no-fault divorce state, he doesn't have to say why and he's not going to. Cynthia's allegations that he "emotionally abandoned his wife and children" and that the pair broke up because of his "extramarital affairs and other marital misconduct" are "immaterial and impertinent and should be stricken," the papers say.
The documents are expected to be filed today in Miami-Dade Circuit Court in Florida. In her petition to the court, Cynthia asked for the couple's $12 million waterfront estate and "equitable distribution" of all assets acquired during the marriage. While naming no figure, she petitioned for alimony and child support, including such benefits as life and health insurance and private schools - suggesting she be able to maintain the "high standard of living" A-Rod has provided his family so far.
Rodriguez, whose 10-year, $275 million contract with the Yankees makes him baseball's highest-paid player, says several times in the response he wants the prenup enforced. "Husband denies any duty to support wife beyond those obligations specifically set out in the parties' prenuptial agreement," the papers say. What those terms are wasn't immediately known, but apparently they don't suit Cynthia. If he has to go to court to fight her challenge to the prenup and wins, he says he's entitled to recover from his wife any "reasonable attorney's fees and costs" he incurs. A-Rod strikes a conciliatory note when it comes to the children, saying he "has been paying, and will continue to pay ... reasonable and bona fide expenses" for daughters Natasha, 3, and Ella, 3 months.
He even gives Cynthia props as a mom. "Husband admits and acknowledges that wife is a loving and nurturing mother," the papers say. "Husband is confident that he and wife will be able to continue to work with one another to co-parent their children together and that they will be able to agree upon a time-sharing schedule ... without the need for court intervention." A-Rod notes he's required "to travel extensively from spring training in March through the end of the baseball season in September" - and as any Yankees fan can confirm "more often than not, through the baseball playoffs in October." "Cynthia and Alex are both very good people and they both have the best interests of their kids at heart," said Rodriguez attorney Alan Kluger. "This is a tough time for both of them and they prefer to handle this matter as privately and amicably as possible." © Copyright 2008 NYDailyNews.com. All rights reserved.
(For more on A-Rod and his new divorce, see stories below. ~ Marie & Marlene)
NY Daily News, by George Rush and Bill Hutchinson, July 4th 2008
Pop icon Madonna is using kabbalah to brainwash Yankee star Alex Rodriguez into believing they are "soulmates," the ballplayer's estranged wife is telling friends.
NY Daily News, by Tracy Connor, published, October 4th 2007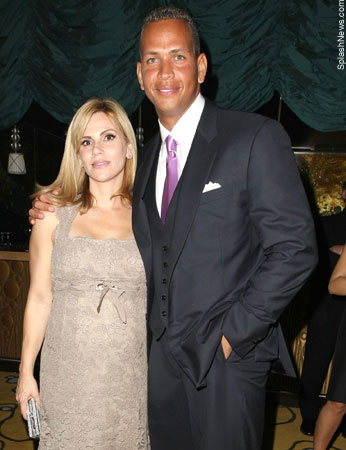 Make room for one more - Alex Rodriguez and his wife, Cynthia, smile with their daughter, Natasha, at a July signing of 'Out of the Ballpark,' the children's book A-Rod dedicated to his 2-year-old. It's a double play for A-Rod - he and wife, Cynthia, are expecting another baby. The little slugger is due in the spring, the couple told People magazine yesterday. "I feel great!" said 34-year-old Cynthia. "We're thrilled. We can't wait." The couple has a daughter, Natasha, who is almost 3. They don't know the gender of the new baby, but plan to find out.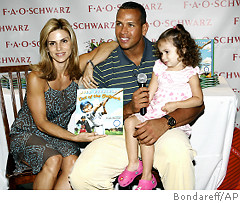 "My daughter wants to know more than we do!" the proud mom said. "We're just real excited. It's almost more exciting [than the first child] in a way, because you can anticipate what you already know is so amazing." A-Rod, 32, said he was overjoyed to announce the new addition to the home team. "We realize what a special gift children are, and feel very blessed to welcome our second child," he told the magazine.
It seems the baby was conceived a few months after the couple's five-year marriage was tested by last spring's sex scandal. In late May, after he was caught with stripper Joslyn Morse on a road trip, reports of his antics at topless and swingers clubs around the country surfaced.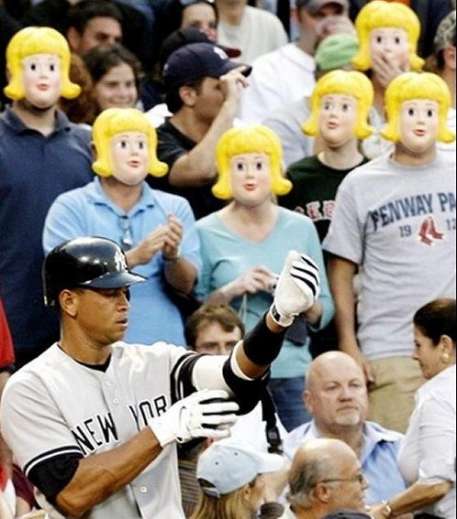 A few weeks later, Cynthia raised eyebrows when she wore a T-shirt emblazoned with the profanity "F--- you" to a home game, with her toddler on her lap. At a book signing in late July, the missus was cool to A-Rod, barely looking at him and flashing a smile only for the cameras.
The frost appeared to have thawed a few weeks later when the Yankees returned to Toronto and A-Rod squired his wife around town. A-Rod and Cynthia met in 1996 at a Miami gym and married six years later. They moved to New York the next year. Her first pregnancy was a surprise, but the couple has said Alex warmed to fatherhood quicker than he did to third base. In a 2005 interview, the petite blond talked about how her husband liked to wake the slumbering baby when he returned home after bedtime. "It's hard, because I understand. I mean, he must miss her," Cynthia said. "I tell him not to and then he goes, 'I'm just going to give her a kiss.' And then all of a sudden, she miraculously wakes up. And he says, 'I swear I didn't do anything!'"
Alex gushed about Natasha in the same interview. "You look in her eyes and it makes everything easier," he said. Rodriguez penned a kids' book, "Out of the Ballpark," this year - and said he wrote it for his daughter.
---
NY Daily News, by Eloise Parker, July 15th 2008
Ethan Hawke married his children's former nanny, Ryan Shawhughes, in a secret ceremony last month. Moving on is nothing new, but watching Ethan Hawke settle down with his kids' former nanny is bound to send a shiver down the spine of many women who rely on professional help - especially since the actor isn't the first high profile husband to find a new partner so close to home.
(As we note in our book, this story shows that being a beauty, and a movie star (like Ethan's former wife, Uma Thurman), does not inoculate one from the dangers of an ambitious nanny. ~ Marie & Marlene)
NY Daily News, By Ben Widdicombe (Gatecrasher), published, December 12th 2007
You're looking at a first candid photo of Ethan Hawke and his secret lady love, Ryan Shawhughes.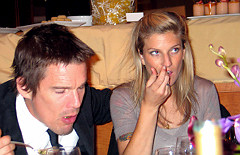 We told you last week how the two have been together on the down-low for years. The pair met when she was employed as a nanny for Hawke's two children, Maya, 9, and Roan, 5, while he was still married to Uma Thurman. But this week's Star magazine (which neglects to tell its readers they got the story from Gatecrasher) says that contrary to the official version, their relationship actually began before his divorce. Fancy that! "They seem to be trying to rewrite history by saying they waited a whole year, so they could look innocent when word that they were together finally got out," an "insider" tells the mag.
"He was terrified, because he knew if Uma found out he was with their nanny, she'd blow up and the divorce would get nasty when it had been going relatively well." In a city crawling with nosy gossip reporters, Ethan, 37 and Ryan, 28, did a great job of hiding in plain sight. This picture was taken at a benefit for NYU's Tisch School at the Marriott Marquis on Nov. 12. "They certainly acted like they didn't want their photo taken," says a witness.
(For more on the dangers of an ambitious nanny, see the story below. ~ Marie & Marlene)
The Independent, by Guy Adams, published, 5 June 2008
In the 'court case of the decade' two former employees accused of extortion by the actor Rob Lowe and his wife have responded with an extraordinary series of allegations.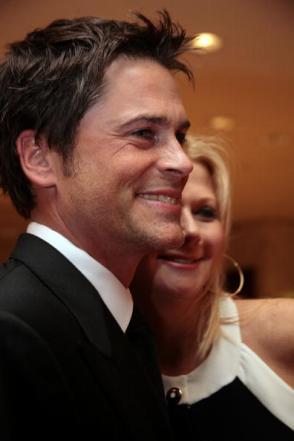 Everyone loves it when life imitates art. But the juicy legal drama pitching Rob Lowe against two younger women in a tale of sex, lies and betrayal that is gripping America is far stranger than any fiction played out during the teenage heart-throb's colourful acting career.
---
NY Daily News, by Christina Boyle and Tracy Connor, July 10th 2008
Christie Brinkley prayers for a settlement were answered Thursday. A victorious Christie Brinkley savored her big win over her cad husband Thursday by having lunch and dinner with friends in her mansion - and then taking a nap. "I was here fighting for custody," the smiling supermodel said hours after a settlement deal was reached. "I think a mother's greatest fear is somebody trying to take their children....That's what I was up against." She returned to her Tower Hill home in Bridgehampton, L.I., where she was joined by friends. "We had a nice lunch," said one of the visitors, piano teacher Christine Glennon, who had testified on Brinkley's behalf.
(For more on Christie Brinkley's divorce, see story below. ~ Marie & Marlene)
NY Daily News, by Christina Boyle, Melissa Grace, and Tracy Connor, July 4th 2008
She was a model witness.Christie Brinkley laughed, cried and flashed those baby blues at her heel of a husband Thursday as she told how her "picket fence" marriage collapsed in a "nightmare" of infidelity and Internet porn. After hours of wrenching testimony and a harsh cross-examination, the cover girl showed she's still a class act with kind words for the teenager who was seduced by hubby Peter Cook. "I can't help but think about Diana Bianchi," Brinkley said outside the courtroom in Central Islip, L.I. "I feel bad for her and I forgive her." Cook wasn't so nice. "Shrek was more believable," the architect sniped to reporters about his wife's testimony. Among the revelations:
Months before she learned of Cook's affair with brunette Bianchi, she found a long dark hair in rumpled sheets at one of their homes. Cook blamed it on the gardener.
After Cook fled their home in shame, he phoned her with a threat of suicide, telling her, "I'm going to plow my car into a tree."
Cook began shunning her two years before their split, refusing to cuddle and barely noticing when the gorgeous glamour girl tried to make herself "pretty" for him.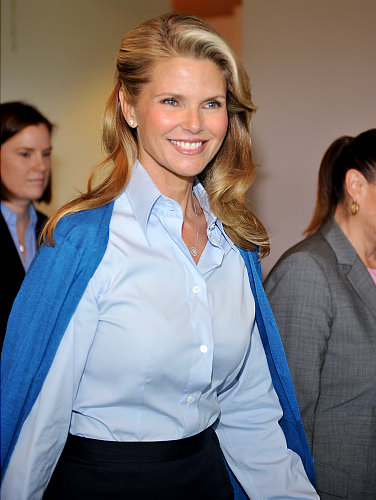 Dressed all in blue, Brinkley, 54, captivated the packed courtroom as she opened her testimony with a painful retelling of how she learned Cook, 49, was a cad. It happened June 25, 2006, as she was basking in applause after delivering a high-school commencement speech in Southampton, L.I. Suddenly, a man she didn't know - Bianchi's stepfather, Brian Platt, a local cop - approached and whispered in her ear. "That husband of yours just won't knock it off," he said "He's having an affair with my teenage daughter. That bastard won't knock it off...so I had to come to you." Brinkley didn't recognize Platt and looked over at her husband in confusion. One glance and she knew the man was telling the truth. "Peter's face was so tense. His lips were so tight. His lips were saying, 'No, no,'" she recalled, locking eyes with Cook. "I thought, 'Oh my God, he did that!'"
'How could you?' She confronted her husband. "How could you?" she asked him. "You're not going to believe that man over me, are you?" Cook replied. "He's a drunk. He's vicious." The couple drove back to their home, and then Brinkley fled. "I just started driving away from my perfect life," she said, sobbing. "I thought I had the picket fence. I thought we were happy." She ended up heading to the home of her best friend, Jill Rappaport, the TV personality who introduced the couple. Rappaport testified that Brinkley was in a horrible state, with bloody knees. "I thought she had died," the friend recalled. "She was lying flat on the ground huddled over with her hands on her knees...She was sobbing...catatonic." The cover girl pleaded with her, "Can you believe this? Can you believe this happened to me? Please tell me it's a nightmare."
They visited a police station to see if they could find Platt, but he wasn't there. When Brinkley returned to her home with Rappaport, Cook was gone, having emptied their safe of everything but some jewelry and passports. The next few days were a blur. Brinkley said she couldn't sleep or eat and was full of questions.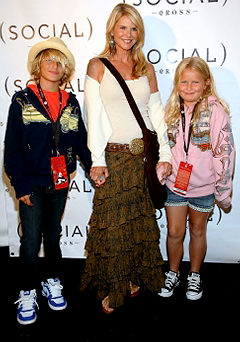 Digging deeper, shocking discoveries
"I wanted to try to find out what really happened," she explained. She got Cook to give her his computer passwords and checked his e-mail account, where she found messages to and from Bianchi, who was using the cyberhandle Blahmuffin. She recalled an e-mail in which Cook wrote to the teen that she had put him under "a spell," and others in which she asked for "three Gs" and money for dental bills. As Brinkley hunted around on the computer in her children's library, she found a list of Internet porn sites Cook had visited, including Adultfriendfinder.com. "I found his naked torso with his profile underneath saying, 'Hey, I'm a really good-looking guy looking for equally good-looking girls. I like them young and fit,'" she testified.
Her voice quavered. "To come across that was beyond devastating. It was beyond humiliating. It was beyond your wildest nightmare that you could ever imagine," she said. "He's cheating on me. He's cheating on me with a teenager. He's trawling the Internet." She said she could tell from his messages that Cook wasn't spending $3,000 a month just to browse. "It was not a voyeur site. It was a meeting site," she said.
Despite the betrayal, Brinkley apparently still cared for Cook. A few weeks after the showdown at the high school, he called her while he was driving, distraught. "He was sobbing. He was hysterical. I had never heard him cry before," Brinkley said. "He said, 'I'm driving erratically.' He said, 'I'm going to plow my car into a tree. I'm so embarrassed. I'm so upset you found out about this.'"
A growing distance
Brinkley calmed him down and told him she would find him a sex-addiction clinic. "Why are you talking to me after what I've done?" Cook asked her. She told him, "because it's the right thing to do. I will get you help," she testified. Brinkley said the affair that "shattered" her world took her by surprise - but it's clear there were signs the marriage was unraveling for more than a year. In 2005, she said, Cook barely visited her when she was hospitalized in intensive care for a serious tooth infection - a charge he denied. He started working late and running out at strange times. Their regular date nights stopped. He was distant and "grouchy." "We used to sleep like spoons together," she told the court, covering her face with her hands as she tried to regain her composure. She said she asked him, "Why don't you snuggle with me like that anymore?"
In a moment rich with irony, one of the most beautiful women in the world said she tried to make herself "pretty" for Cook, but he didn't notice. "It was like we were living in the same house in those last few months but he wasn't there at all," she said. It was a devastating portrait of Cook, and his lawyers did their best to fight back - implying Brinkley was faking her tears. "You're an actress, aren't you?" Cook's lawyer Norman Sheresky asked Brinkley after her first two emotional hours on the stand. "If you want to call me an actress, that's fine," she chuckled. "I'm no Meryl Streep. I don't want to flatter myself, but I have been in a very successful movie," she said, referring to 1983's "National Lampoon's Vacation." "Thirty years later, it's still got legs."
'Anger is normal'
Sheresky hammered away at Brinkley, trying to paint her as a woman scorned who wanted a public divorce trial to humiliate Cook in front of his kids.The former Sports Illustrated swimsuit pinup denied it and said she has shielded 10-year-old Sailor Lee and 13-year-old Jack from the salacious details of the case. But she admitted she wasn't happy about Cook's philandering or perversion. "I think a certain amount of anger is perfectly normal," she said, looking directly at her estranged husband. "After all, I supported this man for almost 10 years. He never paid for a single thing. He lived a wonderful life. "And all the while he was carrying on like this behind my back. It goes without saying there was a certain amount of anger." She never lost her cool and Sheresky ended the cross-examination abruptly, without making much headway. After a brief rebuttal by Cook, the first phase of the trial - which focused on the grounds for divorce - was over.
The next phase is the custody dispute and Cook suggested outside the courthouse that he's saving his best ammunition for that battle. "I guess it's good because it's over," he said. "It's her side. I haven't been able to tell my side of the story yet."
---
NY Daily News, by Helen Kennedy, July 9th 2008
(As we note in our book, this story shows that some women just don't care if the man they want happens to be your husband. ~ Marie & Marlene)
CBS News war correspondent Lara Logan, who found herself in the headlines when her boyfriend's wife called her a home wrecker, is pregnant with his child. Logan, who has been ducking reporters since her personal life went public, told all to a Washington Post columnist. She said she is due in January and is "looking forward to being a mom." "Since 9/11, I've spent 95% of my time on the road, and I do need to have a home at some point. I do need to settle down. I've been living like a refugee," she said. Logan, 37, who is getting a divorce from her long-estranged husband in Chicago, said she expects to eventually marry the boyfriend she met in Afghanistan, State Department contractor Joe Burkett. Burkett's wife in Texas, mother of their 3-year-old daughter, publicly accused Logan of breaking up her marriage. She reportedly took an overdose of tranquilizers when he flew home in January to say he was leaving her for the glamorous TV reporter. Logan, who has won several top awards for her coverage in Iraq and Afghanistan, was promoted and reassigned to Washington last month.
(For more on the "In-bedded" reporter's romance with the married contractor, see story below. ~ Marie & Marlene)
Washington Post, by Howard Kurtz, July 8, 2008; Page C01
...Chmielowiec [Kimberly's attorney] and Burkett's lawyer, Jonathan Cluck, did not respond to requests for comment. The Enquirer quoted Kimberly Burkett last week as saying that "Lara Logan deserves to be canned" and that her CBS promotion is "a slap in the face to everyone who believes in marriage." Carole Cooper, Logan's agent, says the publicity has been unpleasant. "It has been difficult for her but she's coping fine," she says. "She's a strong woman."
---
MSN, published, May 22, 2007
(As we note in our book, being beautiful and world famous, like entertainer, Shania Twain, does not necessarily protect such a woman's marriage from an ambitious, yet homely, female friend with an eye for her mate. ~ Marie & Marlene)
Shania Twain's private life has always been just that -- private -- but the meltdown of her 14-year marriage to music producer Robert "Mutt" Lange has unfortunately forced her into the spotlight. People magazine reports the low-key Canadian singer, 42, "is reeling" over rumors that her estranged husband, 59, with whom she has a 6-year-old son, Eja, is involved with a woman "she considered a close friend."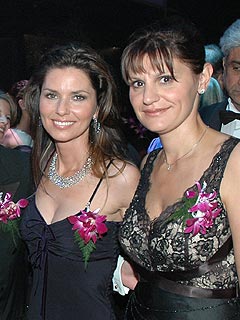 Insiders contend that Lange's ostensible closeness with one Marie-Anne Thiébaud, a secretary and house manager at the couple's Swiss chateau, led to the split. "Mutt and Marie-Anne left their spouses for each other and are still in a relationship," a snitch tells the magazine. "Their two families would vacation and spend holidays together. Shania considered Marie-Anne one of her best friends."
Shania, who is reportedly being comforted by friends and family in her native Canada, "is devastated" by the breakup, says the source, who adds, "This came out of left field." Another spy echoes the suddenness of the separation to the New York Daily News, asserting, "It took Shania by surprise. The divorce could get ugly. Shania may want custody of their son and alimony."
Lange and Thiébaud, however, are denying the two-timing claims. The camera-avoiding producer tells People that his union didn't implode over something so clichéd as an affair with his assistant, insisting infidelity was "absolutely not the reason [for the breakup] ... It's literally just a growing apart, that's all." As for the talk that he's seeing Thiébaud, Lange maintains, "It's not true." Thiébaud is also defending herself against the other-woman charges. "I know what you're ringing to ask me about," she said when reached by E! News at her home in Geneva, Switzerland. "But, when marriages break up they break up for all sorts of complicated reasons, it's never just one reason. And those reasons should be kept private." Thiébaud, 37, who says she no longer works for the reclusive couple ("I am retired"), then suggests the media should bother someone else. "If you're looking for a person that broke up a marriage," she huffs, "then you have the wrong person. I'm not that person."
---
NY Daily News, by Joe Gould, Matthew Lysiak, and Larry McShane, published, May 11th 2008
Disgraced Congressman Vito Fossella hid out Saturday while his estranged wife stepped out - alone - to the First Communion party of their goddaughter on Staten Island. It was the latest and largest crack in their 18-year marriage, and another sign that flowers and brunch aren't going to do it for Fossella this Mother's Day - not after he admitted he could mark the occasion with either his wife or his mistress.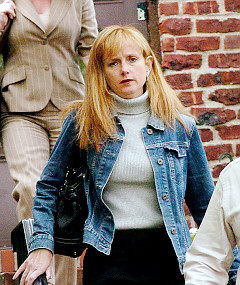 Mary Pat Fossella, the mother of his three Staten Island children, arrived at the family home with an overnight bag slung across her shoulder about 2 p.m. Saturday. She was driven by a neighbor. A short time later, after a change of clothes, the betrayed spouse left by herself for the First Communion ceremony. "I have nothing to say," Mary Pat said. A neighbor said Fossella was the godfather to the first communicant, but he wasn't heading to the party or staying in his family's house anymore. Mary Pat later took their son to a Little League game without Fossella. "She was a wonderful wife," said the neighbor, referring to the marriage in the past tense. The neighbor said Mary Pat was holding up despite the great strain caused by her husband's admission that he had fathered a love child in Virginia. "She's my new idol," the woman said.
Mary Pat's father, Thomas Rowan, didn't mince words when asked how she was doing. "Bad," Rowan said before shutting the door of his home. Fossella's furious wife is considering divorce after learning of his second family, a source said. Laura Fay, the mother of his love child, also feels betrayed. She had believed Fossella when he claimed that he and Mary Pat were separated, a source said. There's just not enough chocolate in the world to sugarcoat that.
Fossella's Mother's Day plans remained unknown, although one family friend, more aligned with the congressman's wife, offered a tongue-in-cheek suggestion. "I just hope that he's got frequent flyer miles ... he's got to cover a lot of real estate," the friend said. "Maybe if he's taking the two moms out, he does an early bird special and an after-theater special." Sources indicated Fossella was hiding out on Staten Island at his uncle's house, where the shades were pulled down tight.
His double life was turned upside down by his May 1 arrest for DWI, when he called Fay from the Alexandria, Va., lockup. He was arrested about 3 miles from where she lives with their 3-year-old daughter. After refusing for days to answer questions from the Daily News about his relationship with Fay and whether he was the girl's dad, he confessed. The Staten Island Republican has at least one sympathetic ear: Fay's aunt, Carol Urbas, said the scandal must be tough on the Fossella clan. "I can't imagine the other family," she said. "I can't think about them, because my heart hurts for them." With Celeste Katz in New York and Christina Boyle in Ely, Minn. © Copyright 2008 NYDailyNews.com. All rights reserved.
(For more on Vito Fossella's illicit romance, see stories below. ~ Marie & Marlene)
NY Daily News, published May 10th 2008
Vito Fossella's admission that he fathered a love child exposed another of his lies: He had told his girlfriend he was separated from his wife, the Daily News learned Friday.
NY Daily News by Adam Lisberg, updated May 11th 2008
Vito Fossella's illicit romance with the mother of his love child was a whirlwind affair that began on a rocky Mediterranean island and blossomed among the ancient ruins of Spain.
---
New York (AP) by Frazier Moore, published, May 2, 2008
(Barbara Walters discusses her affair with a married man--35 years ago. She broke it off to protect their careers. No mention of his wife or her side of the story. ~ Marie & Marlene)
Former U.S. Sen. Edward Brooke declined to comment Friday about whether he had an affair with Barbara Walters in the 1970s. "I have had a lifetime policy and practice of not discussing my personal and private life, or the personal and private lives of others, with the notable exception of what I wrote in my recently published autobiography, 'Bridging the Divide: My Life,'" he told The Associated Press in a phone interview from Miami.
A relationship with Walters wasn't mentioned in his book, the 88-year-old former senator from Massachusetts told the AP. His memoir was published in 2006. In an appearance on "The Oprah Winfrey Show" scheduled to air Tuesday, Walters shares details of her relationship with the married Brooke that lasted several years in the 1970s, according to excerpts of the show provided to the AP. A moderate Republican who took office in 1967, Brooke was the first African-American to be popularly elected to the Senate. Walters said he and she knew that public knowledge of their affair could have ruined their careers.
At the time, the twice-divorced Walters was a rising star in TV news and co-host of NBC's "Today" show, but would soon jump to ABC News, where she has enjoyed unrivaled success. She said her affair with Brooke, which never before came to light, had ended before he lost his bid for a third term in 1978. Brooke later divorced, and has since remarried.
Walters, 78, will appear on Winfrey's show to discuss her new memoir, "Audition," which covers her long career in television, as well as her off-camera life. On "Oprah," Walters recounts a phone call from a friend who urged her to stop seeing Brooke. "He said, 'This is going to come out. This is going to ruin your career,'" then reminded her that Brooke was up for re-election a year later. "'This is going to ruin him. You've got to break this off.'" Winfrey asks Walters if she was in love. "I was certainly - I don't know - I was certainly infatuated." "Infatuated." "I was certainly involved," Walters says. "He was exciting. He was brilliant. It was exciting times in Washington."
Brooke served two full terms from 1967 to 1979, taking on the populist causes of low-income housing, increasing the minimum wage and mass transit. He received the Presidential Medal of Freedom in 2004, an honor only 21 U.S. senators have received.
---
NEW YORK (AP), published, April 28, 2008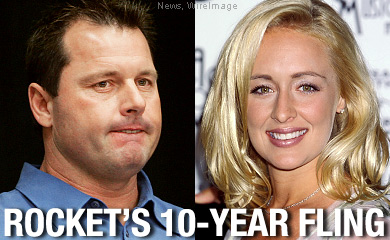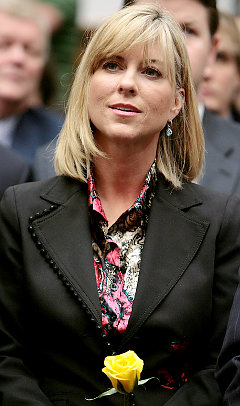 Roger Clemens had a decade-long relationship with country star Mindy McCready that began when she was a 15-year-old aspiring singer and the pitcher was a Boston Red Sox ace, the Daily News reported. Clemens' lawyer, Rusty Hardin, confirmed a long-term relationship but told the newspaper it was not sexual. "He flatly denies having had any kind of an inappropriate relationship with her," Hardin said. "He's considered her a close family friend. ... He has never had a sexual relationship with her."
Clemens was 28 and a married father of two when he first met McCready, the newspaper reported. The story, which appeared on the newspaper's Web site Sunday night and in editions Monday, quoted several people who asked not to be identified because of the sensitivity of the situation. It said Clemens sent cash to McCready to help her with legal issues and reached out to her when she was in jail last year in Tennessee.
The 32-year-old McCready, sentenced last September for violating probation from a 2004 drug arrest, was released from jail last Dec. 30. The violation occurred in July when McCready was accused of scuffling with her mother and resisting arrest at her mother's home in Fort Myers, Fla. She still must serve two years' probation. McCready had a No. 1 single in 1996 with "Guys Do It All the Time."
The revelation could undermine Clemens' reputation, which is central to the defamation suit the former pitcher has filed against former personal trainer Brian McNamee. McNamee contends Clemens used performance-enhancing substances during his major league career. "If true, it's just another example of Roger's pervasive prevarications which will be at the core of any defamation case," said McNamee's attorney, Richard Emery, in an e-mail to The Associated Press. Hardin did not respond immediately to an e-mail from the AP.
---
French President Nicolas Sarkozy may be cozy with his new bride, but Russian President Vladimir Putin is doing cartwheels over his bride-to-be - a former Olympic gymnast less than half his age. European media are reporting Putin, 56, has walked out on his 50-year-old wife, Ludmilla, and is set to marry brunette Alina Kabaeva, 24, who represented Russia in two Olympics. As a rhythm gymnast, she was known for her "extreme natural flexibility," Russian media say.
A photogenic beauty from Uzbekistan, Kabaeva is quite the Russian celebrity - she posed for daring photos wrapped in nothing but furs before becoming a member of the Russian Parliament. A Moscow gossip column said a party planner in Putin's home city of St. Petersburg was bidding to organize the couple's lavish wedding reception. Another report said the couple plans to marry in mid-June, just after Putin steps down as president. A Web site claims the two were seen kissing in a Moscow restaurant. The Kremlin has refused to acknowledge the rumors.
Two months ago, Sarkozy, 53, married high-profile model and celebrity Carla Bruni, 40, in a private wedding ceremony at the presidential Elysee Palace. Meanwhile, Sarkozy's ex-wife, Cecilia Ciganer-Albeniz, reportedly tied the knot with wealthy event planner Richard Attias last month in a ceremony in the Rainbow Room of Rockefeller Center.
---
NY Daily News, by Ben Lesser, Joe Mahoney and Greg Smith, published, March 20th 2008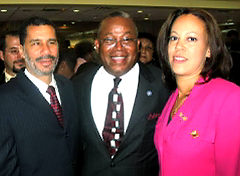 Gov. Paterson admitted Wednesday he may have improperly billed his campaign for at least one hotel tryst with a girlfriend. The expecditure was apparently listed as "constituent services."
---
NY Daily News, by Juan Gonzalez, published, March 18th 2008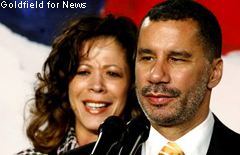 The thunderous applause was still ringing in his ears when the state's new governor, David Paterson, told the Daily News that he and his wife had extramarital affairs, writes columnist Juan Gonzalez.
---
NY Daily News, by Dave Goldiner, published, March 17, 2008
A former aide to gay ex-New Jersey Gov. Jim McGreevey says he had three-way sex romps with the former governor and his now-estranged wife, Dina Matos McGreevey.
(For more on Ms. Dina Matos McGreevey, see the story below from September 2007. ~ Marie & Marlene)
Former NJ Governor's Wife Recalls Ordeal
AP, by Angela Delli Santi, published, Sept. 1, 2007
(Our book also addresses what to do when the affair partner is a man. ~ Marie & Marlene)
Perhaps no one knows better than Dina Matos McGreevey how Suzanne Craig - the wife of Idaho Sen. Larry Craig - felt as her husband insisted he is not gay despite his guilty plea in a police sex sting. Matos McGreevey once stood shellshocked next to her ex-husband, then-New Jersey Gov. James E. McGreevey, as he announced before TV cameras that he was "a gay American" and would resign. "I was watching his wife the other day standing next to him, and I thought, 'Oh my gosh, that was me three years ago. Now here we go again,'" Matos McGreevey said in an interview at her home Friday evening. "She's a victim of the choices he's made."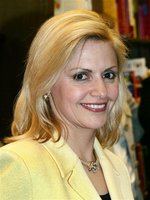 James McGreevey, the nation's first openly gay governor, later said he stepped down rather than succumb to a $50 million blackmail threat from a male former lover. When it was Suzanne Craig's turn to stand stoically beside her husband this week, 40-year-old Matos McGreevey said she felt her pain. Matos McGreevey said she stood by her man in 2004 because she still loved him and she felt she had done nothing wrong. "For me, I decided I was going to stand by my husband's side. I was in shock, I had not had an opportunity to absorb what was happening," she said. "I had 48 hours, 72 hours to try to make sense of what he was telling me." Asked if Suzanne Craig should follow her lead, Matos McGreevey said: "Only she can answer that question," she said.
Republican officials said Friday that Craig will resign from the Senate on Saturday. The announcement comes amid a furor over Craig's arrest and guilty plea in a police sex sting in an airport men's room. The 62-year-old grandfather denied he used foot and hand gestures to signal interest in a sexual encounter with an undercover officer and said his guilty plea to a reduced charge was a mistake. Matos McGreevey predicted tough times ahead for the Craigs, and offered this advice to the beleaguered political wife: "Do what's right for you and your family, not what's politically expedient or what your husband wants you to do. That's certainly something that I learned from my experience."
Matos McGreevey said in the midst of her personal turmoil she called Hillary Rodham Clinton for advice. The former first lady also had been publicly humiliated by her philandering husband, though his indiscretions were with a female intern and did not involve gay sex. "She said the best piece of advice I can give you is to get your own counsel and do what you think you need to do protect you and your daughter," Matos McGreevey recalled. "And don't let your husband's advisers make decisions for you." These days, Matos McGreevey said she counsels others in similar situations who contact her by letter, e-mail, phone and in person, sometimes at unlikely places like the grocery store. "I've had many conversations with people in my shoes," she said. Although she did not ask to become a symbol for spouses weathering the gay infidelities of their mates, Matos McGreevey said helping others means "the pain I have gone through has not been in vain."
Jim McGreevey, 50, will begin full-time studies at General Theological Seminary of the Episcopal Church in Manhattan, seminary spokesman Bruce Parker said Friday. Matos McGreevey, who is now locked in a contentious divorce proceeding with her estranged husband, said the relationship was over once he came out. She said she is moving on, even dating, but has lasting issues trusting others. "It's very painful to know that you've been betrayed by the person you love, the person you trust," she said. "And it's equally painful when you have the rest of the world, who doesn't know what you're feeling, what your relationship is like, criticizing you for taking certain actions."
---
She left a broken home on the Jersey Shore at 17 and came to New York City to work the nightclubs as a rhythm and blues singer. Now, at 22, she is the unwitting, and as yet unseen, star of the seamy drama that is the downfall of Gov. Eliot Spitzer of New York.
Kristen, the prostitute described in a federal affidavit as having had a rendezvous with Mr. Spitzer on Feb. 13 at the Mayflower Hotel in Washington, has spent the last few days in her ninth-floor apartment in the Flatiron district of Manhattan. On Monday, she made a brief appearance in federal court, where a lawyer was appointed to represent her. She is expected to be a witness in the case against four people charged with operating a prostitution ring called the Emperor's Club V.I.P.
In a series of telephone interviews on Tuesday night, she said she had slept very little over the past week, with all the stress of the case. "I just don't want to be thought of as a monster," the woman said as she told the tiniest tidbits of her story...
---
The New York Times, By Danny Hakim and William K. Rashbaum, published, March 10, 2008
(As we note in our book, being a beautiful wife doesn't insulate you from a husband's adultery. ~ Marie & Marlene)
ALBANY - Gov. Eliot Spitzer has been caught on a federal wiretap arranging to meet with a high-priced prostitute at a Washington hotel last month, according to a person briefed on the federal investigation. The wiretap recording, made during an investigation of a prostitution ring called Emperors Club VIP, captured a man identified as Client 9 on a telephone call confirming plans to have a woman travel from New York to Washington, where he had reserved a room. The person briefed on the case identified Mr. Spitzer as Client 9.
The governor learned that he had been implicated in the prostitution probe when a federal official contacted his staff last Friday, according to the person briefed on the case. The governor informed his top aides Sunday night and this morning of his involvement. He canceled his public events today and scheduled an announcement for this afternoon after inquiries from the Times.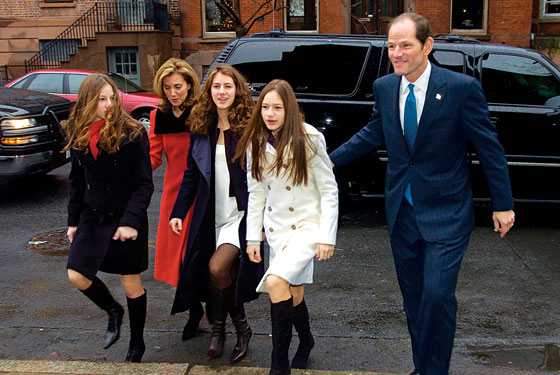 The governor's aides appeared shaken, and one of them began to weep as they waited for him to make his statement at his Manhattan office. Mr. Spitzer was seen leaving his Fifth Avenue apartment just before 3 p.m. with his wife of 21 years, Silda, heading to the news conference. The man described as Client 9 in court papers arranged to meet with a prostitute who was part of the ring, Emperors Club VIP, on the night of Feb. 13. Mr. Spitzer traveled to Washington that evening, according to a person told of his travel arrangements.
The affidavit says that Client 9 met with the woman in hotel room 871 but does not identify the hotel. Mr. Spitzer stayed at the Mayflower Hotel in Washington on Feb. 13, according to a source who was told of his travel arrangements. Room 871 at the Mayflower Hotel that evening was registered under the another name. Federal prosecutors rarely charge clients in prostitution cases, which are generally seen as state crimes. But the Mann Act, passed by Congress in 1910 to address prostitution, human trafficking and what was viewed at the time as immorality in general, makes it a crime to transport someone between states for the purpose of prostitution. The four defendants charged in the case unsealed last week were all charged with that crime, along with several others.
Mr. Spitzer had a difficult first year in office, rocked by a mix of scandal and legislative setbacks. In recent weeks, however, Mr. Spitzer seemed to have rebounded, with his Democratic party poised to perhaps gain control of the state Senate for the first time in four decades. Mr. Spitzer gained national attention when he served as attorney general with his relentless pursuit of Wall Street wrongdoing. As attorney general, he also had prosecuted at least two prostitution rings as head of the state's organized crime task force. In one such case in 2004, Mr. Spitzer spoke with revulsion and anger after announcing the arrest of 16 people for operating a high-end prostitution ring out of Staten Island. "This was a sophisticated and lucrative operation with a multitiered management structure," Mr. Spitzer said at the time. "It was, however, nothing more than a prostitution ring."
Albany for months has been roiled by bitter fighting and accusations of dirty tricks. The Albany County district attorney is set to issue in the coming days the results of his investigation into Mr. Spitzer's first scandal, his aides' involvement in an effort to tarnish Majority Leader Joseph L. Bruno, the state's top Republican.
(For more on the scandal, log on to The Smoking Gun Web site, to view the legal documents involved. ~ Marie & Marlene)
---
McCain Says Report on Lobbyist Not True
AP, published, Feb 21, 2008, 9:52 AM
TOLEDO, Ohio (AP) - John McCain emphatically denied a romantic relationship with a female telecommunications lobbyist on Thursday and said a report by The New York Times suggesting favoritism for her clients is "not true."
"I'm very disappointed in the article. It's not true," the likely Republican presidential nominee said as his wife, Cindy, stood beside him during a news conference called to address the matter....McCain described the woman in question, lobbyist Vicki Iseman, as a friend. The newspaper quoted anonymous aides as saying they had urged McCain and Iseman to stay away from each other prior to his failed presidential campaign in 2000. In its own follow-up story, The Washington Post quoted longtime aide John Weaver, who split with McCain last year, as saying he met with lobbyist Iseman and urged her to steer clear of McCain....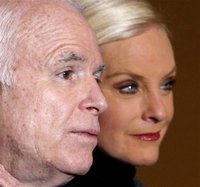 His wife also said she was disappointed with the newspaper. "More importantly, my children and I not only trust my husband, but know that he would never do anything to not only disappoint our family, but disappoint the people of America. He's a man of great character,"Cindy McCain said. The couple smiled throughout the questioning at a Toledo hotel. The published reports said McCain and Iseman each denied having a romantic relationship. Neither story asserted that there was a romantic relationship and offered no evidence that there was, reporting only that aides worried about the appearance of McCain having close ties to a lobbyist with business before the Senate Commerce Committee on which McCain served. The stories also allege that McCain wrote letters and pushed legislation involving television station ownership that would have benefited Iseman's clients....
(For more on McCain from 2000, see the story below. ~ Marie & Marlene)
The New York Times, by Nicholas D. Kristof, published, February 27, 2000.
...Mr. McCain has acknowledged running around with women and accepted responsibility for the breakup of the marriage, without going into details. But his supporters and his biographer, Robert Timberg, all suggest that the marriage had already effectively ended and that the couple had separated by the time he met Cindy, his present wife.
That might be the most soothing way of explaining a politician's divorce from a disabled wife and his remarriage to a wealthy heiress, but it does not jibe with accounts of family members and friends. John and Carol McCain had separated once briefly after they moved to Washington, when he moved his gear into his mother's house on Connecticut Avenue. That was the first hint that Joe McCain, John's younger brother, had of any marital problems, for neither John nor Carol confided much about personal problems.
"I remember asking him one time," Joe McCain recalled. "I said: 'You don't look so happy. You want to talk about it?' And he said, 'No, pal."' That separation lasted about two weeks and was not repeated until the final split, said their son Andy, and even close family friends never knew about it. To outsiders, who often visited the McCain household, the marriage seemed as close as ever. "They were definitely living together as man and wife when I was there," recalled Mr. Smith, the former instructor pilot, who moved to Washington and lived with the McCains in their home from about February through May 1979. "And there were no signs of strain. "For somebody to say that they were separated or at each other's throats is just nonsense," Mr. Smith said.
Yet at precisely the time that Mr. Smith was a guest in what appeared to be a happy household, in April 1979, Mr. McCain accompanied a group of senators on a trip to China. The Navy threw a big cocktail party for the group during a stopover in Honolulu. "John and I were talking, and then somebody tapped me on the shoulder and I turned around and exchanged a few words," said Albert A. Lakeland, then a Senate staff member. "When I turned around, John was gone. I looked around, and he was making a beeline for this very attractive blond woman. "He spent the whole party talking to her, and he kept avoiding me when I approached," Mr. Lakeland said. After the reception, Mr. McCain and the young woman, Cindy Hensley, went out to dinner, and the romance blossomed.
Mr. McCain continued to pursue Miss Hensley, calling her to keep in touch. When she thanked him for sending flowers that had just arrived (signed "John") he said it was nothing. As she discovered years later, they were from another man named John. Over the next six months, Mr. McCain pursued Miss Hensley aggressively, flying around the country to see her, and he began to push to end his marriage. Friends say that Carol McCain was in shock. Late that year, the McCains finally separated, and Mrs. McCain accepted a divorce the next February. Mr. McCain promptly married Miss Hensley, his present wife.
The first Mrs. McCain never seems to have said a harsh word about Mr. McCain (nor he about her), and was discreet even with friends. Mrs. Bookbinder, her old roommate, says that her first inkling came when Mrs. McCain met her one day and abruptly said, "I'm getting a divorce." When Mrs. Bookbinder, who was stunned, asked what had gone wrong, Mrs. McCain answered, "It's just one of those things." Mr. McCain's three children in the first marriage were less forgiving at first, and none of them were in attendance when he married Cindy. No one blamed Cindy, however, for she seemed shy and it was clear that Mr. McCain had been the pursuer. "I was certainly disappointed and mad at Dad," remembered Andy, who said it took almost four years for his anger to evaporate. He added: "I hold him responsible. I don't hold Cindy responsible a bit."
Some old friends believe that Mr. McCain was as restless in the marriage as in the Navy, and that he was actively looking for a new wife when he met Cindy. "My take on it was that the marriage had come unglued," said George Day, an old friend who represented Mr. McCain as a lawyer in the divorce. "Then what happened with meeting Cindy, was that he had already made the decision to get divorced." Some family friends were appalled that a man who seemed so decent, so full of compassion for anyone who needed help, could treat his own wife in a manner they regarded as brutal. But Mr. McCain gradually won everyone around again, with the same traits he now displays after making a mistake: a combination of charm and penitence. "We were ticked," said Nancy Reynolds, an old family friend. "I'd glare at him, and he'd say, 'Nance!"' Mrs. Reynolds paused and laughed and added: "If you meet him, you're under his spell. He's irresistible." It helped that Mr. McCain always accepted blame -- embraced it -- rather than making excuses. "He has always felt very guilty about it," Mr. McGovern said. "I have never talked with him for more than 40 minutes when he didn't bring it up, saying he felt badly about it." So John and Carol McCain managed to remain friends, and she has backed him in all his campaigns. "I'm crazy about John McCain and I love him to pieces," Carol McCain said, "but I'm just not going to do any interviews."
Likewise, his children have all gotten over their anger, to the point that their son Doug chose his father to be best man at his wedding. And four years ago, after a family conference to make sure there would be no hard feelings, son Andy decided to go to work in Arizona for the beer distributorship owned by Cindy McCain's family. All the children, including those from his second marriage, are enthusiastically backing their father's candidacy. (For more, click the link at the top of this section.) Copyright 2007 The New York Times Company.
---
AP, published Jan. 28, 2008
DETROIT - Christine Beatty, Detroit Mayor Kwame Kilpatrick's chief of staff, said Monday she is resigning amid allegations that she and the mayor lied under oath about an affair. In a letter to Kilpatrick that was released by his office, Beatty said she believes she can no longer effectively carry out her duties. Her resignation takes effect Feb. 8.
"I painfully regret the devastation that the recent reports have caused to the citizens of Detroit, to my co workers, to the Mayor's family and to my family and friends," Beatty wrote in the letter. Kilpatrick spokesman James Canning said the mayor's office had no comment.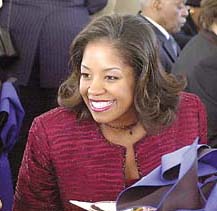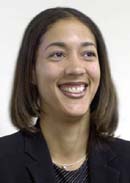 Newspaper reports steamy details
A prosecutor launched an investigation last week into the allegations, which came to light when the Detroit Free Press reported details of steamy text messages between Beatty and Kilpatrick. Both Kilpatrick and Beatty testified in a trial last summer that they did not have a physical relationship in 2002 and 2003, when the messages were reportedly sent. The 14,000 messages examined by the newspaper reveal the two carried on a flirty, sometimes sexually explicit dialogue about where to meet and how to conceal their numerous trysts.
"I'm madly in love with you," Kilpatrick wrote on Oct. 3, 2002.
"I hope you feel that way for a long time," Beatty replied. "In case you haven't noticed, I am madly in love with you, too!"
On Oct. 16, 2002, Kilpatrick wrote Beatty: "I've been dreaming all day about having you all to myself for 3 days. Relaxing, laughing, talking, sleeping and making love."
The pair testified in a case involving a lawsuit filed by two police officers who alleged they were fired for investigating claims that the mayor used his security unit to cover up extramarital affairs. The lawsuit ended with the jury awarding $6.5 million to the two officers. The payout eventually grew to more than $8.5 million.
---
NY Daily News, by Rush & Molloy, published, January 17th 2008,
(As we note in our book, a good friend of the wife or long term partner does not sit on her pal's spouse's or partner's lap -- or stay out with him all night. Such conduct reveals utter disrespect for the wife or girlfriend. ~ Marie & Marlene)
There's never a simple reason for a couple to part after 20 years. But if Sienna Miller didn't cause Sean Penn and Robin Wright Penn to split up, some claim she may not have been a good influence. A source recalls a party in a suite at a New York hotel where they both were staying.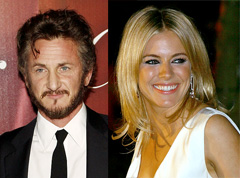 "Sienna was sitting on Sean's lap," according the source. "She was dressed very sexily. She had her arm around his neck." That night, claims the source, they stayed up quite late. One Penn friend maintains there was never anything romantic between them. "Sienna is like that with everyone," says the friend. "She's very physical. She drapes herself over people she likes. She doesn't mean a lot by it."
Miller's rep insists that suggestions that the actress, now dating Rhys Ifans, was ever more than friends with Penn are "outrageously untrue. Sienna is a very good friend of Robin. She adores and respects Robin." Still, you wonder if the up-till-dawn scene might trouble a wife left home with two kids.
---
The Telegraph, published, 11 January 2008
(Read all about "Man Eater Carla." ~ Marie & Marlene)
With her high cheekbones, porcelain skin and feline gaze, there is little doubt that Carla Bruni looks like a First Lady. What the French are currently asking, however, is whether the 40-year-old model-turned-folk singer has the temperament to become a fitting consort to their most energetic, controversial and avidly Right-wing president in decades.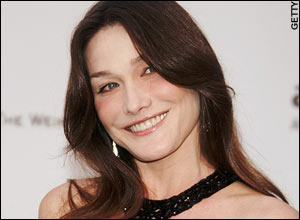 Judging by the circumstances which led up to Miss Bruni's first meeting with the 52-year-old president, such a transformation might not be easy.
It is less than three months since the self-styled moneyed bohemian, who is more at home in the cafés and bookshops of Paris's Left Bank than the grand palaces of state across the Seine, was persuaded to attend a private dinner party where Mr. Sarkozy was guest of honour. At first she was not interested, imagining the newly divorced president to be as humourless and threatening as he often appears when lecturing the nation on television.
Shortly before Mr. Sarkozy was elected in May last year, Miss Bruni even said she supported his Socialist rival, Ségolène Royal. She also signed a petition against a Sarkozy-inspired law introducing DNA tests for the families of immigrants wishing to join them in France. Clearly Jacques Séguéla, a highly experienced political public relations executive who hosted the dinner at his Paris home in November, had his work cut out in persuading Miss Bruni to attend...
Within minutes of meeting, Carla was strumming her guitar and singing sweet nothings into the president's ear, starting a whirlwind romance which now appears set to result in marriage.
Although music brought the unlikely couple together, it may take rather more than that to sustain their romance. Forgetting their political differences, Miss Bruni is also four inches taller than the diminutive head of state, Italian-born rather than a French national, and - crucially - apparently contemptuous of traditional bourgeois morality.
Her long list of past lovers includes the British rock stars Sir Mick Jagger and Eric Clapton (who described the then coquettish wannabe singer as "the love of my life"), Donald Trump, the billionaire American property magnate and even Laurence Fabius, the former French Socialist prime minister.
In February Miss Bruni infamously told Le Figaro Madame magazine: "I am a tamer [of men], a cat, an Italian - monogamy bores me terribly. "I am faithful.?.?. to myself! I am monogamous from time to time but I prefer polygamy and polyandry [its female equivalent]."
She once lived with the French publisher Jean-Paul Enthoven but fell in love with his son, the philosopher Raphaël Enthoven, with whom she later had a child, Aurélien, now six. Raphaël Enthoven's ex-wife, Justine Lévy - the novelist daughter of the French philosopher Bernard-Henri Lévy - later wrote a novella describing her side of the painful scenario. A fictional character based upon Miss Bruni was described as the "Terminator"; someone who was "beautiful and bionic, with the look of a killer".
Despite his highly publicised divorces, Mr. Sarkozy is a Roman Catholic who is as strong a believer in the institution of marriage as the moral majority from La France Profonde ("deep France") who voted him into office. Many of them have certainly expressed concern at how "Man Eater Carla" - as some sections of the French press have dubbed her - could transform the Elysée Palace from a dignified institution of state into somewhere decidedly more contemporary...
What is certain is that Miss Bruni already sees herself as a worthy replacement to the second Mrs. Sarkozy, who once said: "I don't see myself as a First Lady. It bores me. I prefer going round in combat trousers and cowboy boots. I don't fit the mould."
In contrast, a friend of Miss Bruni told the authors of Ruptures that she had decided to put aside her life as a seductress and realised that "she would be perfect for the job of First Lady".
Judging by the speed with which she and Mr. Sarkozy got together, France is likely to find out sooner rather later whether Miss Bruni's extraordinarily confident prediction is justified. © Copyright of Telegraph Media Group Limited 2008.
---
Alycia Lane telephoned Ed Rendell after arrest
Associated Press, Philadelphia, Published December 19, 2007
(As we note in our book, there are some women who are by nature predatory and you must mate guard against them. Read it to believe it, below. ~ Marie & Marlene)
A TV news anchorwoman accused of punching a New York police officer called Pennsylvania Gov. Ed Rendell shortly after her release from custody, according to a published report.
Alycia Lane, who was arrested in Manhattan early Sunday, wanted to tell Rendell her side of the story "because he is an opinion-maker and runs around in influential circles," Rendell spokesman Chuck Ardo told the Philadelphia Daily News.
Ardo said Lane did not ask Rendell to intervene on her behalf and that Rendell would not do so if she asked. Lane, 35, who co-anchors evening newscasts at KYW-TV, the CBS affiliate here, has started a scheduled vacation early so she can deal with her legal problems, her employer said. Lane faces a felony charge of assaulting a police officer. She had been scheduled to start a two-week vacation next week. Given the circumstances, a station spokeswoman said, Lane began that time off Monday and will remain off the air for now. "Right now we're just buying a little time," Joanne Calabria said Monday. "We're still kind of on a fact-finding mission."
Police say that a male officer was trying to get an intoxicated man to return to his taxi when Lane thrust a camera in his face. After a female officer tried to pull the camera away, Lane identified herself as a reporter, cursed at the officer and hit her in the face, according to a police affidavit. Lane, through her attorney, maintains she never hit anyone. She has pleaded not guilty.
Lane made national headlines in May after she e-mailed vacation pictures of herself and friends wearing bikinis to NFL Network anchor Rich Eisen. The shots were intercepted by Eisen's wife. Lane said the pictures were meant to be good fun between old friends.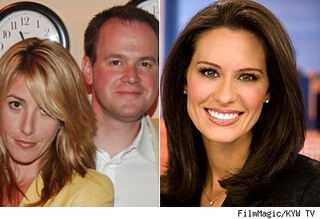 That's not how the wife felt, per the New York Post ~ Marie & Marlene.
Page Six, which reported May 1, 2007: FOXY Philadelphia TV reporter Alycia Lane is in hot water after a series of private e-mails and saucy snapshots she sent to handsome NFL Network anchorman Rich Eisen were intercepted by his wife.
Suzy Shuster, a sideline reporter for ABC's college football broadcasts, hit the roof when she discovered seven e-mails and several bikini photos sent by Lane - who works for CBS affiliate WKYW-TV and is recently divorced - to an account she and her husband, Eisen, share. That had Shuster firing off to Lane a scathing letter, a copy of which was obtained by Page Six.
A seething Shuster wrote: "Boy, do you look amazing in a bikini . . . congrats! Whatever you're doing, (Pilates? yoga?) keep doing it - it's working for you. Anyway, sorry but those seven e-mails you sent to my husband, Rich, well, oops, they came to the e-mail address we both use from time to time, but no worries, I'll forward the beach shots as well as the ones of you dancing with your friends on to his main address. Do you have it?"
She then provides her hubby's private e-mail, "since you surely are trying so hard to get his attention. I mean, what better way to get a guy's attention than with skin! Best - Suzy Shuster Eisen" (We would not recommend providing your husband's E-mail. ~ Marie & Marlene)
A source told Page Six: "Alycia is divorced and apparently looking for love again in all the wrong places. She sent [Eisen] an e-mail saying she was going to L.A., and she attached some risqué pictures just to whet his appetite. But, whoops, Rich is married to Suzy."
Both Lane and Eisen declined to comment, and Shuster did not respond to our e-mail.
Lane, a Long Island native, has had at least one awkward moment with a famous man before. Last year, she jetted to Monaco to interview Prince Albert on the 50th anniversary of Princess Grace's wedding and got invited to a private party at the palace.
In a photo seen by Page Six, the then-newlywed journo was seen cheek to cheek with Albert, her arms wrapped around him. In another, they're holding hands and dancing. Lane insisted there was no canoodling or risqué behavior.
---
Mixed doubles: Evert, Norman engaged
(AP) Associated Press, Paarl, South Africa, published December 14, 2007
(Our book addresses why "friends" can be a danger to your marriage and why so many marriages to affair partners are doomed (think guilt and resentment). ~ Marie & Marlene)
Chris Evert and Greg Norman are engaged, less than a year after divorces from longtime spouses. The couple got engaged Sunday night, said Tami Starr, director of Chris Evert Charities in Boca Raton, Fla. "They're not sure of a wedding date yet," Starr said. "They're both extremely happy they've found each other."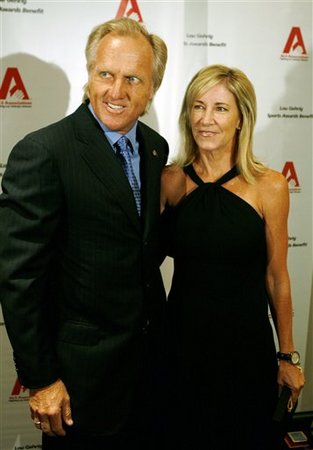 Evert, who won 18 Grand Slam singles titles, wore a large diamond on her ring finger at a news conference Friday to announce a new tennis center at Pearl Valley Golf Estates, which is hosting the South African Open. Norman is playing in the tournament.
Evert and former husband Andy Mill, a World Cup and Olympic skier from Colorado, divorced last December after 18 years of marriage. The 52-year-old tennis great previously was married to British tennis player John Lloyd.
In September, Norman reached a multimillion-dollar divorce settlement with his wife of 26 years, Laura Andrassy. The 52-year-old Australian won the British Open in 1986 and 1993. Copyright 2007 Associated Press. All right reserved. This material may not be published, broadcast, rewritten, or redistributed.
---
Baltimore Sun, by Liz Smith, published, December 7, 2007
"HOW WONDERFUL it is to meet a lady who's a gentleman!" That's what Frank Sinatra used to say about Angie Dickinson.
Frank's estimation of Angie is repeated in a lengthy Vanity Fair article on the actress, who is one of my all-time favorite people. (No offense to Katherine Heigl, but I'd have preferred Angie as the cover woman!) Her talents have always been underrated - her great sex appeal was a barrier, and she came up in the industry when the studio system was kaput. Nobody knew what to do with her unique look or her tough-but-tender persona. It took TV and Police Woman to put her over big-time. That, and her tense, poignant performance in Dressed to Kill.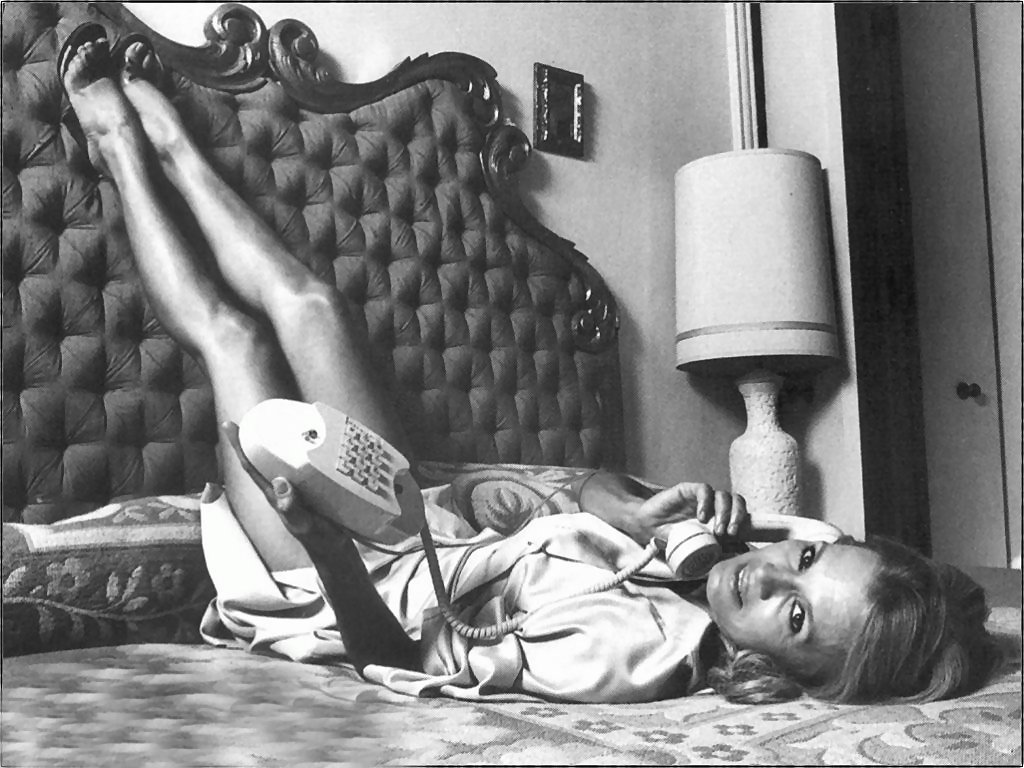 What has never been underrated is her sensitivity, earthy intelligence, loyalty, sense of humor and an innate modesty about her private life.
In this article, the famous tale of Angie returning the advance on her autobiography is retold. She did not wish to discuss her long-rumored friendship with President John F. Kennedy. She says now, of the rumor-accepted-as-fact, "It's like a broken wrist. It's an annoyance, but I have to live with it."
Well, the fact is, Angie did have an intimate relationship with JFK, and it is said, that of his many dalliances, he was most taken by her. But even during the affair, Angie Dickinson would never, ever have accepted Kennedy's invitation to sing "Happy Birthday" to him at that massive 1962 fundraiser at Madison Square Garden - Angie had a far more evolved sense of self than did Marilyn Monroe. Highly unlikely too that JFK would even have asked Angie to perform. (People today remember Monroe's breathy serenade as a "historic" moment. In fact it was rather sad and sordid and cruel - a desperate, misled woman, a reckless president. It was a dressed-up stag party.) Angie offers up her opinion of the Bill Clinton/Monica Lewinsky scandal. "He did so many great things for the country ... but if they can't find anything else, they go after the genitals!"
Angie recently endured the loss of her only child, Nikki, who suffered from Asperger Syndrome, an incurable neurological condition. Nikki committed suicide, after years of struggle. Angie was floored with grief, but she says now, "I miss Nikki so much, but it was her decision. The world was too harsh a place for her."
As for her career - which was generally on low burn to accommodate her ex-husband Burt Bacarach's work, or in caring for Nikki - Angie says, "I'm not saying I'll never act again. ... I don't care who you are, when you get past 50, it all changes. That's the way it is. It isn't wrong - we want to look at young, beautiful things."
I'd like to see the seasoned and still vital Angie onscreen again - dressed to kill, and acting up a storm.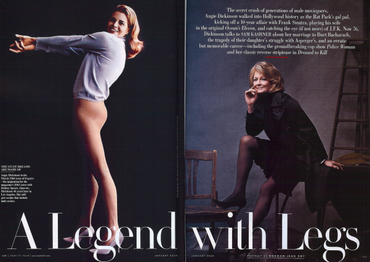 Marie & Marlene: For more on Ms. Dickinson, read the Vanity Fair article, A Legend with Legs. Per VF: After her breakthrough role in Rio Bravo, Angie Dickinson caught the eye of J.F.K., had an affair with Frank Sinatra, and married Burt Bacharach, while putting her stamp on movie and TV history. At 76, the brainy beauty tells almost all to Sam Kashner, including the tragedy of her daughter's struggle with Asperger's syndrome. Portrait by Norman Jean Roy.
---
NY Daily News, THE ASSOCIATED PRESS, published, November 17th 2007, 6:50 PM
After standing by her man as he served a federal prison sentence, admitted fathering a child with another woman and embarrassed her political campaign by telling the press she wasn't giving him enough attention, Jeanine Pirro is finally separating from her husband, a family spokesman said Saturday.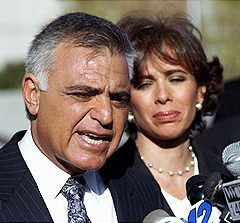 The split comes a year after Pirro lost her bid to become state attorney general, a campaign that was hounded by personal concerns as the couple's marriage troubles made headlines and Pirro acknowledged that she was under federal investigation for plotting to record her husband to catch him at a suspected affair.
"We have agreed to amicably separate," the couple, who have been married for more than three decades, said in a written statement released by spokesman Michael McKeon. Both have fallen out of the public spotlight recently. Pirro, once a frequent national television commentator, had been in talks to host a syndicated talk show. Her husband, Albert Pirro, was quietly reinstated as a lawyer in January, more than six years after he was disbarred for a tax fraud conviction.
"As always, our priority remains our two wonderful children. We ask that people respect our privacy," said the couple, who declined further comment.
In last year's races, Jeanine Pirro, a Republican, initially ran for U.S. Senate against incumbent Democrat Hillary Rodham Clinton but abandoned the bid after failing to attract much attention or money in four months. On the first day of that campaign, she was left stumbling for words for 32 seconds when a page of her announcement speech went missing.
As the former Westchester County district attorney turned her attention to the attorney general seat, she repeatedly fielded questions about her husband, a longtime lawyer-lobbyist and GOP fundraiser. He had served a federal prison sentence on tax fraud charges and admitted that while married to her he fathered a child with another woman.
In a New York magazine article that appeared less than a month before the election, Albert Pirro denied having a new affair but said he sought the company of other women because he was not getting enough attention from his wife, who once made People magazine's Most Beautiful People list.
"You need to have someone tell you that you're smart or you're good looking or you made a good business decision," he told the magazine. "Do I think that I would like to have more attention at home? Yeah, and, you know, if you're not going to get attention at home, I think you really need to make some decisions about your future."
He said he believed his wife's political career had hurt him financially and legally. Jeanine Pirro told the magazine she had no plans to seek a divorce, insisting she had loved her husband from the day they met. Albert Pirro, however, did not rule out a split. By February of this year, the pair had put their opulent Harrison, N.Y., and Florida homes up for sale for a total of more than $5 million, according to Internet property listings at the time.
---
Daily Mail, published 2nd November 2007
(As we note in our other book, If the Man You Love Was Abused, this story shows one of the possible consequences from a man's abuse as a boy, if not treated or addressed in some way. ~ Marie & Marlene)
One of the most stable relationships in the rock [world] has crumbled as Carlos Santana's wife has filed for divorce. Deborah Santana cited irreconcilable differences as her reason for wanting to dissolve the couple's 34-year union when she began legal proceedings last month. The split has come as a shock to the music industry as the Sanatanas' marriage was viewed as one of the most enduring in the business.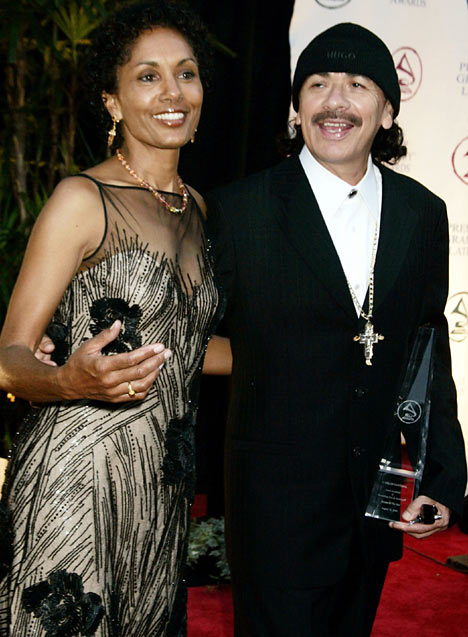 In a 2000 Rolling Stone magazine cover story, Carlos Santana said his wife was his spiritual, emotional and financial "guiding light," adding that he would "probably be a hobo" if she had not restructured his business life in 1994. He described himself as the "space cadet" in the relationship, and she said she had "trained" him to involve himself fully in their children's lives, take out the trash and drive the car pool when he was not touring.
However, in her 2005 memoir, "Space Between the Stars," his wife revealed he had been unfaithful. After its publication, Carlos Santana apologized and was trying to be a better man. He said: "I sincerely apologized to her and to my kids when I wasn't in my right mind and did something hurtful. It (the memoir) has helped me become more humble and to try harder to be the man she wants me to be."
Mexican-born Carlos Santana, famed for such 70s hits as "Black Magic Woman" and "Oye Como Va," has sold over 90 million albums worldwide during a career spanning 40 years. He won eight Grammy Awards for his hugely popular 1999 comeback album "Supernatural."
The couple, who have three children, created non-profit-organisation the Milagro Foundation which supports underprivileged children. They also announced plans to open three Mexican restaurants in San Francisco earlier this year. Neither have commented on their pending divorce with Carlos Santana's publicist, Michael Jensen, saying the case is "a private matter and there is no comment." ©2007 Associated Newspapers Ltd.
---
By Mike Celizic, TODAYShow.com contributor, published, Oct 29, 2007
(As we note in our book, this story shows the danger of a woman in the work place looking to escape her bad marriage, by taking your mate for herself! ~ Marie & Marlene)
The case of the millionaire Mississippi businessman slapped with a judgment of more than $750,000 for allegedly charming another man's wife away from him has become a federal case, to say the least. The lawyer who is appealing the case all the way to the U.S. Supreme Court says it's not really about a woman named Sandra Day who married and left a plumber named Johnny Valentine, but about an archaic "alienation of affection" statute that has no place in modern society.
Because she left her husband for her boss — Jerry Fitch — whom she eventually married, Mississippi courts have ruled that Day's ex-husband is entitled to $642,000 in compensatory damages and $112,500 in punitive damages. "I don't feel like we should have to pay," Jerry Fitch told TODAY's Natalie Morales on Monday. "No, ma'am, I sure don't." "It certainly is something that in today's society has no place," the Fitches' attorney, Shelby Duke Goza, added. "Sandra was trapped in a dead marriage, had no way to escape, low income ability. She just can't leave, and there are thousands of women who are no different than that and when they find some other outlet, there's a penalty there. That's not right."
Mississippi is one of just seven states — Utah, New Mexico, South Dakota, Illinois, Mississippi, North Carolina and Hawaii are the others — that still have an alienation of affection law on the books. The concept dates back centuries to when a wife was considered her husband's property. If another man has an affair with a married woman and captures her affections, the law gives the woman's husband the right to monetary compensation for his loss. The case dates back some nine years, to when Sandra Fitch, who was then married to Valentine, went to work for Jerry Fitch, who has an oil business and a real estate office in the little Mississippi town of Holly Springs. They fell in love and had an affair. Her husband suspected, but both denied it. But when she got pregnant, a paternity test proved the child — a daughter — was fathered by Fitch.
The couple divorced in 2002 and Sandra married Jerry Fitch, who had also been married when their affair began. In 2005, Valentine sued under the alienation of affection law, blaming Fitch for the loss of his wife. But Sandra Fitch says that she had long since fallen out of love with Valentine. "For six years, I dealt with gambling, and that was the end result of my marriage," she told Morales. "My affection was alienated by that, not Jerry. He didn't have anything to do with that." But Mississippi law was on Valentine's side, and after a trial, Valentine won a chunk of Fitch's fortune, which was estimated at $22 million by the [state] Supreme Court, which turned down his appeal.
Sandra Fitch said it's difficult living in a small town with a story that is everybody's business. And when the state supreme court recently turned down the appeal, it became the talk of the town again. "It's been hard," she admitted to Morales. "We have children, and they are affected by it, and we are. And it's really hard because it's unnecessary. We're trying to keep it as low-key as we can." Keeping it low-key may be tough. Besides appearing on the TODAY Show, Fitch has filed an appeal to the U.S. Supreme Court to take up the case. Morales observed that Sandra and Jerry Fitch committed adultery and asked if they saw anything wrong with what they did. "With Sandra and I?" Jerry Fitch asked. "Nothing wrong there."
---
Forbes.com article by Liz Moyer, published October 9, 2007
Study of 433 wealthy men and women reveals that, "variety and excitement were the most common reasons for an affair (64%), followed by lack of interest in spouse (48%), and feeling special or important (37%). Revenge was cited by 19% of the respondents."
---
published, September 14th 2007
Greg and Laura Norman: This divorce ranks first for two reasons: The sheer size of the settlement and the fact that another celebrity (tennis legend Chris Evert) was cast in the role of home-wrecker.
As a golfer, personality, course designer and entrepreneur, Norman amassed a fortune of $300-500 million during his marriage — depending on which media estimate you believe. Various media reports estimated Laura's settlement at between $100 million and $200 million.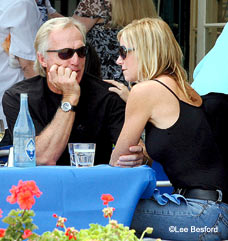 Once the Norman-Evert romance became media fodder, especially in Norman's native Australia, the proceedings got chippy. At one point, Laura, a former flight attendant, discarded some of Greg's golf mementos. Norman agreed to settle rather than endure questions about his relationship with Evert.
"There were some things said during this process that weren't true," Norman told reporters. "I never cut off her credit cards. Some damage was done with sensational headlines. I got questions from people. There's always two sides to a story."
Chris Evert and Andy Mill: To free herself for Norman, Evert pulled the plug on her 18-year marriage to former skiing champion Andy Mill. She agreed to pay her ex-hubby $7 million in cash and securities while gaining custody of their three children.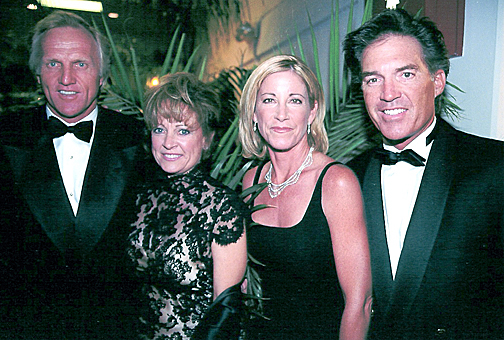 This was still a tough deal for Mill, who previously considered Norman one of his good friends. "These two people have really meant a lot to me for a long time," he told People. "At this point I just wish them great happiness."
---
NY Post, by Jennifer Fermino, additional reporting by Kate Sheehy published, August 29th 2007
WRONGED WIFE: Josabeth Fribourg [below], whose estranged husband, Paul, was named as the "other man" in the Paula Zahn marital battle, is in the midst of kicking her cheating spouse to the curb. She spoke to The Post yesterday outside her East Side home.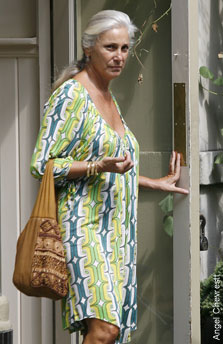 She's the anti-Paula Zahn, a Bohemian beauty with gray flowing hair, casual clothes and a sweet smile. But Josabeth Fribourg and plastique TV newscaster Zahn share one big thing in common - Fribourg's husband, Paul. In what has turned into a titillating, very public battle between Zahn and estranged hubby Richard Cohen, Josabeth Fribourg has been thrown into the spotlight that she seems to abhor, and Zahn would typically crave. Josabeth -- a classy, cultured native of Morocco -- was gentle but firm as she spoke to a reporter outside her stately Upper East Side townhouse yesterday. "I have four children. My family is very important to me. Leave me out of this," Josabeth, dressed in a billowy smock and toting an artsy but pricey pouch, said politely with a slight accent before strolling off. Her 53-year-old husband was nowhere in sight yesterday.
Likewise for Zahn, 51, and Cohen, 59, whose camps have been trading barbs recently over the former CNN anchor's "love diary" that detailed the allegedly steamy sex romps Cohen shared with Paul Fribourg for years -- even while he was playing best pal to Cohen. It's unclear when Josabeth Fribourg, 56, first learned of her husband's alleged straying, but it clearly tore apart their 20-year marriage. The couple is now in the middle of a divorce. Josabeth is the antithesis of the perfectly coifed, painfully put-together other woman in her life. She preferred to stay behind the scenes as her husband ran his family's multimillion-dollar food empire, remaining at home to raise their children. But she's no shrinking violet. She's a world traveler with a passion for art. She also clearly enjoys politics, albeit from the sidelines. Listing her occupation as "homemaker," Josabeth has contributed money to everyone from Republican presidential contender Mitt Romney this year to both President Bush and Democratic foe John Kerry in the last election. But her private world was torn apart when her husband's alleged affair surfaced.
---
By George Rush and Corky Siemaszko With Elizabeth Hays and Jose Martinez, DAILY NEWS STAFF WRITERS, published, August 28th 2007
Anchorwoman Paula Zahn told pals her sexless marriage to Richard Cohen drove her into the arms of another man. A friend of the former CNN anchor said the fire went out of the 20-year marriage long before Cohen learned of the affair last August when he found his wife's "lurid" sex diary. "She and Richard weren't having sex for some time," the friend said. Friends of the cuckolded Cohen tell a different story - that Zahn betrayed him when she "strayed" with his pal Paul Fribourg. "I trusted Paul and I trusted Paula," Cohen told a friend. "I had no inkling there was a long-term romance."
The ugly new charges and countercharges came as the celebrity marriage continued to implode - and after the Daily News revealed how Cohen found a diary illustrated with photos in which Zahn laid bare her alleged affair with the married ContiGroup CEO. "Richard felt like he'd been stabbed in the heart twice when he found out his wife had been cheating with one of his best friends," one of the tycoon's pals said yesterday. "They played golf and tennis together. Their families skied together in Aspen." Cohen's ally called the diary "shocking" and "lurid." Zahn's side said the handwritten diary was more about love than lust.
"You know how it is when you're first in love," a friend said. "She was euphoric. She was like a 16-year-old schoolgirl." Neither Cohen, 59, a multimillionaire developer, nor Zahn, 51, has formally filed for divorce. Zahn has moved out of the Fifth Ave. co-op she and Cohen shared with their three children. Last week, Zahn filed suit in Manhattan Supreme Court alleging Cohen mismanaged the $25 million she invested with him. She also charged he was trying to gain "some sort of tactical advantage" amid the breakup by withholding information on the money he managed. "Our suit is very simple," said Stanley Arkin, who is working with lawyer William Zabel on Zahn's legal team. "We ask them to give us the facts. As to everything else, it is whiney baloney."
Cohen has denied his wife's accusations. A friend of Cohen said Zahn is trying to even the score and "undermine their prenup" with claims that he withheld sex. It's "the dumbest thing he'd ever heard," the friend said. "He certainly wasn't withholding sex. She was the one getting sex on the outside. It was not an issue." A Zahn friend said she could mount a challenge to their prenup because "Richard told her he was ripping up the prenup when they had their first child." Fribourg has not spoken publicly about his alleged romance with Zahn, which has ripped apart his marriage to wife, Josabeth. They own an estate in Greenwich, Conn., near Cohen and Zahn's spread.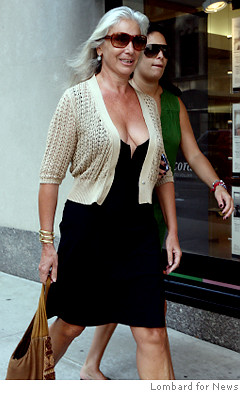 Cohen, co-founder of Boston-based Capital Properties, met Zahn in the early 1980s when she worked at a local TV station in Boston. They married in 1987 and have three children: daughter Haley, 17, and sons Jared, 13, and Austin, 10. Zahn's friends claim Cohen was infuriated when he found the diary and confronted her with the alleged evidence of her betrayal. "Apparently, that was some scene," said Zahn's pal, who said Cohen also showed the diary to their kids. "He's been trying to use it as leverage against her." A source close to Cohen called claims that he showed the diary to the children "totally false."
If Cohen and Zahn wind up in divorce court, the celebrated battle over the eviction of two red-tailed hawks from their East Side building could be revisited. Cohen was the co-op board chief when Pale Male and Lola were briefly ousted from their nest in the building - drawing the ire of New Yorkers. "Paula got all the abuse," a friend said of Zahn. "He didn't seem to care." The hullabaloo over the hawks "has nothing to do with their split," a friend of Cohen's said. "Neither of them was an enemy of Pale Male," he said. "This diversion is for the birds."
---
LONDON (AP), published 26 August 2007
Prince Charles' wife announced Sunday that she will not attend a service marking the 10th anniversary of the death of Princess Diana, after criticism that her presence would be inappropriate. Camilla, Duchess of Cornwall, had accepted an invitation from Charles and his sons, Princes William and Harry, to accompany them to the service Friday at the Guards' Chapel in London's Wellington Barracks. Some criticized the decision, since Camilla had an affair with Charles when he was still married to Diana.
"I'm very touched to have been invited by Prince William and Prince Harry to attend the thanksgiving service for their mother Diana, Princess of Wales," the duchess said in a statement. "I accepted and wanted to support them. However, on reflection I believe my attendance could divert attention from the purpose of the occasion which is to focus on the life and service of Diana. I'm grateful to my husband, William and Harry for supporting my decision."
Buckingham Palace said Queen Elizabeth II also supported this decision. Hard-core Diana fans, who accuse Camilla of destroying Diana's marriage, were relieved. "I couldn't be happier if I'd won the lottery," said Joan Berry, secretary of the Diana Appreciation Society. Diana, known for her charity work and tabloid celebrity, died in a Paris car crash with her boyfriend, Dodi Fayed, on Aug. 31, 1997. Diana married Charles in 1981 in a ceremony at St. Paul's Cathedral televised around the world. They had two sons, William and Harry, but divorced in 1996 after admissions of adultery on both sides. Friday's anniversary will be marked with a nationally televised memorial service and specially commissioned prayers.
---
By Senay Boztas, published 19 August 2007
Germaine Greer launched an astonishing attack on the late Princess of Wales at the Edinburgh International Book Festival yesterday, labelling her a "devious moron". Greer was supposed to be speaking about her contentious new history book about Anne Hathaway, Shakespeare's Wife, due to be published at the beginning of September.
But while she described Hathaway as Shakespeare's "angel", she used the occasion to express her view that Diana was no angel at all. "I have come to the conclusion that she was a devious moron," said the Australian academic and broadcaster. "One of the things I have been puzzled by is why her whole life was such a mess. She made a mess of being Princess of Wales, but that is fine because the job is not do-able. It is an insane job and, in history, all but one of the Princesses of Wales have come to a sticky end – stickier than hers.
"I am also interested in why she couldn't manage life after being HRH. It still puzzles me that she does that no-no thing: she sleeps with married men. If you do that in Hello! magazine, you are beyond contempt. But she does it with Will Carling, we forgive her somehow – even though his marriage is in a very delicate state and it doesn't seem to have helped at all.
"Then she does it with Oliver Hoare, the antiques dealer, who eventually realises he is in deep shit and goes back to his wife. She makes 300 nuisance calls to his home phone number. And this is the angel that people want to crown." Never one to avoid controversy, Greer also suggested that Shakespeare died from syphilis, and that his bones, which could show the signs of the disease, will never be found. "The likely cause of Shakespeare's death was syphilis, contracted when he was a young man," she said.
Although she called him the "man of the millennium" for his writing, she described his long poem "Venus and Adonis" as "the housewives' porn that every lady kept by the bedside", and which was a torment for his wife's reputation. Greer criticised generations of "demeaning and mean-spirited" male academics who have suggested that Shakespeare was forced to marry a"complete slag... the town bike" when she became pregnant, even though Hathaway was physically repellent and eight years older than him.
She singled out the critic Stephen Greenblatt for underestimating the role of this "silent woman of Shakespeare". Instead, Greer proposed that the marriage was for love. Greer also believes that Hathaway was Shakespeare's business angel, paying for his collection of plays to be published and preserved, securing his place in literary history. "I argue that the only way the folio was ever published is that somebody paid for it. There was an angel, somebody who was determined that the work that cost so much for her would not disappear into the morgue of time. I think she gave the money.
"It is liberating to consider the possibility that a wife made a material contribution to the greatness of her husband. Why has it never been countenanced? All the literary wives you have heard of were considered to be frail, faulty and not worthy. I say the wives of great authors are essential to their success, whether the academic establishment has realised it or not, and we might as well begin at the top, with the wife of the man of the millennium." © 2007 Independent News and Media Limited.
---
Associated Press, August 3, 2007; Washington Post, Page C04
A Spanish-language newscaster who had an affair with the mayor of Los Angeles has been suspended from her job for two months for violating conflict-of-interest policies, her network said Thursday. Mirthala Salinas was having a relationship with Mayor Antonio Villaraigosa when she announced the news of his separation from his wife of 20 years on Telemundo station KVEA, Channel 52. Salinas was suspended without pay. The findings of the NBC Universal cable channel's three-week investigation were reported on its national newscast. "Her reading of copy during newscasts . . . regarding the Mayor's separation from his wife was a flagrant violation of these guidelines," network President Don Browne wrote in a memo to employees.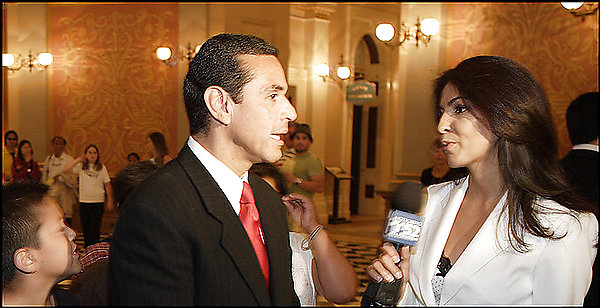 Messages left with Telemundo and Salinas's representative were not immediately returned. Salinas, 35, was placed on leave July 5 while her employer investigated whether her romantic relationship with Villaraigosa breached journalistic ethics. She has said station managers knew of her relationship with the mayor before she announced the news of his breakup. Salinas led into the story by saying, "The rumors were true."
Photo Credit: By Robert Durell -- Los Angeles Times Via Associated Press Related Article: Affair With Mayor Prompts Suspension of Newscaster, page C04
---
New York Magazine, by Lloyd Grove (Wren Abbott contributed research to this article), July 23, 2007.
(Read all about "Judi," who met the Mayor while he was married and later married him herself. Now this "Other Woman" wants to be First Lady. See for yourself. ~ Marlene & Marie)
If everything works out, it may be the last great political deal brokered in a smoke-filled room. On a balmy June night in 1999, Judith Nathan was having a drink at Club Macanudo, a cigar bar on East 63rd Street. Her companion was Dr. Burt Meyers, an infectious-disease specialist at Mount Sinai hospital and one of the many physicians she had befriended as a hospital sales rep for Bristol-Myers Squibb. Nathan, then 44, was at ease amid the upmarket manliness, a woman of the world among many middle-aged men of the world, including, that night, the mayor of the City of New York, Rudolph Giuliani.
Club Mac, with its wooden Indians, leather sofas, and "state-of-the-art ventilation system," had become a well-known late-night haunt for the mayor. Perhaps it was also something of an escape: He was still living at Gracie Mansion with his second wife, television personality Donna Hanover. Here, he could kick back with a tumbler of Glenlivet and relax with City Hall aides and political associates. Sometimes a woman would approach him, interrupting his cigar-smoking to express her admiration, maybe get an autograph. Perhaps flirt mildly. So it wasn't surprising when Nathan, a pretty woman with rich brown hair, came over and said hello.
This story of how they met had to be pieced together from accounts by Giuliani intimates because the couple refuses to talk about it [but Judi's game to discuss it ~ M.B.]. Even during their gauzy TV interview this past March with Barbara Walters—who was a guest at their wedding in 2003—which was a custom-made moment to safely peddle this type of personal anecdotage, Judith demurred. "That's one thing I would kind of like to keep private," she said, allowing only that "it was by accident."
A few days after their fateful meeting, the mayor had an aide retrieve Judith's business card from his desk drawer at City Hall, then he phoned and asked her out. They took in a movie at Loews Kips Bay, The General's Daughter, which is about a cover-up at West Point. At dinner afterward, at Peter Luger Steakhouse, they were chaperoned by a couple of City Hall staffers.
Later, on the occasion of their marriage, Giuliani would tell the Times' "Vows" columnist that "our attraction was instantaneous. There was something mystical about the feeling." He evoked an appropriately operatic moment from one of his favorite novels, Mario Puzo's The Godfather, when Michael Corleone spotted his Sicilian bride, Apollonia. "It was," Rudy said, "the thunderbolt."
When she met the mayor at Club Macanudo, Judith Nathan couldn't have imagined the complexity of the relationship she was getting into. At that point, the considerable successes of Rudy's mayoralty were in the past and his future was uncertain. He may have looked like a catch, but he certainly did not look like a potential president. There was talk of a Senate run. Now, in a Cinderella-like reversal, Judith Giuliani, with her husband's help, is auditioning for a vast and contradictory role: romantic partner of America's Mayor, wholesome third wife, definer of gender roles, and emblem of respectable femininity for an entire nation. So far, her attempts to play this impossible part have been riveting, if sometimes comic...Copyright © 2007, New York Magazine Holdings LLC. All Rights Reserved.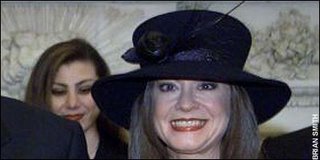 For more on Judi, check out:The 2008 Election, Giuliani's Princess Bride, in Vanity Fair Magazine, by Judy Bachrach, September 2007.
---
New York Magazine, by Seth Stevenson, July 16, 2007.
(Read all about "Laurie," who called upon the then-married, Time Warner CEO and then, became his second wife. ~ This is the kind of woman our book was written to warn you of, and take action against. ~ Marlene & Marie)
...Gerald Levin was once chairman and CEO of Time Warner. He oversaw 90,000 employees. He served as a director of the New York Stock Exchange and was a member of the Trilateral Commission and the Council on Foreign Relations. He was perhaps the most powerful media executive in the world.
Today, Levin is presiding director of Moonview Sanctuary, a "holistic healing institute" with a full-time staff of fewer than twenty people. Just down the hall from us is a yoga room with an extremely large gong. Another room holds tribal hand drums, Tibetan bowls, and traditional gamelan instruments—all used in ceremonial "men's circles" led by Moonview clinicians. There's a massage and acupuncture room. A chiropractic room. A room where Moonview clients can work on their "journaling." In the hallway is a marble Buddha statue, posed in a mudra representing service and protection. The statue was a gift from Levin to his wife, Laurie, who is Moonview's founder and CEO.
Levin first met Dr. Laurie Perlman in June 2002. Musing on his future plans in a CNN interview with Lou Dobbs, Levin had said he hoped to bring "the poetry" back into his life. Laurie saw the quote, and its delicate sentiment struck a chord with her. She called Levin to request a meeting, and for reasons he still can't fully explain, he gave her half an hour the next Monday morning.
"I don't know why I was compelled to meet with her," he says between slow, careful bites of tofu. "It seemed like it was coming so far out of left field. At first I thought she was asking for an investment, and that would have turned me off immediately. But she was smart enough not to say that—even if she had that in mind."
Levin, 68, sports an off-and-on gray beard and a California tan these days, but back then, he was a pale, clean-shaven executive. About a month prior to his meeting with Laurie, he'd retired from Time Warner, after ten years as its CEO, in the wake of a devastating misstep: the ill-fated merger with AOL, which he'd eagerly spearheaded and which had essentially vaporized $200 billion of shareholder money. The stock was down 70 percent since the deal. Exiled to a temporary office, he was preparing to depart in shame from the company he'd worked at for over 30 years and ran for ten.
"You could hunt elk in this office, it was so big," says Laurie. Laurie is a blonde 54-year-old. She's quick to smile, and there's something girlish in the way she flops down for a chat on the overstuffed couch in her office. ... Why did she feel that Gerald Levin might help her launch a boutique wellness clinic? "Because who better would understand the need to have a safe place to take a tumble in private," she says.
To prepare for her meeting with Levin, Laurie consulted an unusual confidant. "Before we met, I Googled Jerry's info and started to pull up the articles around Jonathan and his murder," she says. In 1997, Levin experienced the worst tragedy imaginable for a parent. His 31-year-old son, Jonathan, who'd chosen to work as an English teacher at a public high school in the Bronx, was brutally robbed, tortured, and killed in his Upper West Side apartment by a former student and an accomplice. They bound Jonathan with duct tape, cut him with a knife until he revealed his ATM number, went outside to withdraw $800 from his bank account, then returned and shot him in the head.
"I meditated and got myself into a place where I was very relaxed and awake," says Laurie. "You remain empty to receive the answer, and you see what comes through. And Jon talked to me. I thought he was preparing me for the meeting. But he was also preparing me for Jerry's and my relationship, though I didn't know it at the time."
She did not mention to Levin, at this initial meeting, that she'd spoken with his dead son. But six months later, the two of them went to dinner at Michael's, and the mood became more intimate. Laurie decided this was a good moment to discuss what she calls "soul communion."
"Normally, it would have offended me," says Levin. "Particularly when anyone mentioned my son, I would just shut down. But without knowing why, from an emotional point of view, I received this as being real. It was so far beyond my own belief system, yet in an intuitive flash it seemed so real to me and so believable. So I was drawn to that."
He was drawn to Laurie too. It was on this night that Levin says he first realized they would be "partners in love." They began to talk on the phone eight hours a day. Soon after (though he says his marriage had long been dying of its own accord), Levin asked his wife of 32 years for a divorce....
I've sensed only genuine love and devotion between them, but it's clear to me that their relationship could be construed by some as distasteful, or perhaps even sinister. Cast in the coldest, most cynical terms: Laurie sought a meeting with a wealthy man and, after laying a bit of groundwork, told him she'd communicated with his tragically murdered son. The wealthy man believed—no doubt wanted to believe—in her supernatural tale, and within months, he became both her lover and her business partner. Copyright © 2007, New York Magazine Holdings LLC. All Rights Reserved.
---
NYT by Adam Nossiter, July 11, 2007
From the beginning of his political career 16 years ago, Senator David Vitter has been known for efforts to plant himself on the moral high ground, challenging the ethics of other Louisiana politicians, decrying same-sex marriage and depicting himself as a clean-as-a-whistle champion of family values. "I'm a conservative who opposes radically redefining marriage, the most important social institution in human history," Mr. Vitter, a 46-year-old Republican, wrote in a letter last year to The Times-Picayune, the New Orleans daily.
That self-created image, a political winner here since 1991, when Mr. Vitter joined the Louisiana House, took a tumble Monday with the disclosure that his phone number was among those on a list of client numbers kept by Deborah Jeane Palfrey, the so-called D.C. Madam, who is accused of running a prostitution ring in Washington. Mr. Vitter admitted Monday night to a "very serious sin in my past," and talk radio and coffee shops here buzzed all day Tuesday with the front-page news, even as the senator remained out of sight. But the fallout was far bigger than local: his admission is also a blow to the presidential campaign of Rudolph W. Giuliani, for whom he is Southern campaign chairman.
Mr. Vitter, an uncompromising foe of abortion, same-sex marriage and the immigration compromise that died in the Senate in June, was supposed to be Mr. Giuliani's ambassador to a region with large numbers of social conservatives suspicious of the candidate's moderate views. His viability in that role is now in doubt with his acknowledgment that his number was already in the phone records of Pamela Martin & Associates before he ran for the Senate in 2004.
The woman at the head of the company, Ms. Palfrey, contends that it was a legitimate escort service before being shut down last year. Federal prosecutors say it was a prostitution ring, and a State Department official, Randall L. Tobias, resigned in April with the disclosure that he had been a client. But Mr. Vitter is the first member of Congress to admit an association. Hustler magazine said Tuesday that it had uncovered that link and that the senator's public admission had resulted from its subsequent call to his office. In New Orleans, meanwhile, the madam of a high-priced brothel that was shut down by federal authorities in 2002 told a local television station, WDSU, that Mr. Vitter was one of her clients in the 1990s. The woman, Jeanette Maier, called him "one of the nicest and most honorable men I've ever met." Mr. Vitter's office did not immediately return a call for comment Tuesday night...
Five years ago Mr. Vitter was linked by a New Orleans weekly to a prostitute in the French Quarter, an association he angrily denied. But by then his position as a self-proclaimed scourge of lax ethics was well established. In the early 1990s, he quickly established himself as a champion of political morality in the Legislature, taking on Governor Edwards and his associates, firing off ethics complaints, battling casinos and pressing for term limits that this year finally ousted the largely Democratic legislative old guard. Copyright 2007 The New York Times Company.
---
Senator's Number on Escort Service List
AP by Douglass K. Daniel, July 9, 2007
(AP) Sen. David Vitter, R-La., speaks speaks at a news conference at the Port of New Orleans, in this Wednesday, March 30, 2005 file photo in New Orleans. Vitter apologized Monday night, July 9, 2007 for "a very serious sin in my past" after his telephone number appeared among those associated with an escort service operated by the so-called "D.C. Madam."
WASHINGTON (AP) - Louisiana Sen. David Vitter, whose telephone number was disclosed by the so-called "D.C. Madam" accused of running a prostitution ring, says he is sorry for a "serious sin" and that he has already made peace with his wife. "This was a very serious sin in my past for which I am, of course, completely responsible," Vitter said Monday in a printed statement. "Several years ago, I asked for and received forgiveness from God and my wife in confession and marriage counseling. Out of respect for my family, I will keep my discussion of the matter there - with God and them. But I certainly offer my deep and sincere apologies to all I have disappointed and let down in any way."
The Republican senator's spokesman, Joel Digrado, confirmed the statement Monday evening in an e-mail to The Associated Press. It said his telephone number was on old phone records of Pamela Martin and Associates before he ran for the Senate. Deborah Jeane Palfrey is accused by federal prosecutors of racketeering by running a prostitution ring that netted more than $2 million over 13 years, beginning in 1993. She contends that her escort service, Pamela Martin and Associates, was a legitimate business.
Louisiana's Democratic governor, Kathleen Blanco, issued a statement saying she was "disappointed" over the revelation and hoped it wouldn't hurt the state's efforts to secure federal funding for rebuilding homes damaged by hurricanes Katrina and Rita. "I will travel to Washington in the coming weeks to continue my conversations with congressional leaders, and I hope this scandal will not lessen their critical support of our recovery," Blanco said. A Harvard graduate and Rhodes scholar, the 46-year-old Vitter was elected to his current office in 2004, becoming the first Republican from Louisiana elected to the Senate since Reconstruction. He represented Louisiana's 1st Congressional District in the House from 1999 to 2004.
In the House, Vitter succeeded GOP Rep. Robert Livingston, who was in line to replace Newt Gingrich as speaker until Livingston admitted to extramarital affairs and quit Congress. Livingston had been a critic of President Clinton, calling on him to resign over his affair with Monica Lewinsky. Vitter and his wife, Wendy, live in Metairie, La., with their four children. In 2000, Wendy Vitter told Newhouse News Service she could not be as forgiving as Livingston's wife or Hillary Clinton. "I'm a lot more like Lorena Bobbitt than Hillary," she said. "If he does something like that, I'm walking away with one thing, and it's not alimony, trust me." Lorena Bobbitt, in a 1993 case that drew worldwide attention, cut-off her husband's penis during an argument.
...Until Vitter's admission, the most prominent client of Palfrey's to emerge was senior State Department official Randall Tobias, who resigned from his post in April after ABC confronted him about his use of the service. Palfrey's Web site contains several pages phone records, but no names, dating from August 1994 to August 2006. Palfrey wrote on the Web site that she believed a disk containing the records had been pirated, and said she was posting the records "to thwart any possible distorted version and to ensure the integrity of the information." Palfrey revealed details of her escort service on ABC's news magazine "20/20" on May 4. At the time, ABC said it could not link any information in records from 2002 to 2006, provided by Palfrey, to members of Congress or White House officials but did find links to prominent business executives, NASA officials and at least five military officers. (Associated Press writer Libby Quaid contributed to this report.)
---
FoxNews, by Roger Friedman, April 9, 2007
CNN's Paula Zahn, if you haven't heard, is in the middle of a messy divorce. Her wealthy husband, a Boston real-estate developer named Richard Cohen, cut her loose when he discovered her affair with another man. Well, Paul J. Fribourg is not just your average "other guy." He is a [married--M.B.] multibillionaire. Strangely, little has been written about him over the years. And yet, Fribourg is a name worth knowing. His company, ContiGroup, was known as Continental Grain for many decades. They are one of the international leaders in global agribusiness, controlling most pork and poultry production and cattle feeding in the world. The whole world. And they've been doing this for more than 150 years.
Indeed, the Belgian-bred Fribourgs are one of the wealthiest families in the world. Paul Fribourg, now 53, took over the company a dozen years ago from his father, Michel. Michel Fribourg died in 2001 at age 87. In his New York Times obit, he was described as "the premier figure in world trade in food of the 20th century." We are not talking Donald Trump here. This is a world of money by far unknown to you and me, hence, the secrecy. Until this business with Paula Zahn, the Fribourgs were notable for never getting any publicity. But they would be a great subject for a multigenerational saga and movie. Michel Fribourg's grandfather, Simon, started the company in Belgium in 1813. He moved it to Paris, but escaped World War II by moving again to America in 1940. Simon's son, Jules, took over and made even more money. But it was Michel who opened up trade in 1964 with the Soviet Union. He convinced Richard Nixon to let him do more business there in 1972 and sold the Russians 10 billion tons of grain.
Nevertheless, Paul Fribourg is a huge Democratic donor, giving as much as he can — hundreds of thousands of dollars according to public records — to every Democratic candidate, including New York senators Hillary Clinton and Charles Schumer. He also gave $37,000 to the campaign of New York's new governor, Eliot Spitzer. In the 2006 cycle, the Fribourgs (including Paul, wife Josabeth and brother Charles) donated $81,000 to Democratic causes, including $45,000 to the Democratic Senatorial Campaign Committee.
The Fribourgs are also charitable, giving away about $1 million a year to various groups. And while they are wealthy beyond almost definition, it's unclear how Paul Fribourg has fared as head of the company. He advised his father to sell the grain operation to their competitor, Cargill, in 1994. According to the New York Times, his father only agreed when he was assured his employees would be safe. When Paul Fribourg took over completely in 1996, and he immediately ramped up a division called ContiFinancial, which dealt in subprime lending on mortgages and leases.
Within two years there was trouble, and by the end of 1999 ContiFinancial — with no mention of Fribourg attached — had filed for bankruptcy. They claimed more than $1.3 billion in debt, including $700,000 to Norwest Bank of Minnesota. They wound up laying off 2,700 employees before disappearing entirely in 2001. Fribourg now runs ContiGroup, a spin-off of the original company. He sits on the boards of Vivendi Universal, The Public Theater and Loews Corporation. He and his Moroccan-born wife, Josabeth, live in a palatial townhouse near the Guggenheim Museum with their seven children.
On the ContiGroup's Web site, Fribourg concludes his CEO's letter saying that he's excited about: "forging strong partnerships and moving ahead in promising new directions." Will they be with Paula Zahn? The betting money says no, a divorce would come at an astronomical price. But then again stranger things have happened. Tomorrow: A quiz! (Just kidding!) Copyright © 2007, FoxNews. All Rights Reserved.
---
Newsweek Magazine, by Johnnie L. Roberts, Feb. 5, 2007
The audience for business television skews heavily toward testosterone: traders, CEOs and other "Masters of the Universe," as author Tom Wolfe dubbed Wall Street's upper crust in "The Bonfire of the Vanities." How else to explain why the tabloid sobriquet "Money Honey" has stuck with CNBC's Maria Bartiromo, the most famous face of business news for the past decade? Few are more aware of the gender dynamics of Wall Street than Bartiromo. "I'm in a man's business and around different men all the time," Bartiromo told Success magazine last fall. Fortunately, her own Master of the Universe—husband and hedge-fund manager Jonathan Steinberg—"is very secure and confident."
Bartiromo and her spouse are going to need all the security and confidence they can muster, now that the reporter herself has become a story. The CNBC star is at the center of a drama involving the most powerful men at Citigroup, the world's largest, but scandal-plagued, financial services giant. At issue is Bartiromo's relationship with [the married--M.B.] Todd Thomson, 45, chief executive of Citigroup's $1.4 trillion wealth-management unit, who resigned abruptly last week "to pursue other interests, effective immediately," as Citigroup diplomatically put it. The mainstream press is questioning Bartiromo's journalistic ethics, while bloggers are insinuating that the Banker and the Anchor may have had more than just professional ties. Bartiromo, 39, declined to be interviewed, and Thomson couldn't be reached. Meantime, CNBC is standing by its star, saying "her record and reporting speak for themselves."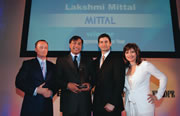 Central to the flap is allegedly lavish spending by Thomson—particularly involving Bartiromo—despite warnings from his boss, Citigroup CEO Charles Prince. The item that has everyone clucking: a transpacific flight on a Citigroup jet that Thomson and Bartiromo shared in November—alone. Following a company function in China, reported The Wall Street Journal, Thomson ditched his colleagues and boarded the plane back to New York with Bartiromo, leaving his co-workers to fly commercial. Thomson also committed Citigroup to a $5 million cosponsorship of a Sundance Channel series on the environment, with Bartiromo as a host. The journalist played a pivotal, but until now unknown, role in facilitating the TV show's financing, say people close to Bartiromo who didn't want to be named, citing a CNBC directive against commenting.
CNBC, owned by General Electric, says it permitted Bartiromo to fly Air Citigroup and paid for the flight. And Bartiromo routinely appears at corporate and charitable functions for various companies—some 46 in all last year, including three before Citigroup audiences. Bartiromo is one of the industry's "most prolific and well-respected financial journalists," CNBC said, adding that her travel was "company-related and approved, and involved legitimate business assignments."
Bartiromo, the Brooklyn-born daughter of a restaurant owner, made her debut before CNBC cameras in 1993. Her flair for snaring interviews with captains of industry like Thomson helped solidify her stardom. He seemed to be a Bartiromo fixture, both as an interview subject and a professional admirer. While he was CFO, Thomson appeared on her show to discuss Citigroup's earnings. She quoted him in her Reader's Digest column. In 2004, she joined him on the Wharton Leadership Advisory Board after he spearheaded its formation at the business school. This past October, Thomson praised Bartiromo's talent to Success magazine. "She truly understands business and brings clarity and authenticity to the table," he said.
But in recent months their relationship has become an issue at Citigroup. The high-flying Thomson was already raising eyebrows because of his spending. His 50th-floor office, with its vistas of Central Park, and its working fireplace and fish tank, had been dubbed the "Todd Mahal." He'd been spotted dining with Bartiromo at one of New York's hottest restaurants. The China flight last fall was said to have severely aggravated Thomson's boss, Prince. He was warned to cool it. According to The New York Times, Citigroup officials phoned CNBC to banish Bartiromo from the company's jets. (CNBC told the paper there was no such call.) Thomson apparently sealed his fate with the Sundance cosponsorship. The episode began last April in Atlanta, with a meeting between Bartiromo and Larry Aidem, CEO of the Sundance Channel, which is partly owned by CNBC's parent, GE. According to Bartiromo associates, Aidem invited her to participate in "The Green," a series that Sundance was planning. But there was a stumbling block: funding. "I know someone: Todd Thomson," she is said to have told Aidem, adding that Citigroup is a large CNBC advertiser. With Bartiromo's referral, the deal was clinched: a $5 million commitment by Smith Barney, a Citigroup unit reporting to Thomson.
Citigroup's Prince is said to have learned of it and Bartiromo's hosting role just this January, as Citigroup and the Sundance Channel were preparing press releases about the series and the sponsorship. He exploded. Thomson, according to the Bartiromo associate, placed a frantic phone call to her, telling her that the China flight had ignited an internal backlash and that the Sundance sponsorship might be a casualty. Bartiromo then called the Sundance Channel to drop out of the program, the associate said. The maneuverings must have been frantic: while Sundance's press release on Jan. 17 mentioned Bartiromo as a host, her name was nowhere to be found in Citigroup's release about the show. The channel later corrected its initial press release to expunge Bartiromo. "The network had decided to go in another direction and the first version of the release got by us," a Sundance spokeswoman told NEWSWEEK. But Bartiromo's fans can take heart—CNBC isn't following suit.
© 2007 Newsweek, Inc.
---
New York Magazine, by Meryl Gordon, published, April 26, 1999
(Make sure your husband has a hotel room when he travels on business. Staying with a woman "friend of a friend" can cost your marriage. M.B.).
...They married in 1981, and the following year, Hitchens, who had been writing frequently for The Nation, accepted the magazine's offer to become Washington correspondent. "Christopher had to get out of Britain to be free," says Martin Amis. "There were too many depressing memories and connections." Meleagrou, then attending the London School of Economics, joined Hitchens in D.C. after she graduated, working first for a Greek-American newspaper and then for a Greek-American lobby. "Eleni was greatly adored," says Hamilton Fish. "She was exotic, and Christopher made her more so by describing her as a terrorist -- his terrorist."
Friends who visited their Capitol Hill townhouse remember it as an exciting, chaotic environment, with constant impromptu dinners featuring visiting dignitaries, politicians, and novelists. In 1984, the couple's first child, Alexander, was born. Hitchens said he had an odd thought in the delivery room: "When I saw my son being born, I thought that the part of my funeral director had just been cast."
Around that time, Hitchens met Blumenthal, then a journalist writing regularly for The New Republic, at a foreign-policy seminar, and they became fast friends. "We would conspire together," Hitchens says. After Hitchens discovered his Jewish roots and that one branch of his family had been named Blumenthal, the two men began to affectionately refer to themselves as "cousins."
Although his journalism career was flourishing, by 1989, Hitchens was restless, unhappy at home. "Eleni became shut in, she lost her spontaneity," Hitchens says. "I felt guilty about that, that it was my fault. I resented it, too." They argued over having a second child; Meleagrou nonetheless became pregnant. Hitchens adores his daughter Sophia, but at the time he felt trapped.
What better reason to leave town than to go on a book tour? Hill & Wang had just published a collection of Hitchens's work, Prepared for the Worst, and publisher Steve Wasserman, now the editor of The Los Angeles Times Book Review, offered to fly Hitchens out to L.A. to appear on a panel. Since the publisher's budget didn't allow for a hotel room, Wasserman arranged for Hitchens to stay with a longtime friend, Carol Blue, a journalist and screenwriter.
Hitchens and Blue apparently took one look at each other at the LAX baggage-claim area, and that was it. ("I was just glad such a person existed in the world," says Blue, an intense, stylish woman who still speaks of her husband with almost Nancy Reagan-esque adoration.) Hitchens returned to Washington and told his wife he wanted out of the marriage, which, given her pregnancy, was a caddish thing to do. "Christopher knew he was doing something unforgivable," says Elise O'Shaughnessy, a Vanity Fair editor and Hitchens confidante, "but he couldn't not do it."
Ask Eleni Meleagrou about this episode of her life, and she speaks in a sadder-but-wiser tone. "Christopher fell in love with Carol, and he expected me to understand. 'Don't you see? I'm really in love,' he'd say, and my reaction was, 'Bug off.' He told me he was doing me a favor. Maybe now I think he did."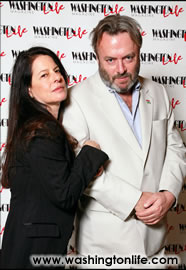 She pauses to explain, "His life is such that you either fall in line or you're left behind. I didn't want to follow anymore." After the divorce, she went to law school, and two years ago she moved with the two children from Washington to London. ("I could have fought it," Hitchens says, "but I thought if Eleni was happy, the children would be happy.") The couple seems to have worked out a remarkably amicable arrangement; the children, just in town for Easter break, get along well with their stepsister, Antonia, Hitchens and Blue's 5-year-old daughter...[From page 6 of a 7 page article.] Copyright © 1999, New York Magazine Holdings LLC. All Rights Reserved.
---
(Our book points out, and explains why, you should beware of any friends who show an interest in your husband, particularly if they were an item before you two were spouses. M.B.)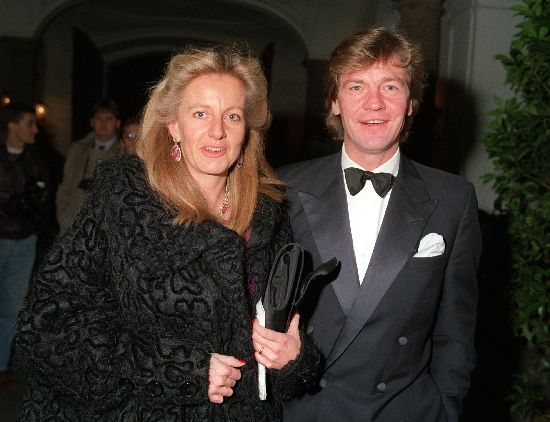 Princess Caroline married her friend's (Chantal Hochuli) husband, Ernst August V, Prince of Hanover, the head of the House of Hanover on 23 January 1999, after his divorce from Chantal Hochuli. They (Caroline and Ernst) have one child: Princess Alexandra of Hanover, born 20 July 1999 in Vöcklabruck (Austria). Chantal Hochuli had been a friend of Caroline's, but the friendship ended when Caroline and Ernst engaged in an affair.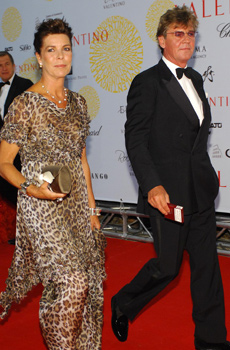 For more on Caroline's "Prince," log on to the BBC.
(Above articles are © Copyright protected by their sources; emphases supplied by Marlene and Marie.)
---