Marie H. Browne, R.N., Ph.D.
Marlene M. Browne, Esq.
Marlene Browne is a lawyer licensed in New Jersey, Massachusetts, and Colorado. In addition to writing, Ms. Browne lectures on the law and appears regularly on national radio and TV. The author has written The Divorce Process, Boomer's Guide to Divorce, To Prepare A Face, Aspen Heir, Charitable Trust,and from Adams Media, If the Man You Love Was Abused: A Couple's Guide to Healing and You Can't Have Him – He's Mine: A Woman's Guide to Affair-Proofing Any Relationship. (Both of these Adams titles were co-written with Marlene's mom, the late, Marie H. Browne, R.N., Ph.D.).
If the Man You Love Was Abused: A Couple's Guide to Healing
Featuring Spotlight, the investigative report, made into a movie that on 28 February 2016, won the Oscar for Best Motion Picture of the year.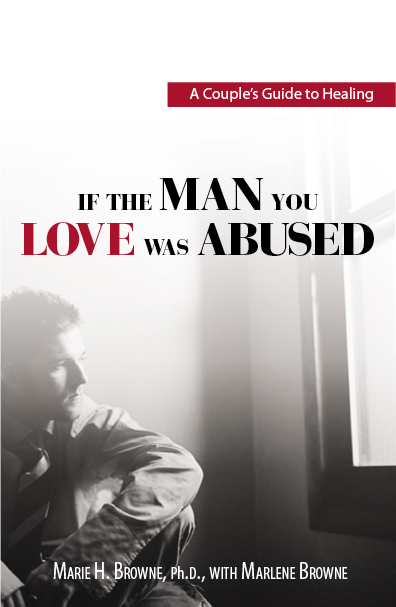 Abuse in the News
(Now available in Chinese and English.)
The scars left on the hearts and souls of childhood abuse survivors run deep. They require time, patience and loving support to heal. IF THE MAN YOU LOVE WAS ABUSED offers a lifeline for the men who suffered childhood abuse, and the people who love them. This book will teach readers to: get the support that the survivor needs; make sure loved ones don't neglect their own needs; and, determine when, and how, to seek professional help.
Charitable Trust
Q & A with Marlene
What happens when you lose your marriage, and then gain your ex's dad's trust? Kate Bergin, a married Manhattan attorney, was always attracted to aviation and learned to fly during her marriage, acquiring her pilot's license. Kate and her beloved father-in-law, Warren Ethan, a pilot who made millions in business, share a special bond over aviation, honor, and mutual respect. Kate's husband, Rick Ethan, the scion who's found a mistress, divorces Kate, even insisting that she resume her maiden name after more than twelve years of marriage. In her late 30s, Kate loses her husband, her home, and the life of wealth and privilege she's enjoyed as an "Ethan" and returns to her native Cape Cod to start all over.
Kate hangs out a shingle, practicing law in a storefront in Hyannis and becomes an airline transport pilot working for Cape Air Charter. She settles into her new life as a single, small town lawyer working with her sister-like sidekick, Celeste, and flying the wealthy between the mainland and Nantucket and the Vineyard. One of Kate's passengers, Steven Philips, a private equity banker, sparks her romantic interest. Not long into this new life on Cape Cod, Kate is notified that her former father-in-law is dead and she's been named the executor and trustee of his estate worth a fortune.
Kate strives to fulfill her role and marshal the millions to fund the trust Warren created, but encounters trouble from the start. Can Kate set things right by employing her skills as a lawyer and an aviator, and accepting a little help from new friends?
You Can't Have Him – He's Mine
As seen in The New York Times.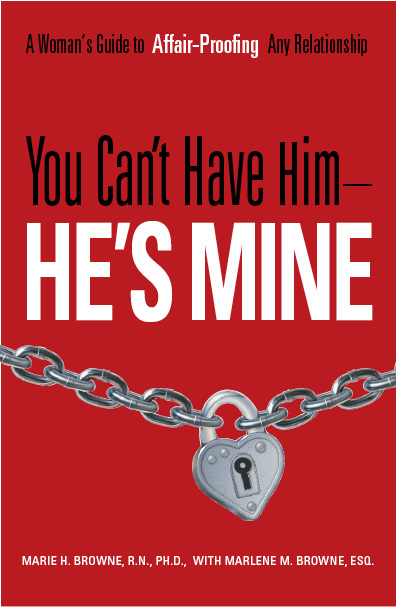 "The first line of protection against adultery is a prevention strategy, based on identifying and minimizing risks... and taking responsibility for managing [those] risks."
Cossman, Brenda, "The New Politics of Adultery" Columbia Journal of Gender and Law (2006)
Adultery in the News
(Now available in Thai, Portuguese, and English.)
YOU CAN'T HAVE HIM – HE'S MINE: A Woman's Guide to Affair-Proofing Her Relationship (Adams Media; trade paperback; 2007), is an authoritative tactical guide to beating the homewrecker at her own game. Citing research that reveals how men fall in love faster, harder, and, upon a breakup, suffer much longer and in many cases, deeper than women, the authors reveal just how menacing a marital poacher's sexual spell can be to any marital union. Women will gain profound insights into the nature of female competition and the personality disorders that drive many women to pursue affairs with other women's husbands. The authors reveal the "hunting grounds" of marital interlopers, including the workplace, the home front, and the internet.
Encouraging readers to "look in their marital mirror," the authors offer a few simple marital reality checks that can be used to honor what's right between you as you work on what's wrong or at least, what could stand improvement. YOU CAN'T HAVE HIM – HE'S MINE helps women head trouble off at the pass with advice on overcoming monogamous monotony, satisfying your husband's sexual and emotional needs (even when they differ markedly from your own), and promoting marital interdependency.
Noting that an encroaching affair is not the end of your relationship, the authors offer guidance on using divorce lawyers and marital therapists during a time of marital crisis caused by an interloper. Offering frank advice on the vagaries of marital satisfaction experienced by all married couples, the authors reveal the distinct characteristics found in happy, long-term marriages and offer advice on coping with stress and depression extramarital affairs cause – and much more.